Bilel Mohsni: A look at the rap sheet of the Rangers defender after brawl at Motherwell in play-off final
By Tom McKeown
Last Updated: 01/06/15 1:00pm
Rangers defender Bilel Mohsni sparked a brawl at Fir Park on Sunday when he kicked and punched Motherwell's Lee Erwin after their 6-1 aggregate defeat in the Scottish Premiership play-off final.
Police Scotland will be investigating the subsequent melee, which saw both players dismissed after the final whistle, with Motherwell's Fraser Kerr also sent off as several players clashed.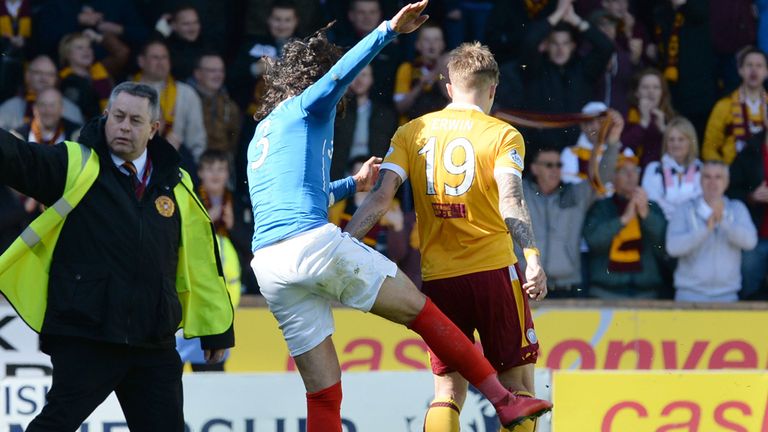 It's not the first time Mohsni has been the centre of controversy - Sunday's was his fourth red card since joining Rangers in 2013 - and his career disciplinary record does not make good reading, with 17 yellow cards and three reds in just 52 appearances at Southend.
Rangers boss Stuart McCall branded the incident "unacceptable" and said Mohsni - whose contract is up in the summer - won't be returning to the club.
"I don't know if the club can take any action against him but I don't think there is any doubt he won't be at the football club next season," he said.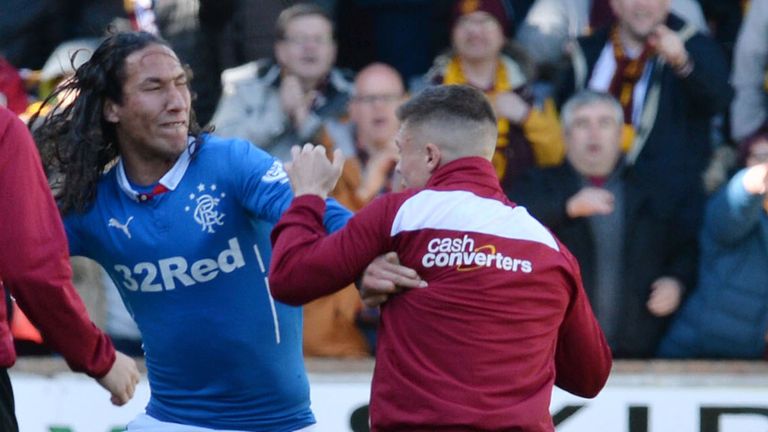 Mohsni's agent, meanwhile, deemed his career in Britain as "over" after the incident at Fir Park. He said: "He won't be staying at Rangers after that but I can't tell you where he is going to end up because I don't know.
"But he will leave the country, that's for sure now. His career in Britain is over. But that is the way it is."
We take a look at some of the big moments from the infamous defender's "rap sheet"…
Red card v Oldham, December 2011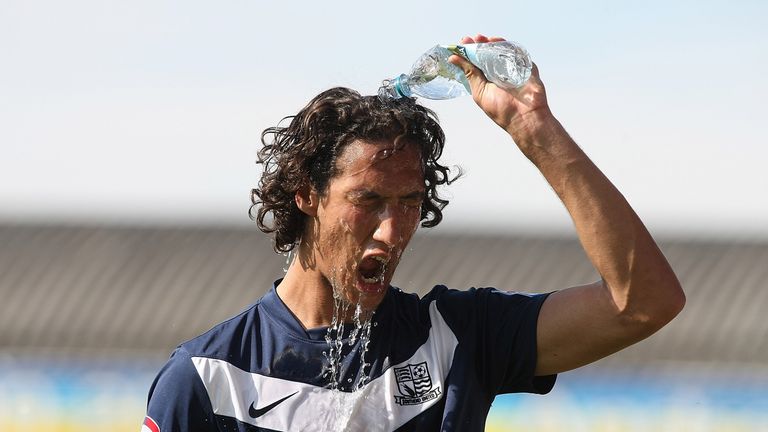 Mohsni was playing for Southend in the second round of the FA Cup at Oldham, when he picked up two yellow cards in the first half to be dismissed after 38 minutes.
He then faced the wrath of his own fans after being seen arguing with his team-mates in the tunnel, with several fans on Twitter reporting that he had been seen outside the ground asking fans for directions to the nearest train station.
Manager Paul Sturrock branded him a "walking foul" as he expressed his exasperation with a player he had given "one last chance" after an alleged bust-up with his team-mates on another occasion earlier that season.
"Too many times he has let everybody down," said Sturrock. "It has cost us a lot of money. It looked as if he was a walking foul again. It's something I'll debate with the powers that be.
"I must apologise to all the Southend fans. The situation with Bilel has been ongoing for a long time now."
Left early v Morecambe, March 2012
Just three months after the incident against Oldham, Mohsni was again back in the headlines for the wrong reasons after again leaving a game early to get a train home.
In Southend's League Two encounter with Morecambe, he requested to be substituted during their 1-0 defeat and left the stadium immediately to go to the station.
Shrimpers chairman Ron Martin was furious with Mohsni and gave a strong indication he would be unlikely to continue playing for the club.
"I can't tell you what's going to happen to him at the moment but we can't have the indiscipline within the side as it affects the other players and it may be a contributing factor to the inconsistency," he said.
Refusal to train, January 2013
After stating his desire to leave Southend, Mohsni spent the early part of the 2012/13 season on loan at Ipswich.
When Mick McCarthy took over at Portman Road he decided not to keep him on, so Mohsni was due to return to his parent club in January.
He refused to return to Roots Hall, however, and it looked like his Southend career - which had already seen him pick up three red cards - was coming to an end.
Red card v Northampton, February 2013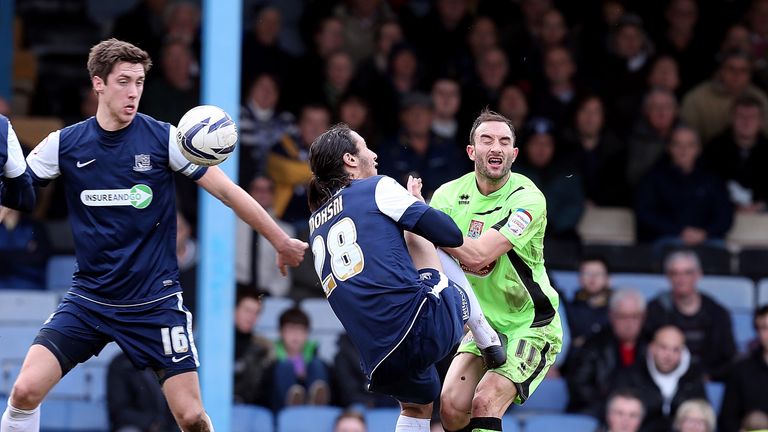 Mohsni would play for Southend again after all, but his first appearance on rejoining the club ended prematurely after a straight red card just 27 minutes into their match against Northampton Town.
A reckless high challenge on the Cobblers' Chris Hackett gave the referee no choice but to dismiss Mohsni, leaving Southend with over an hour to play with 10 men.
The Shrimpers were 1-0 down at the time and managed to get an equaliser despite their disadvantage, but they were undone by a late winner and lost 2-1.
Clash with Airdrie manager, January 2014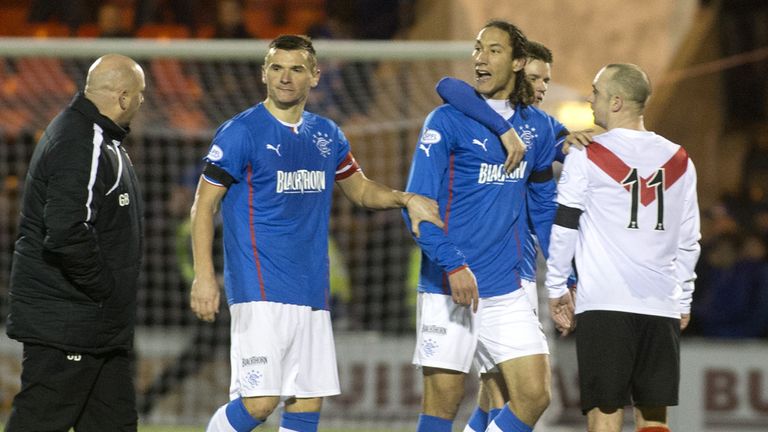 Mohsni joined Rangers in the summer of 2013 after the club's transfer embargo was lifted, and enjoyed a successful season as they went the entire campaign unbeaten to lift the Scottish League One title.
His record that season didn't go unblemished, though, as he was involved in a post-match fracas with Airdrie boss Gary Bollan following their 1-0 win at the Excelsior Stadium.
Moshni had been booked for an off-the-ball incident with Airdrie's Jim Lister before having to be restrained as the teams left the field at full time, when he earned a second yellow.
"I was just trying to get my players off the pitch when he gave me a mouthful," said Airdrie boss Bollan. "I have no idea [what it was about]." 
Headbutt in Derby friendly, August 2014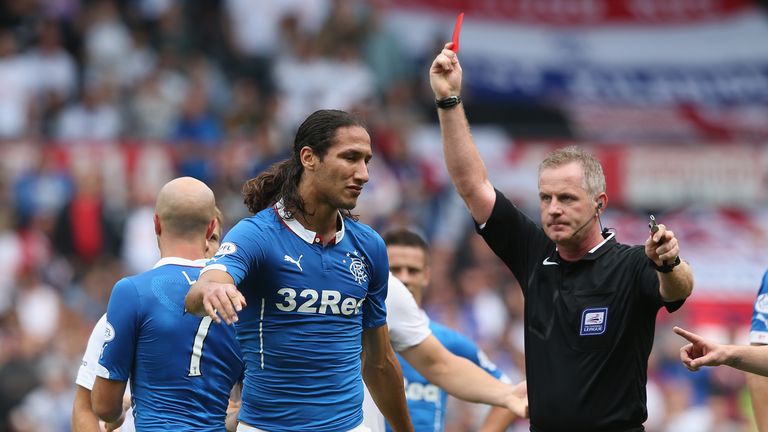 As Ally McCoist's side prepared for life in the Championship, the red mist descended again as Mohsni clashed with Derby striker Chris Martin in an off-the-ball incident during their pre-season friendly.
The Rangers man reportedly made a head-first lunge at Martin with 14 minutes to go, and McCoist was less than impressed.
"There are no excuses for it," he said after the game. "It's a big disappointment to see that happening. He's going to have to learn. The team need him and we all need each other.
"He's not a daft boy. When his head is in the right place and he's focused, he's an integral part of our team. But he's let himself down.
"You can only point him in the right direction. He knows it's wrong and unacceptable."
Clash with fans against Hibs, September 2014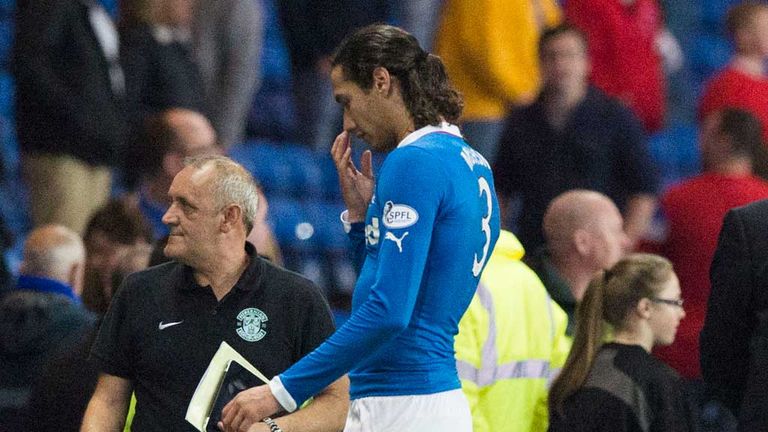 Rangers started the Championship season strongly, but lost their unbeaten run in September as Hibernian earned their first away win of the season with a 3-1 victory at Ibrox.
Mohsni received some criticism from the home fans during the game and ended up shouting back at them, before having to be led down the tunnel by his team-mates as he continued to argue with them at half time.
After the game, Mohsni was cited for another off-the-ball incident, this time with Hibs' Liam Fontaine early in the second half.
The defender picked up a three-match ban from the Scottish FA, with the punishment increased due to his red against Derby.