Aberdeen boss Derek McInnes understands Celtic frustration towards SPFL
By Dan Sansom
Last Updated: 04/10/18 1:42pm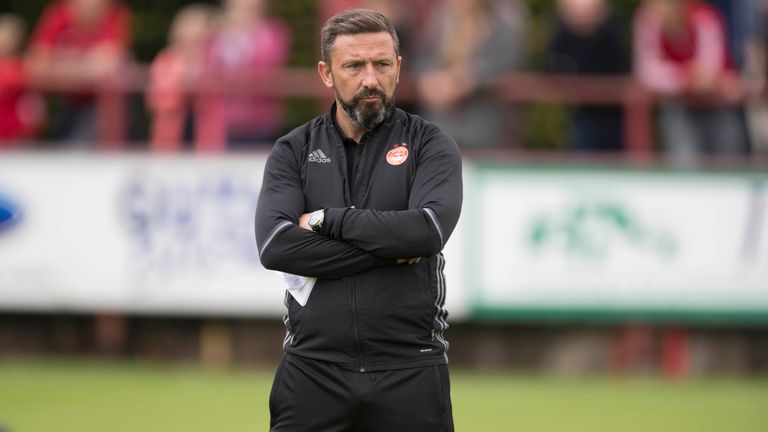 Aberdeen manager Derek McInnes understands why Celtic are unhappy with the SPFL's decision to switch their Scottish League Cup semi-final with Hearts to Murrayfield.
Celtic's encounter with Hearts has been changed from an evening start at Hampden Park on Sunday, October 28 to a lunchtime kick-off at Murrayfield earlier on the same day.
Meanwhile, Aberdeen's clash with Rangers in the other semi-final remains at Hampden with kick-off now at 4.30pm.
In a club statement, Celtic criticised the SPFL and said that not conducting a draw to decide which tie moved to Edinburgh was "irrational and discriminatory."
"I can kind of understand that to be honest," McInnes said. "I don't know how they come to the conclusions. We were all struggling to know why they came to the conclusion last week. We just got told where our game would be and that's all my concern is.
"I would be happy playing in Glasgow or Edinburgh or wherever. Our concern is from a fans' point of view and getting as many supporters there as we can.
"These things are always difficult to please everyone but I can maybe understand if they're not happy."
The SPFL's previous plan to stage both matches at Hampden drew criticism from Aberdeen fans, as those travelling by train would have been unable to make the original 12pm kick-off.
McInnes believes SPFL officials may have underestimated the power of the supporters before announcing their original Hampden double-header plan.
"I think they probably underestimated public opinion and underestimated the need to look after the supporters, which for me is never healthy," he said.
"You have got to have a healthy regard for the supporters, they are the lifeblood of the game.
"I understand it's difficult for the people who make these decisions to come up with the answers - even now it's not satisfying everyone. But I think supporters have been more catered for with this decision."