Brits abroad - Graham Rix
Graham Rix enjoyed an impressive career playing for Arsenal and England but the midfielder insists the best years of his footballing life were spent in France playing for small Ligue 1 side Caen.
Last Updated: 12/09/13 1:23pm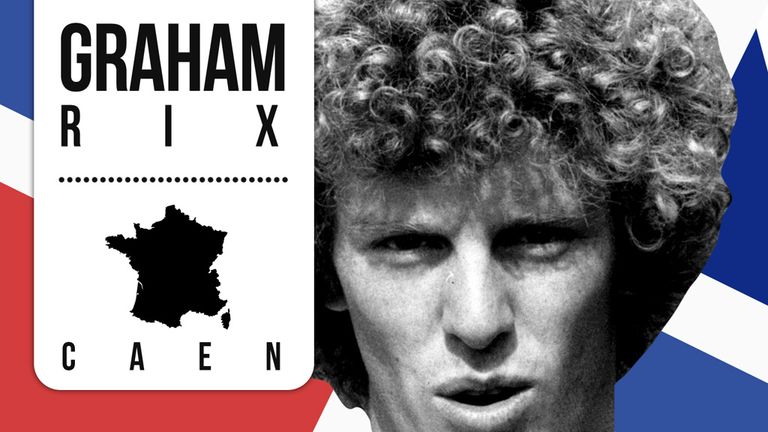 Graham Rix was an Arsenal hero after making 464 appearances for the Gunners and was the man who provided the cross for Alan Sunderland's late winner in the 1979 FA Cup final against Manchester United. But with his time at Highbury coming to an end, Rix made a surprise move to France to play for newly-promoted Caen. He has since described his three-year stay at the club as the best time of his career. Adam Bate caught up with him to find out more...
How did the move from Arsenal to Caen come about?
I had always had a hankering for playing abroad to expand my knowledge and to experience something new. I was 30-years-old when my contract ran out at Arsenal under George Graham and it wasn't going to be renewed. There were two English clubs who were interested at the time - Sheffield Wednesday and Queens Park Rangers - and I spoke to both of them.
I didn't really know what to do and I went on holiday to Portugal. About three days into my holiday an agent phoned me out of the blue telling me there was a club in France interested in signing me. Caen, he said. I'd never heard them. It was a small club, the first time in their history that they'd got into the top division. I met their people in London and really liked them so I said yes straight away.
That must have been a big decision with decent offers from English clubs on the table?
I'm a Doncaster boy originally so Sheffield Wednesday was a bit of a pull for me, the idea of going home. Rangers under Jim Smith were still in the top division and where I lived in north London I wouldn't have had to move house or anything so both the moves had plusses.
But it was just that sense of adventure. I was 30 with three kids at the time so it was a hell of a step. But I was there for three years with another year after at Le Havre and those three years at Caen were the best of my footballing life.
What were your first impressions?
I went over there with Brian Stein, who came over at the same time as me. It was a small club who had gone up through the play-offs a little unexpectedly. There was a cycling track round the pitch and all that. It was a big thing for the people of Normandy that they had Caen in the top league.
Was it a culture shock, especially not being able to speak the language?
Well, I now speak fluent French so I've got something out of my four years there. But it was a complete culture shock at first having come from Arsenal, who are still a top club in the world for me - fantastically run with great organisation and everything laid on a plate for you. To all of a sudden go to a club where they gave you a bag of kit and that was your kit that you had to go home and wash. It was just a culture shock to me.
The ground held about 15,000 and to be fair there was 15,000 in there every single week. It was a little bit like Wimbledon when they first came up - the Crazy Gang and all that. Plough Lane wasn't the greatest facility in the world and it was similar with us. Big clubs like Bordeaux, Paris St Germain, Marseille and Monaco were coming to these little cramped facilities and we made a tough place to go to.
You mention those clubs and there were some big names in France at the time. The likes of Jean-Pierre Papin, George Weah, Enzo Scifo, Marcel Desailly and Eric Cantona... How was life on the field?
And Glenn Hoddle and Mark Hateley at Monaco with Chris Waddle at Marseille. It was a time when they were attracting some top players to France. On the field it was again a bit of a culture shock but it opened my eyes so much. I'd been indoctrinated by Arsenal from the age of 12 to 30 so 18 years of my life I'd gone in there and played the way Arsenal played.
All of a sudden I went over there and they said to me, 'Rix, No.10' and all of the squad just looked at me. It meant nothing to me but to the French boys the No.10 is like the Holy Grail. The meneur de jeu as they say - the leader of the game. I just thought I was a midfield player.
In the very first game I remember the opposition midfield player had the ball and I chased after him and slide tackled him. All of the other players went mad. They said, 'No, you don't do that, that's my job. And then I give it to you.' That was music to my ears!
So it was a different style of play?
Completely. I'd come from a culture where you had to do everything. Midfield players had to tackle, you had to head, you had to beat men and be box-to-box. Whereas in France they played this system where everybody had a specific role within that team and he was happy to do that role.
So the No.6 in midfield was like how Claude Makelele was for Chelsea. He'd sit there and break things up. And if I was three yards away then he'd give me the ball. Then he'd say, 'Well, I've done my job now you do your job.' It just completely opened my eyes to a different way of playing.
And you had quite a dramatic survival in that first season?
Yeah, that first year. Actually they've just bought a book out called Baptism of Fire about that first season in Ligue 1. After six games, for the first time ever in French football, we had no points. Not one single point after six games. Then there was just this dramatic turnaround. We started playing this pressing game at home and the crowd were just on top of people. It was a tough place to play. We played a little bit of a British style pressing high up the pitch and we survived. We won the last three games to stay up.
One of which, the second-to-last game, was against Bordeaux. They had already qualified for the UEFA Cup. Cantona was playing, Jesper Olsen was playing and Clive Allen. They had a really good team and at half-time we were 2-0 down. We brought on this lad called Fabrice Divert who went on to play for France and he scored a hat-trick in the second-half. We won 3-2. It was unbelievable.
Just to let you know what this meant to the people of Caen. We flew back from Bordeaux and when we got back to Caen airport it was gone midnight. There were 500 people there waiting for us with the mayor of Caen leading the shouting. They were all there waiting to meet us.
Even more than that, I lived in a little village about 15 minutes outside of Caen and the fans who had gone to Bordeaux on the bus - it was about a 10-hour drive - arrived in my front garden on Sunday morning at 7am. All the buses just turned up and were chanting my name. Honestly, it was the best time of my life. It really was.
And a great time for Caen too...
It was. I mean, they've moved on now, they've got a beautiful 25,000 all-seater stadium and it's a lovely place with wonderful people. But from that team you'd got Franck Dumas who played for Newcastle briefly as well as Monaco and France. He was in that team and went on to manage Caen. Rudi Garcia was there and is now managing Roma. Philippe Montanier went on to manage Real Sociedad and is now at Rennes.
So we had a group of players who as much as I was learning from them about their style of play, they were learning from me about the mentality that British players had at the time. They couldn't believe this never-say-die attitude and all that business. So it's quite interesting that quite a few of them have gone on to quite big jobs in football.
You mentioned you had your best time of your career out there. Did it suit your game? Make you a better player?
Definitely. I wish I had gone out years earlier. I really do. A lot was expected back then of a midfield player and without blowing my own trumpet I considered myself a technical player more than a Vinnie Jones if you like. Over there, they appreciated that. So they put somebody behind me to do the Vinnie Jones job and then just gave me the ball. Certainly the first two years at Caen, I played my best stuff because they gave me the ball. It prolonged my career, there's no doubt about that.
So no need to ask if you have any regrets about making the move...
My only regret really is that I didn't go out there when I was a bit younger because I was reaching the end of my career when I went. I think it would have done me good to get out there a bit earlier, certainly at that time. Like you mentioned, there were some good players such as Scifo and Papin. French football was on the up.
And it's a wonderful way of life. It expands your mind, not only football-wise but also in terms of French culture. They were so polite out there. It was always, 'Mr Rix, can you sign this' not just shoved in your face. It was a total culture shock to me and a shock that I really enjoyed.
Did your experiences out in France help you become a better coach later in your career too?
I think it did. They were good, technical players but the big thing that hit me was that they realised their deficiencies. So the No.6 in midfield was content to make a tackle and then give the ball to a better technical player nearby. He wouldn't try to do anything fancy with it. Each had their specific role in the team.
And the way they played with their little triangles, nobody played 4-4-2 out there. They played with two markers, a sweeper and three in midfield with a No.10. There was a fluency about the game. I think where I've been as a coach, particularly as a coach of young players, I've tried to encourage players not to play in straight lines. Not just 4-4-2 down the channels and squeeze up. I want them to have a more expansive understanding of it.
Do you ever go back over there?
I actually went back to Caen a few years ago with my missus. It was the 20th anniversary of that season and we went over for the weekend. They treated me like a king and it had been years since I was there. It was a great time in my life.