Why is Thierry Henry struggling at Monaco?
Henry has failed to win any of his first six matches in charge of Monaco
By Richard Morgan & Tom Williams
Last Updated: 22/11/18 10:33am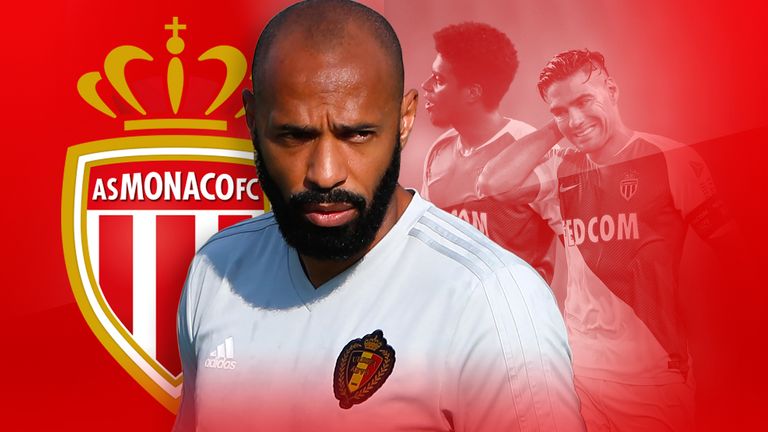 Despite only taking over as Monaco manager a month ago, Thierry Henry is already under pressure at the Stade Louis II. So why is the Frenchman struggling so badly and what can he do to turn things around in the Principality?
With Monaco languishing near the foot of Ligue 1, the former Arsenal forward agreed a three-year deal to replace Leonardo Jardim in the Monaco dugout on October 18.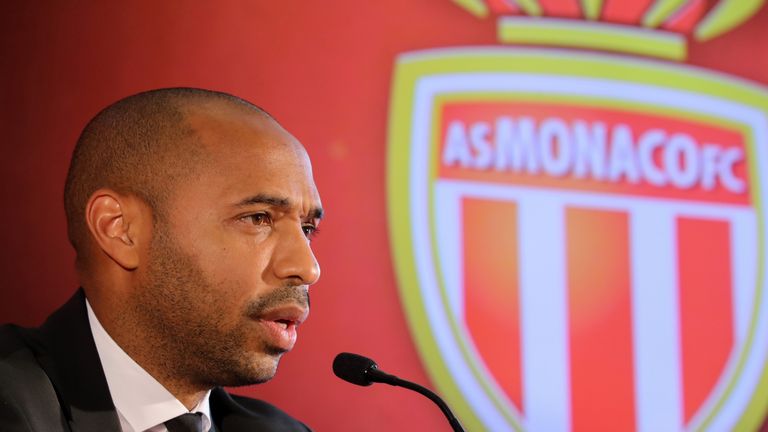 You have to carry on, hang on. It has not always been easy in my life but you always have to try to keep moving forward
Thierry Henry
Henry described his return to the club he started his career at almost a quarter of a century ago as being a "dream come true", although things have not gone according to plan since his arrival in the South of France.
Here, with the help of journalist Tom Williams - who specialises in French football - we take a closer look at why things have gone so badly wrong so far for Henry at Monaco…
Henry's Monaco results
| | | | |
| --- | --- | --- | --- |
| Date | Match | Competition | Form |
| 20 Oct | Strasbourg 2-1 Monaco | Ligue 1 | L |
| 24 Oct | Bruges1-1 Monaco | Champions League | D |
| 27 Oct | Monaco 2-2 Dijon | Ligue 1 | D |
| 3 Nov | Stade Reims 1-0 Monaco | Ligue 1 | L |
| 6 Nov | Monaco 0-4 Bruges | Champions League | L |
| 11 Nov | Monaco 0-4 PSG | Ligue 1 | L |
Mission impossible?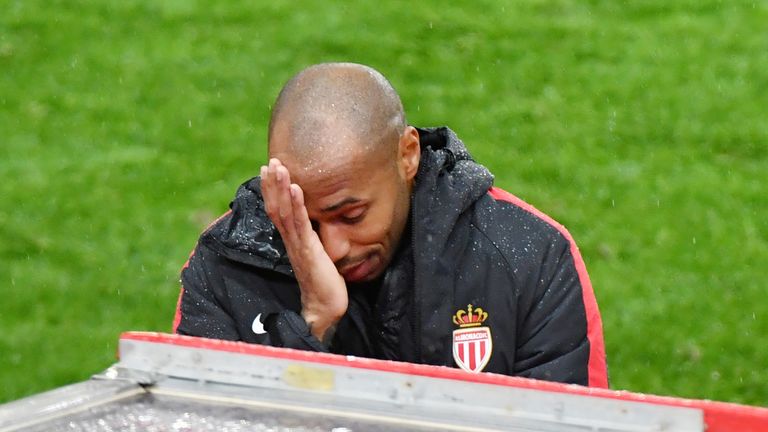 Monaco were struggling down in 18th place having won only their opening league game of the season when owner Dmitry Rybolovlev decided to part company with the man who had guided the club to the title and the Champions League semi-finals just 18 months ago.
"There is a lot of work to do, as you can imagine," said Henry at his unveiling, although his appointment has not had the desired impact.
Monaco's recent 4-0 home defeat to champions Paris Saint-Germain extended their winless run to 16 games, their worst sequence since the 1968-69 campaign, while only goal difference is keeping them off the bottom of the table.
In fact, Monaco currently have just seven points to their name and only Ajaccio - seven years ago - have ever escaped top-flight relegation having collected the same number of points or fewer at the same stage of the season.
"One of the problems is that Monaco are supposed to be an elite club with an elite squad," says Williams. "They won the league and reached the Champions League semi-finals in 2017 and then finished second behind PSG last season, albeit having sold a load of players each summer.
"Monaco's directors were banking on the fact that there was sufficient quality within the squad for Henry to be able to turn things around quickly, despite his lack of experience.
"There is quality within Monaco's squad, but their chronic injury problems mean that Henry hasn't been able to field anything close to his full-strength first XI."
The walking wounded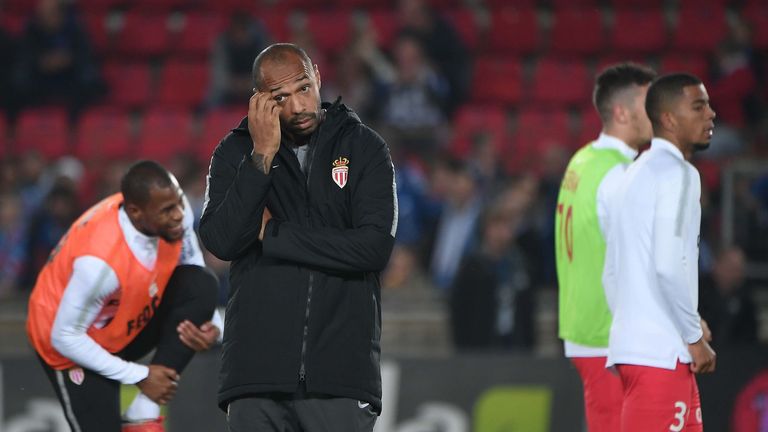 There is no doubt Henry has had a chronic injury list to contend with since taking charge at Monaco and things to do not seem to be getting any better either.
The 41-year-old has had only 17 fit players to choose from, while the new man was also without an astonishing 15 squad members for the recent visit of PSG, including key man Youri Tielemans, who missed out due to suspension.
However, if Henry thought his bad run with injuries was over, he was much mistaken as both Nacer Chadli and Jordi Mboula were then taken off with knocks during the match, forcing the Monaco manager to joke: "I am maybe going to start playing again."
"Not all of their struggles are down to the injury list, but it's been a major factor," says Williams. "Any club would feel the effects of having so many players missing, let alone one effectively starting from scratch after selling off another raft of first-team players.
"It's been a perfect storm, basically. Monaco might have got away with their summer revamp had they been able to blend their new players into the team methodically over a period of months, but the injuries have robbed them of that luxury."
Confused tactics?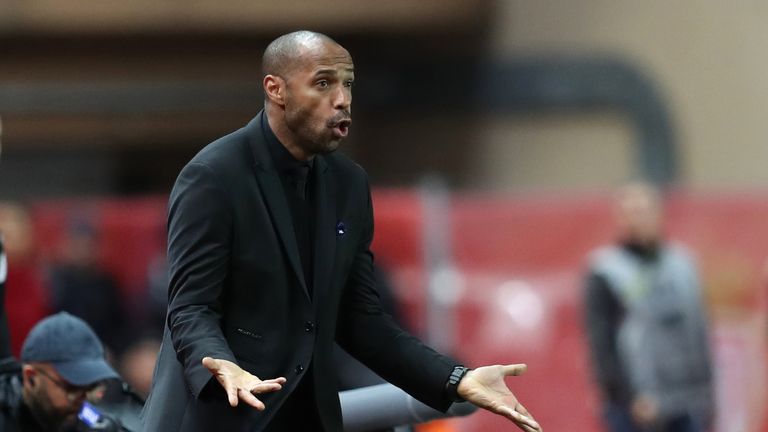 Henry has tried out a number of different formations in an attempt to arrest the club's slide, but with little effect. The Frenchman started out by employing a 4-2-3-1, before changing to three at the back and a five-man midfield with overlapping wing backs.
He has also given both 4-3-2-1 and 4-3-3 a go, but Williams thinks he now needs to pick a formation and stick with it to allow his players time to adjust.
"He's just been trying to find a formula that works and in his defence, Jardim had been tweaking the formation before Henry even arrived," he says. "Monaco won the title playing in a 4-4-2 with the two wide players (Bernardo Silva and Thomas Lemar) cutting in and the full-backs (Djibril Sidibe and Benjamin Mendy) overlapping.
"Last season it was more of a 4-2-3-1 or a 4-3-3. Prior to Jardim's dismissal, he had the team playing with a back five in a quest for greater defensive solidity.
"It would obviously help if Henry could settle on a principal formation though and you suspect that will happen sooner rather than later."
Show me the money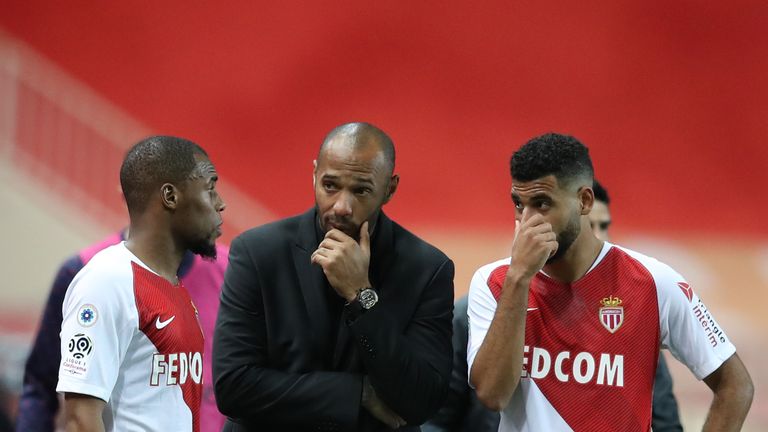 Having already offloaded the likes of Benjamin Mendy and Bernardo Silva to Manchester City, Tiemoue Bakayoko to Chelsea and Kylian Mbappe to PSG in 2017, Monaco then decided to sell key midfield trio Thomas Lemar, Fabinho and Joao Moutinho last summer.
The problem was, though, that the replacements were just not up to scratch, meaning Henry may have to enter the market in January to keep the club in the top flight.
"A lot of this boils down to what happened in the summer," Williams says. "Monaco sold three of the midfielders from their title-winning team and their replacements were either inadequate, too inexperienced, or succumbed to injury shortly after arriving.
"Aleksandr Golovin, the star recruit, still hasn't recovered from a serious ankle injury that he sustained in his first training session and Chadli, who was perhaps the only new signing with any decent top-level experience, is still getting up to speed.
"Monaco's vice-president Vadim Vasilyev has said that there will be money to spend in January and it's believed that Henry asked for assurances about that before agreeing to take charge."
Off-the-field distractions
Not only are things on the pitch looking bleak, but off it as well after the club's billionaire Russian owner was recently placed under formal investigation in connection with a major fraud case.
Meanwhile, Der Spiegel has also alleged that Monaco cheated financial fair play regulations and Rybolovlev personally profited £108m from Mbappe's big-money move to PSG, distractions that Henry can surely do without.
"It's hard to know how much of an impact it's had on the day-to-day running of the club, which is the responsibility of Vasilyev, but it's obviously terrible publicity for the club," says Williams.
"Prince Albert of Monaco is said to have become distanced from Rybolovlev over the affair and there have been reports in the French press that he is pushing for him to sell the club."
What next?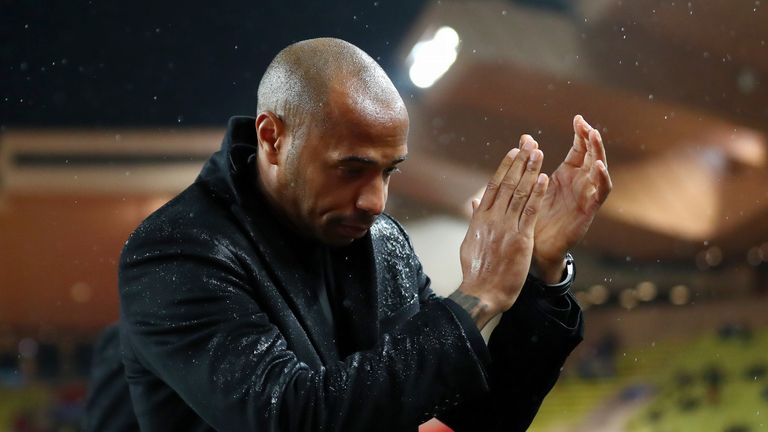 Henry has had only five senior players to work with during the international break as he prepares for Saturday night's trip to fellow strugglers Caen.
Meanwhile, with so many experienced players having recently left the club, Henry has also been unable to improve fitness levels in the Principality.
"I think it's going to be a while before the skies clear for Henry," Williams says. "He's going to have to spend the international break drilling the few players at his disposal on how he wants them to play and, crucially, trying to raise morale.
"Not all of Monaco's performances under Henry have been that bad. The 4-0 loss to Bruges in the Champions League was a case in point. They actually started the match well, created a lot of chances, but as soon as Bruges attacked them, they scored.
"Even the Belgians admitted that the score flattered them, but at the moment, at the first signs of events turning against them, Monaco just collapse. Addressing that mental issue will be just as big a challenge for Henry as finding a playing system that works."
'It is inconceivable that they give up'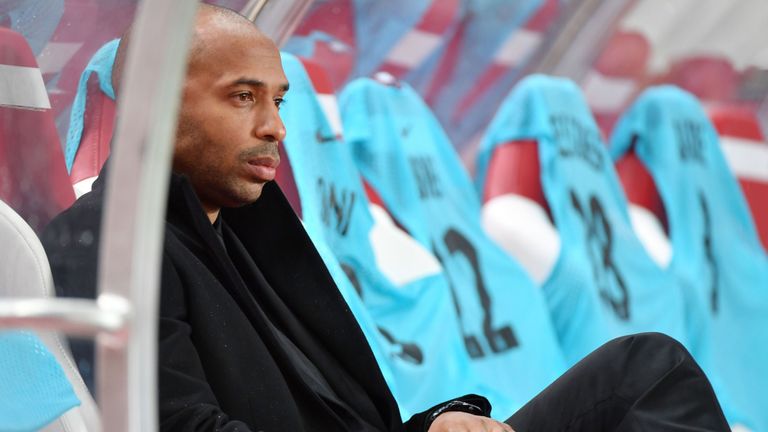 Vasilyev has tried to alleviate the mounting pressure on Henry by claiming the new manager was brought in for a long-term project.
"He has come for the long term, he is not firefighter otherwise we would have appointed someone with another profile," said Monaco's vice-president.
Meanwhile, Henry's mentor at Arsenal, Arsene Wenger, says his compatriot needs time to turn things around at the Stade Louis II.
"He has the right understanding, the right knowledge," Wenger said. "But, there is always two aspects as you come in as a new manager.
"The first impact is psychologically positive, and then you can work. At the moment, the bad luck for him is that the first impact has not worked so he will have to be given time, that is the most important thing for him. He will get it right if he is given time."
Either way, the man himself has called on his players to show more fight in their bid to beat the drop.
"I have never experienced a fight against relegation as a player," said Henry. "But for me, it is inconceivable that they give up. Of course the team is affected mentally and you see it with some basic errors."
However, Williams says results - Monaco travel to Patrick Vieira's high-flying Nice on December 7 - must improve between now and the winter break on December 22 if Henry is to stay in the job.
"He is safe for now," he says. "He's had so many injuries to contend with that I don't think it's fair to judge him yet and there have been no suggestions in the French press that his job is on the line already.
"As the injury situation improves - and it surely, surely can't get any worse - Monaco's results should pick up and if they can return to the mean, they should survive quite comfortably.
"But if the situation hasn't improved by the winter break, which is now a little over a month away, then Henry could be in big trouble."