​​​​​​​In an exclusive interview with Sky Sports, Edinson Cavani talks about his prolific form for Paris Saint-Germain and responds to those long-standing rumours linking him with the Premier League.
Paris Saint-Germain may sit third in Ligue 1, but it has been quite a season for Edinson Cavani. The Uruguayan is the top scorer in Europe having netted 18 times in 16 league starts, and with 24 goals in all competitions, he only needs one more to match his total for the whole of the last campaign.
It's the most prolific season of his career to date. This is Cavani's fourth year in the French capital and there are big challenges ahead, but he is in the form of his life and he recently celebrated his 100th goal for the club. As he takes a break from PSG's preparations for Saturday's clash with Rennes to speak to Sky Sports, it's no wonder he's feeling upbeat.
"It has been a good period for me," says the 29-year-old. "I am scoring a lot of goals and that's always positive for a striker. The manager and my team-mates have given me confidence, and I've also been able to return to my natural position."
The positional change has been crucial. Cavani has taken over as PSG's central striker after three years on the flanks, and he has relished a return to the position from which he scored 104 goals in 138 appearances for his previous club Napoli.
Most goals in Europe's top five leagues 2016/17
| | | |
| --- | --- | --- |
| Edinson Cavani | PSG | 18 |
| Piere-Emerick Aubameyang | Borussia Dortmund | 16 |
| Diego Costa | Chelsea | 14 |
| Mauro Icardi | Inter Milan | 14 |
"I have always had a lot of responsibility and I have always been committed wherever I have been asked to play," he says. "But playing as a striker gives me more opportunities to get closer to the goal and score more, so I am enjoying it. It is a wonderful time for me but things can change in football. I have to keep working hard in training to continue scoring."
PSG will certainly need Cavani at his best in the second half of the season. After four consecutive Ligue 1 title wins, this year has not been quite so straight-forward. Unai Emery's appointment as manager has been followed by a period of adjustment, and they approach the halfway point of the campaign with five points to make up on surprise leaders Nice.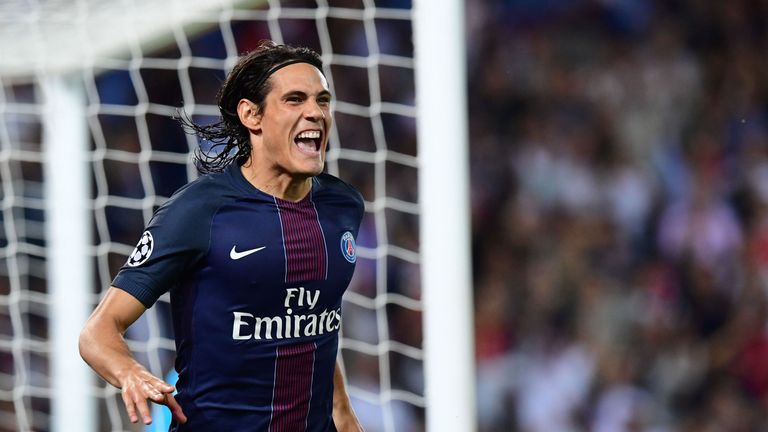 "Every manager has his own philosophy so of course it has been different," says Cavani. "There have been a few changes and things have been a little more difficult for the team, but that's normal and there is a long way to go. We still have the whole second half of the season to play. Our aim is to keep working hard together and find the consistency we need to reach our objectives.


"It is a question of time and dedication, and there is no shortage of that in the squad," he adds. "This has always been a competitive league but sometimes things work out in different ways. We are working hard and I'm sure that everything will fall into place and we will find consistency."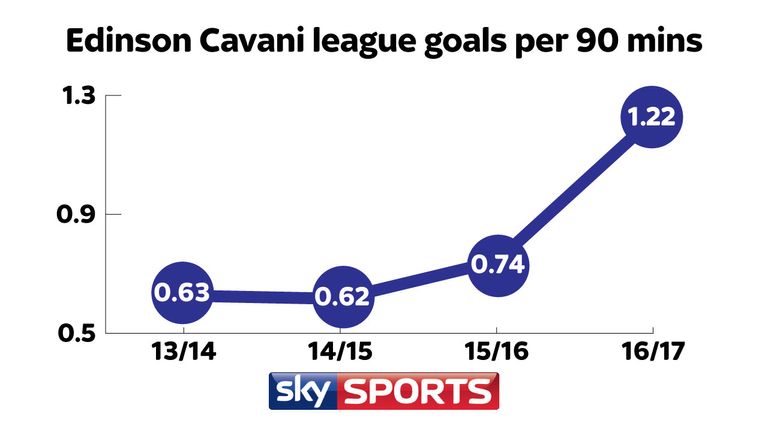 Cavani is happy with life in a city he describes as "one of the most beautiful in the world", but rumours linking him with a move to the Premier League have persisted throughout his career. He has no plans to leave PSG and reports in France suggest he could even extend his contract at the club, but he has not ruled out the possibility of one day moving to England.
"Every footballer knows the Premier League is a great league," he says. "It's very competitive and it's among the best leagues in the world. In football you never know what is going to happen. If one day I have the opportunity to play in England, I am sure I would enjoy it there."


Cavani scored in each of PSG's Champions League group games against Premier League opponents Arsenal earlier this season. The goals helped the French giants reach the knockout stages for the fifth consecutive season, but there were also some high-profile misses. It might seem unfair that a striker averaging a goal a game should have to fend off criticism, but Cavani insists he uses it as motivation.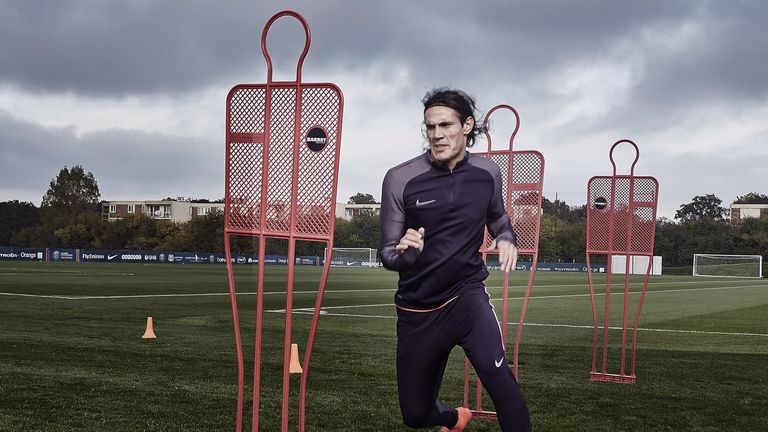 "I know it forms part of sport and life," he says. "I am always calm about it. In football you can't always play well and sometimes there will be criticism. Sometimes when I get a lot, it helps me. It makes me work even harder to improve and make the critics a little more positive."
Edinson Cavani on Nike Hypervenom boots
"The designers at Nike ensure the boots are more and more comfortable for players and are constantly innovating. I wear Hypervenom boots because finishing is a vital part of my game and you can feel the difference on pitch."
Cavani and PSG are gearing up for an important run of fixtures in Ligue 1 after a restorative winter break, and it is only a month until the first leg of their Champions League last-16 meeting with Barcelona. The Catalans knocked them out at the quarter-final stage in 2014/15, but this time Cavani hopes to get one over on his international team-mate Luis Suarez.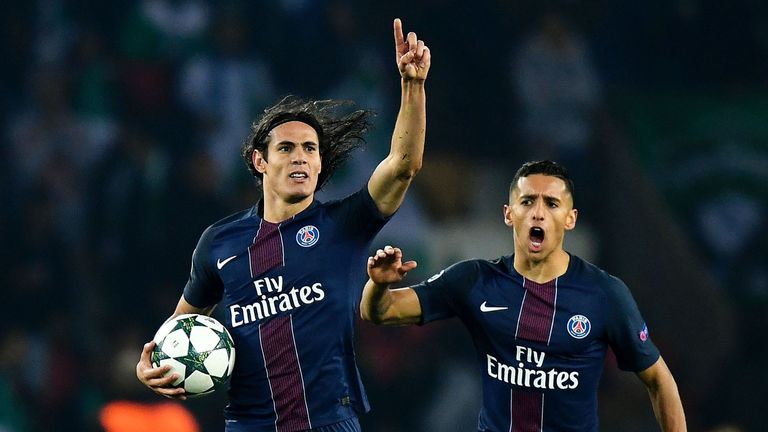 Have they spoken since the draw? "Just a few normal jokes," laughs Cavani. "Now we have to face each other again. The Champions League is an important objective for the club and it's another huge match, but it's still a long way away. At the moment we are concentrating on recovering points in the league and finding some consistency."
There is plenty of work to do in the second half of the season, but Cavani is making the most of his time in the spotlight and he's on track for the highest-scoring season of his career. As PSG prepare for what lies ahead, the top scorer in Europe is ready to lead the charge.
The new Hypervenom will be available from Nike.com from January 30 2017.
Watch a live Q&A featuring Cavani, Harry Kane, Robert Lewandowski and Gonzalo Higuain from Munich on skysports.com from 5pm on Monday - Art of Finishing.