Paris Saint-Germain chairman Nasser Al-Khelaifi reiterated the Champions League remained the club's major goal after a stunning 7-1 win over Monaco saw them reclaim the Ligue 1 title from their rivals.
PSG were relentless as they pulled their closest rivals apart, Giovani Lo Celso and Angel Di Maria each scoring twice, Edinson Cavani and Julian Draxler also on target and Radamel Falcao involved with an own-goal.
It was a glorious display which established an unassailable 17-point lead at the summit but the man who has overseen it from the technical area, Unai Emery, is still likely to depart at the end of the season.
Emery looks set to pay the price for failing to advance the club's European ambitions, a fact effectively acknowledged on the night as Al-Khelaifi took in the moment.
Asked about rumours linking Thomas Tuchel with the post, the Qatari businessman told Canal Plus: "When we have signed with someone, we will announce it. For now, we have not done anything.
"We have a coach today. We won 7-1 with him. He has a contract until the end of the season.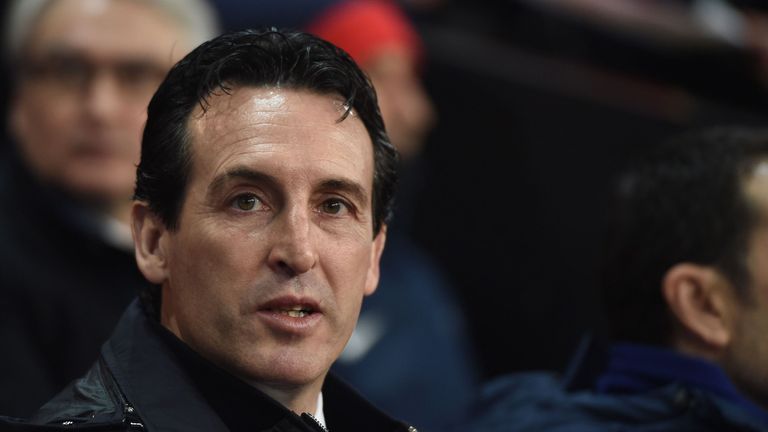 "We have done a lot of positive things this season. We are champion for the seventh time, the fifth for me. It's really something beautiful, thank you to everyone. Of course, everyone knows, our big goal is the Champions League. But today we are very proud and happy with this title."
If that appeared to suck some of the life out of a celebratory night at the Parc des Princes, the enthusiasm was in plentiful supply in the dressing room.
Captain Thiago Silva told the channel: "We go into the history books of the club, it's an incredible moment.
"We know the capacity of this team. Elimination in the Champions League? It happens like that, it's football. That hurt us, but we continued to work. Even though it was a difficult time, we managed to have a good season."