Paris Saint-Germain demand Neymar receives better treatment from referees after survey
Last Updated: 02/02/19 8:57pm
Paris Saint-Germain have called on referees in France to protect Neymar and players "who try to bring the game to life", after reacting angrily to a survey about the Brazilian.
The French champions released a statement on Saturday which questioned the reliability of the survey for French radio network RTL and Groupama, which resulted in 84 per cent of French people and 78 per cent of football fans agreeing that Neymar endangers himself by doing "too much" and provoking defenders.
Neymar, the world's most expensive signing, sustained a recurrence of a metatarsal injury during PSG's French Cup victory against Strasbourg on January 23 and has since been ruled out of both legs of their Champions League last-16 tie against Manchester United.
The survey, titled 'Football: The injury of Neymar and the impact on PSG', resulted in four main findings: The absence of the Brazil international is perceived as a catastrophe for the club; they are also no longer viewed as favourites for the Champions League; the participants are critical of the club's sporting policy; while eight out of 10 people believed Neymar's "provocative" game style brings upon him injuries.
"Even if the survey does not use these exact words, Neymar's spectacular gestures are perceived as 'provocation' that sometimes justifies the 'punishment' of an injury," the club said in a statement.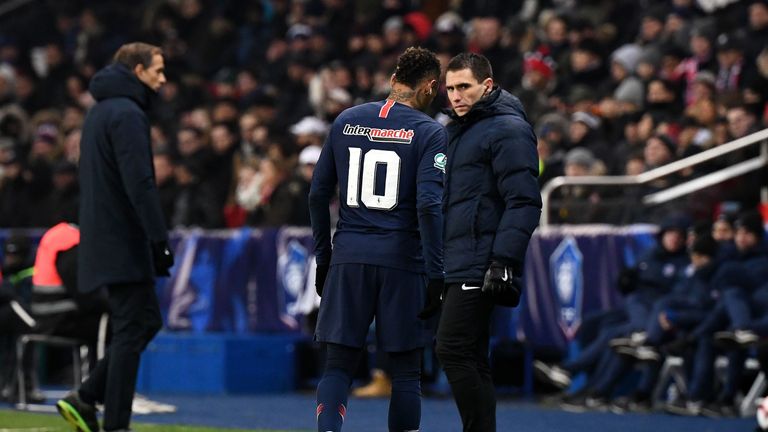 PSG questioned "whether to laugh or cry" at the results of the survey, which was held on the internet on January 30-31.
They also asked whether the survey suggested former players such as Pele, George Best, Johan Cruyff and Zinedine Zidane would have been viewed with the same regard.
The club's statement also included figures which stated Neymar was on the receiving end of 44 fouls this season in Ligue 1, on average 3.3 per match. This figure was 37 for the Champions League - leading to a rise to 5.9 fouls against the Brazilian in each match.