In the second edition of the Sky Sports scout report, utilising Wyscout data to pick out emerging talent, we look at one of the best emerging wingers in Spain's La Liga - Brais Mendez.
Wyscout is a digital scouting platform used by most major clubs worldwide and its ranking system - which takes into account all player stats - puts Mendez in the Liga team of the season so far, lining up alongside the likes of Lionel Messi and Sergio Ramos.
Why? Well, aside from him coming on to score the winner for Spain in his full international debut against Bosnia-Herzegovina, statistically Mendez is the fourth-best performing winger (both sides) in La Liga so far this season. This, for the most part, is because of his effectiveness in the attacking third, with high accurate crossing and passing accuracy.
Below you will find a full profile on the player, a comparison against the other top-five performers in his position in La Liga, which includes Gareth Bale, and details of where he currently excels, where he could improve, and some expert opinion from his current and former coaches...
Profile:
| | |
| --- | --- |
| Name: Brais Mendez | Club: Celta Vigo |
| Age: 22 | Positions: RW, RM |
| Contract: 2021 | National team: Spain |
| Birthplace: Mos, Galicia | Passport country: Spain |
| Foot: Left | Height/ Weight: 187cm/ 78kg |
Position: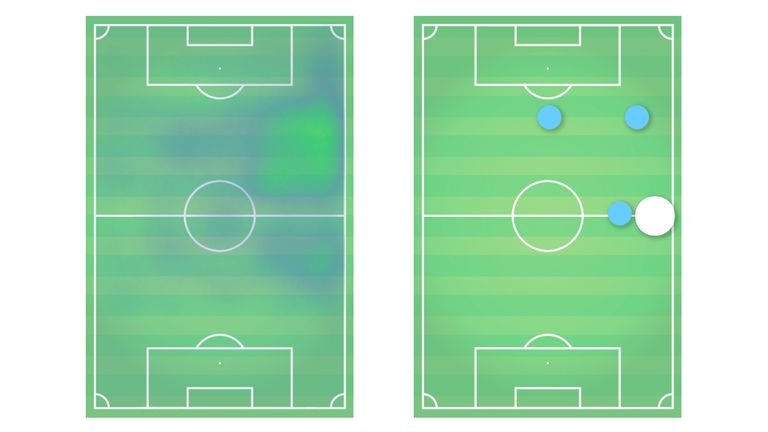 Although he lines up on the right wing, Mendez tends to tuck inside onto his stronger left foot, as shown by his heat-map, and play in the spaces between the opposition defence and midfield.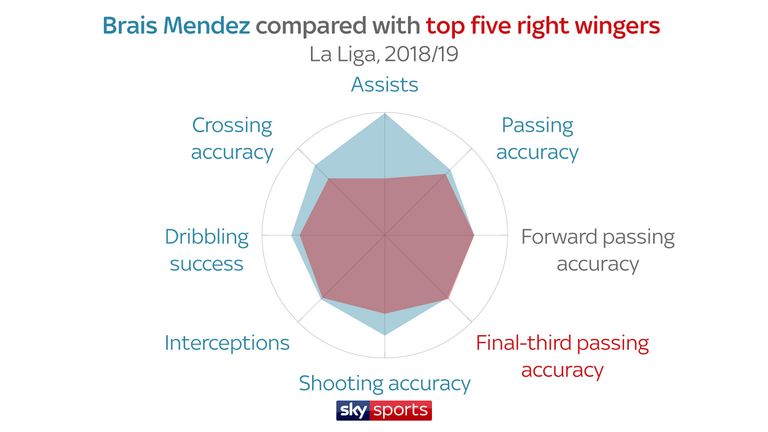 Stand-out stats:
Shots on target: 50% | Forward pass: 68% | Crossing: 41%
Mendez's radar shows his strengths compared to the other top-five performing right-wingers in La Liga this season, according to Wyscout's index. What stands out the most is his crossing, which is 11 per cent more accurate than the top-five average, while the rest of his passing in the final third is on par.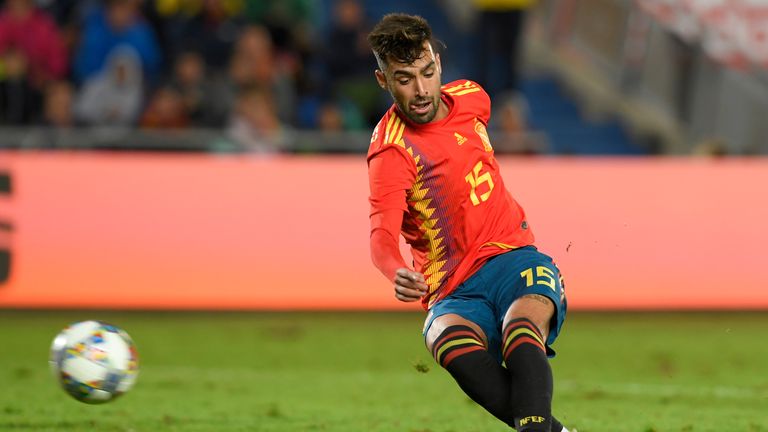 La Liga stats (2018-19):
| | | |
| --- | --- | --- |
| Def. duels per90: 6.22 | Total: 80% | Assists per90: 0.37 |
| Interceptions per90: 3.29 | Final third: 67% | Shots on target per90: 2.24 |
| Clearances per90: 1.02 | Forward: 68% | Dribbles: 64% |
| Tackles: 30% | Crosses: 41% | Goals: 5 |
Verdict:
In a comparison that includes the likes of Real Madrid's Gareth Bale and Valencia's Carlos Soler, it is clear that Mendez is excelling against some tough opponents, and where it counts for his position. Mendez has made as many assists this season as Bale (5), but this has worked out as more per 90 because he has played fewer minutes. His dribbling success is second only to Bale, which is no mean feat, but Bale has made 1.78 more dribbles than Mendez this term. Also eye-catching is that half of his 34 shots on goal have been on target this season, putting five of those away. All these stats suggest Mendez is precise with the ball and can find his intended target, whether that's a team-mate or the goal.
Expert opinion:
"He is a very intelligent and classy Spanish player. He can play in all the attacking positions but he stood out when playing on the right-hand side. He likes to come in to midfield and be involved, and being a left-footer on the right makes him difficult to track and to defend against. However, he can go missing in games when his team do not have the ball. He is not very defensively minded and is very dominant on his left foot."
- Quique de Lucas, ex-Celta Vigo player, told Sky Sports News.
"His attitude is an example of what a young boy should have, which is what gives him the chance to play at the level he is doing and, obviously, his talent. It's the beginning of an interesting race "
- Juan Carlos Unzue, former Celta Vigo head coach and Barcelona assistant.
Club career:
| | | | | |
| --- | --- | --- | --- | --- |
| 2018-19 (current) | Celta Vigo | 14 (2) | 0(1) | N/A |
| 2017-18 | Celta Vigo | 12 (8) | 2(2) | N/A |
| 2017-18 | Celta Vigo II | 14(0) | - | N/A |
| 2016-17 | Celta Vigo II | 27(9) | - | N/A |
| 2015-16 | Celta Vigo II | 0 (7) | - | N/A |
| 2014-15 | Celta Vigo II | 2 (1) | - | N/A |
International career:
| | | | | |
| --- | --- | --- | --- | --- |
| 2018 | Spain | - | - | 0(1) |
| 2017-18 | Spain U21 | - | 0(2) (Euro U21 2019) | - |
| 2013-14 | Spain U17 | - | 0(2) (Euro U17 2014) | - |