Jeremy Mathieu has called on Valencia to enter into transfer talks with Barcelona and allow him to join 'the biggest club in the world'.
The France international defender has spent the last five years at the Mestalla, having left his homeland for Spain at the end of his contract at Toulouse in 2009.
He has made well over 100 appearances for Valencia over the course of his stay and feels his commitment to the cause should be rewarded with a dream move to the Nou Camp.
Mathieu feels the time is right to move on, at 30 years of age, and hopes both his current club and their loyal supporters will understand why he is pushing for an agreement to be reached – with an initial approach from Barca knocked back.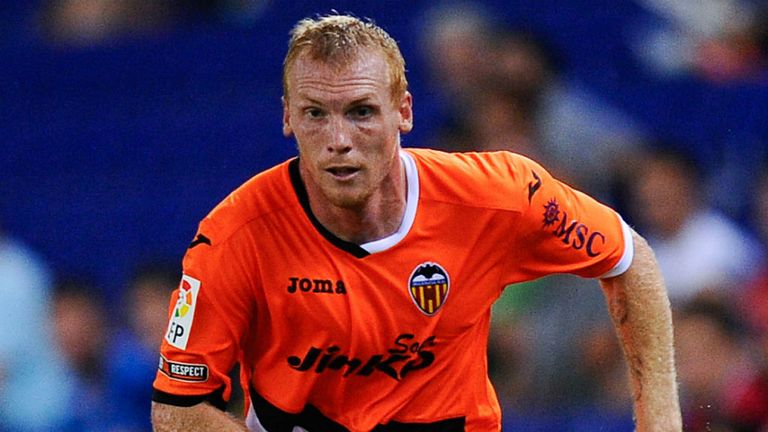 I have the opportunity to play in the biggest club in the world and that's all I want. I'll never forget what Valencia has done for me, but it's time to move on in the best way possible.
The Frenchman said in a statement released through Spanish news agency EFE: "I want to make clear that there isn't any moment in which my intentions are to get into a confrontation with Valencia CF, because of the love and respect I have for this club and its magnificent fans. I've played here for five years and I can only thank this club for their trust and support towards me all these years.
"I wish this statement is not interpreted as a way of forcing a situation that leads to my exit. It's simply a way of telling the truth about my situation and to stop feeding any rumours and speculations.
"Valencia CF has an offer on their table from an important club that wants to have my services. I don't hide that for me this is a gigantic step forward in all aspects, and it's a reward for all the work and effort I've put in, and it's a unique opportunity that I think every footballer would like to have.
"I signed with Valencia five years ago for free, so this transaction would be beneficial to all parties involved. During all these years I tried to give my best, showed my professionalism and my love for the club on every moment, but I think now is the time to take a step forward in my career and end this cycle with a club that I'll always have in my heart. I'll always be thankful to this club, no matter what.
"I would like to vehemently deny every accusation that's being made about me, calling me a rebel and saying that I don't want to work with the group. Every single person involved in the world of football should understand that when you're in the midst of a negotiation, you don't want to risk an injury and lose it all.
"I want to ask Valencia CF and its president, Amadeo Salvo, to please understand the situation and accept to negotiate my exit. I have the opportunity to play in the biggest club in the world and that's all I want. I'll never forget what Valencia has done for me, but it's time to move on in the best way possible.
"I have never been a controversial individual and I don't ever want to be, I just ask respect and understanding of the situation I'm in. This is something beneficial to everyone involved and I hope it gets done in the best way possible. In fact, when I signed my extension last season, the Valencia president promised me that he would let me leave if a good offer like this was put on table.
"Valencia CF will always be in my heart, and I would really like to finish this chapter in a positive way, because I certainly don't want to lose all the respect I learned to have for this amazing club."
Salvo has said that Mathieu will be free to leave if Barcelona put 20million euros (£15.8m) on the table, but their current offer is reported to be some five million euros short of that valuation.