Real Madrid's Martin Odegaard was once one of the hottest properties in world football. As he joins Dutch side Heerenveen on loan, we examine whether the 18-year-old might now begin to fulfil his huge potential...
Martin Odegaard had the footballing world at his feet when he signed for Real Madrid in January 2015. The precocious playmaker had been courted by every top club in Europe after he was fast-tracked into Norway's national team at the age of 15, and he arrived in the Spanish capital to a backdrop of frenzied hype and expectation.
The media attention was unprecedented for such a young player. Odegaard had made just 15 starts for boyhood club Strømsgodset in the Norwegian top-flight, but after months of speculation surrounding his future, the money-spinning transfer to Madrid was seen as the first step on the road to Galactico-style greatness.
Odegaard certainly pushed all the right buttons at his unveiling, describing the move as "a dream come true" and lauding Cristiano Ronaldo as his favourite player. Alongside him, club director Emilio Butragueno added to the excitement. "We have high hopes for Martin," he said. "We want his extraordinary talent to develop here."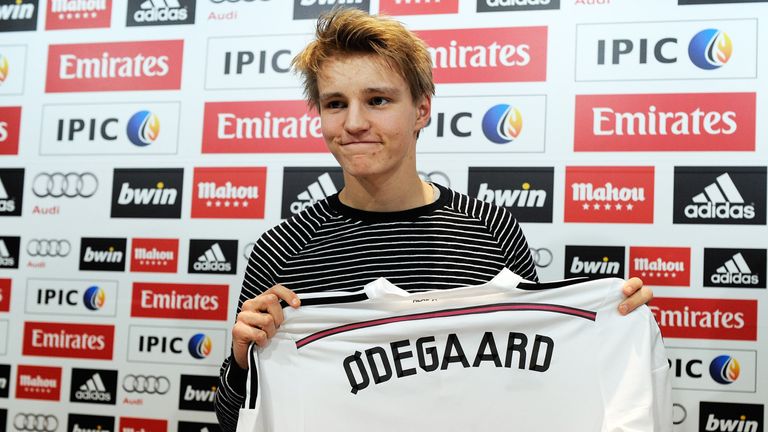 Looking back at those dizzying beginnings, it's fair to say things have not quite gone to plan. Odegaard trained with Real Madrid's senior squad from the start, but breaking into the team was a different story. After just two first-team appearances in two years, he has now begun a new chapter of his career on loan at Dutch side Heerenveen.
The 18-month loan deal may feel anticlimactic, but for Odegaard it is an opportunity he desperately needed. He has spent the last two years playing for Real Madrid's Castilla B team in Spain's regionalised third tier, but the 18-year-old now has the opportunity to showcase his talent in a competitive, top-flight environment.
For the coaches who have overseen his progress at international level, it's an important step. "Of course we follow him wherever he plays," Norway Under-21 coach Leif Gunnar Smerud tells Sky Sports. "But it's a step up from where he has been playing for the last couple of years. He will get a chance to prove himself in a good league. It's good for him and it's good for us."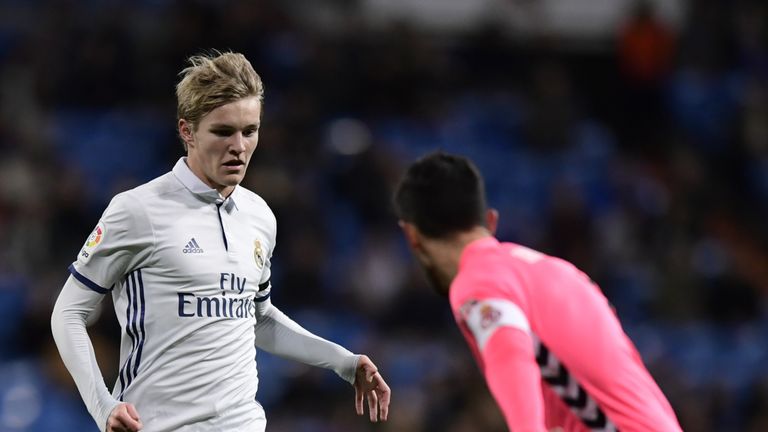 It was Smerud who gave Odegaard his Norway U21 debut in a European Championship qualifier against Portugal in September 2014. The youngster shone in the narrow 2-1 defeat, and a month later he became Norway's youngest ever senior player when he played in a friendly against the United Arab Emirates at the age of 15 years and 253 days.
"The most striking thing about him was his maturity," recalls Smerud. "He combined the skills that he had with a real understanding of the game. There are many young players who have technical ability, but they need to be mature in the way they use their skills. Martin was amazingly strong in that area from a very early age."
Those comments are echoed by Odegaard's close friend Bersant Celina, a Manchester City youngster who described his former Strømsgodset team-mate as a "ridiculous talent" in a recent interview with Sky Sports. "The way he was thinking about football and how smart he was on the pitch was unbelievable," he added.
Odegaard's attitude was questioned at Real Madrid and there were suggestions that some of Castilla's players resented his special status and disproportionately high salary, but those who know him best insist accusations of arrogance could not be further from the truth.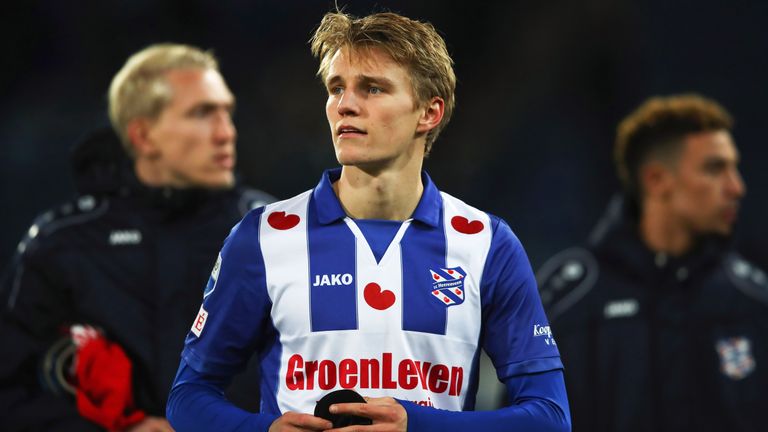 "He's a great guy to work with in every respect," says Smerud. "He's a team player and he works really hard on both his own development and for the team. He gains a lot of respect from his team-mates because of the guys he is. He's humble and he keeps both feet on the ground all the time. He has been through quite a bit but he's the same as he ever was."
That attitude should help him at Heerenveen, where the route to the first team is rather clearer than at Madrid. Odegaard made his debut as a late substitute in Saturday's 2-0 win over Den Haag, and he will be hoping for his first start when the Eredvisie's fourth-placed team take on third-placed PSV Eindhoven on Sunday.
Smerud is confident that Odegaard's technical style will be well suited to his new surroundings. "Martin is a clever player who can play in many different styles, but the Dutch league has a good reputation for developing young players," he says. "I think it can be a good match."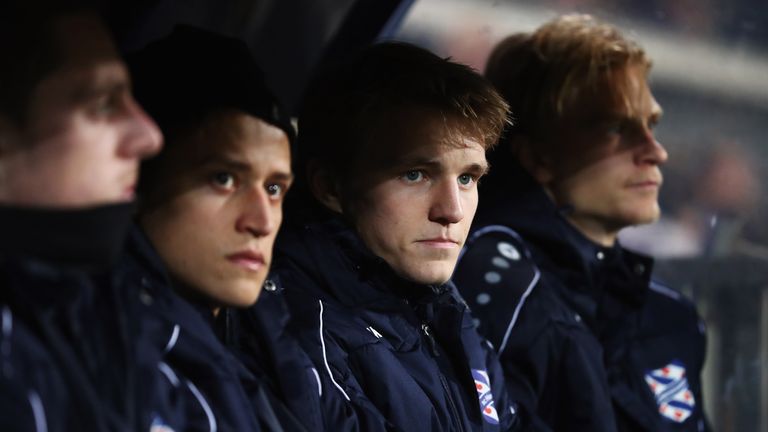 The Real Madrid first team feels further away than ever as Odegaard gets started in the Netherlands, but Madrid can recall him at the end of the current campaign and an impressive loan spell at Heerenveen could yet force him back into contention.
"It's easy to forget how young he is because of how long he has been around," says Smerud. "He is still only 18 and he has a very interesting future ahead of him. He has to work for it, of course, but that has always been one of his biggest strengths.
"He is not the guy who shouts the loudest but he works consistently and he has shown that he can endure the kind of period that not all young players would survive. He has that capacity, and we all know he has the talent." Away from the Bernabeu and out of the spotlight, Odegaard finally has a chance to show it.