If Radamel Falcao's absence from Colombia's World Cup squad had created a star vacuum to allow James Rodriguez to assume greater responsibility, it looks a very different story at Real Madrid – the world's self-styled biggest football club.
At the UEFA Super Cup in Cardiff, on a night when Gareth Bale's homecoming saw him centre stage only for Cristiano Ronaldo to steal the show, there was a reminder that being the summer's Golden Boot winner only gets you onto the cast list at Real - a lead role is some way away.
Judging by the replica shirts on view at the Cardiff City Stadium and the shrieks of delight when his name was read out, there is plenty of room in the hearts and minds of Real Madrid supporters for yet another hero. After all, they collect them at the Santiago Bernabeu.
But it is the task of Real's head coach Carlo Ancelotti to take these world XI candidates and fashion them into a team. The signs from James's competitive debut are that this will mean considerable donkey work for the cultured Colombian.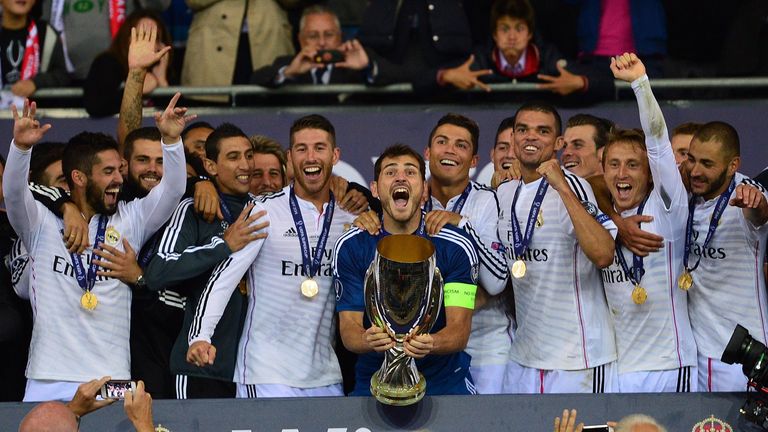 Ancelotti has a well-earned reputation for tactical flexibility when it comes to accommodating star names and it had initially appeared as though he'd elected to go with the fantasy football option with James as a '10' behind the celebrated B-B-C forward line of Karim Benzema, Bale and Ronaldo.
However, it soon became clear that this was no out-and-out playmaking role for the former Porto and Monaco man. Instead, James was playing from the left of midfield in a 4-3-3 formation alongside Toni Kroos and Luka Modric, with the latter drifting towards the right. It is something of a hybrid role in this Real Madrid team with James having to perform several different functions.
Tracking
They include tracking Ronaldo's marker when the right-back dares to push forward, bombing ahead on the overlap in order to buy the aforementioned No.7 that yard to come inside on his stronger foot, whilst all the time remain aware of the potential requirement to tuck inside and form a three-man midfield when necessary.
James showed himself to be a willing worker and a picture of concentration, visibly straining sinews to cover defensively for his team-mates ahead of him. But it is a thankless task at times and when the 23-year-old found himself in deeper position than he is familiar with, it proved problematic.
For example, his first meaningful touch of the ball came in his own third where a loose pass resulted in the conceding of a corner. Then just after the half-hour mark, there were more problems near his own byline when a skewed clearance under pressure allowed Sevilla to get a clear shot at goal that was well saved by Iker Casillas.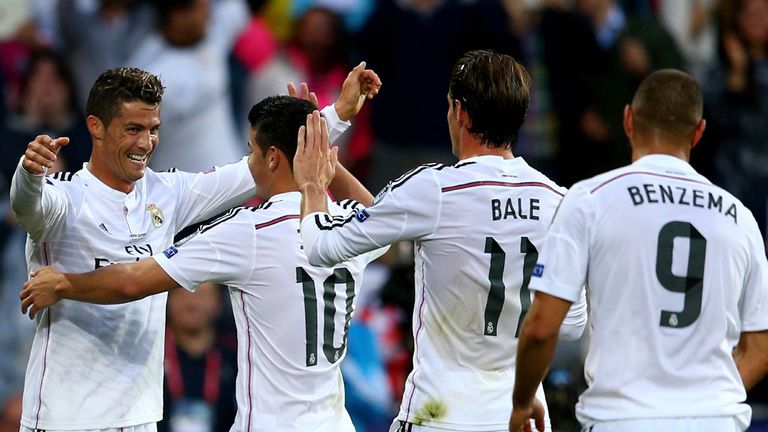 The difficulty is that in this system James is such an obvious replacement for Angel Di Maria that the job description has been written with the athletic Argentine in mind. Di Maria epitomises the mixture of accurate crossing, tireless midfield play and determined defending that the role demands. He was the best player in May's Champions League final doing precisely this.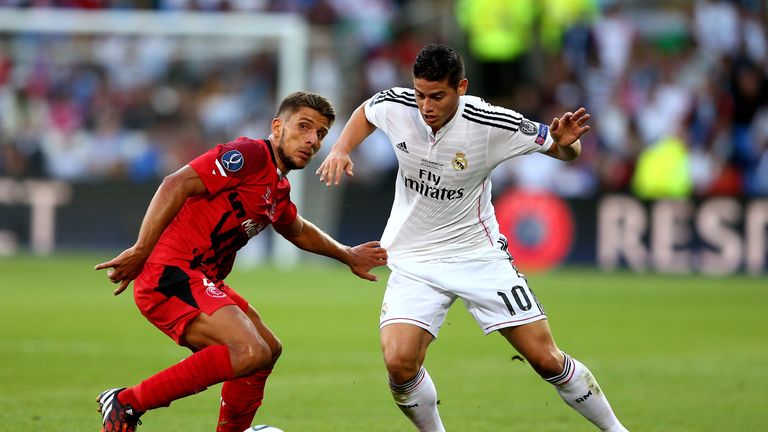 It is the demand for ceaseless energy that makes the assignment particularly difficult for James at this stage. Ancelotti stressed in an interview in the matchday programme that with players only returning from World Cup duty at the start of August the squad are being asked to contest – and win - trophies during what is effectively their pre-season.
Toni Kroos's involvement in Brazil lasted until the final moments of the final itself, but the German was more than comfortable slotting into the Xabi Alonso role at the heart of midfield. For James, in more ways than one, the Di Maria impression needs a lot more work.
Lost possession
He finished the match with the worst WhoScored rating of any Real Madrid starter. It was a reflection of the fact that he lost possession of the ball more than anyone during his time on the pitch – 17 times in all, while failing to complete a single dribble… Not good for balance in a team that already includes the talents of Bale and Ronaldo.
It's not that there weren't positives. The Super Cup was won 2-0 and James played a part. In the 18th minute there was a fine cross to Bale only for the Welshman to see his shot blocked, while the new signing was also involved in the opening goal with a simple pass during the breakaway. In the second period, he forced a sharp save from Beto with a fierce strike of the bouncing ball.
By the time he was removed after 72 minutes of endeavour, there was a warm reception from the crowd – more than matched by that afforded his replacement, Isco. In a sense, it was an appropriate switch. For Isco, a €30million signing himself and still only 22, was the previous next big thing. The golden boy before this golden boy. A reminder of how things can be at Real Madrid.
Of course, with a six-year age gap between James and Ronaldo and the left-footer also a couple of years younger than Bale, there is also every chance he'll ascend to a starring role eventually – just as he did with the national team in Brazil. But the early signs are that there'll be an awful lot of work for James Rodriguez to do in the meantime.