Next Saturday's Clasico between Barcelona and Real Madrid could see Lionel Messi and Cristiano Ronaldo resume their rivalry, but has Neymar done enough to end their dominance of the Ballon d'Or?
For each of the last seven years the Ballon d'Or, awarded to the world's premiere footballer, has been a two-horse race between Barcelona's Messi and Real Madrid's Ronaldo.
Messi has won the award on four occasions; Ronaldo three times, including the past two years.


The great rivals are favourites to scoop the former world player of the year prize once more in 2015 - but would Neymar be a more deserving winner this time around? The WhoScored.com stats suggest he should run them close, at the very least.
Neymar was uncharacteristically quiet in Brazil's 1-1 draw with Argentina on Friday night, but Barcelona's victory over Villarreal on Sunday was the perfect example of why, in the continued absence of the injured Lionel Messi, he should perhaps be seen as the Argentine's greatest rival for the award.
Neymar's second goal of the game against Villarreal - Barca's third - was a moment of magic, flicking the ball over the head of a defender before spinning and firing low into the net. It was an audacious attempt but one that, on current form, the forward was more than willing to take and not surprised to score.
The Brazilian has been in scintillating form for much of the year but has come to the fore for Barcelona with injured Messi unavailable.
With the voting for the Ballon d'Or commencing on October 26 and ending on November 20, Neymar could have done little more to put himself in the spotlight.
The 23-year old has earned WhoScored.com's man of the match award in each of his three appearances in that time, sandwiching a perfect 10 rating in the Champions League vs BATE Borisov with scores of 8.98 (v Getafe) and 9.76 (v Villarreal) in the league.
His overall rating of 8.63 is the highest in Europe's top five leagues this season, with his 11 La Liga goals leading the way in Spain.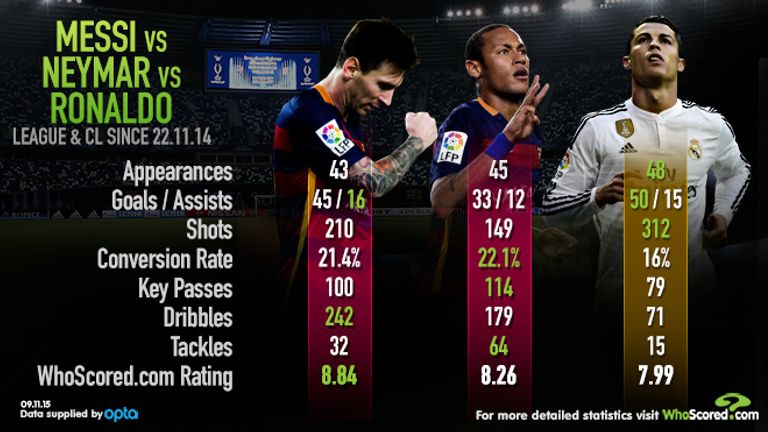 Ronaldo, meanwhile, has a respectable league tally of eight - but with five of those coming in one game he has failed to find the net in seven of his 11 league appearances in 2015/16. That may not be a huge deal for most forwards on the continent but for a player of the Portuguese's ilk represents a substantial drop off in form, culminating in a meagre WhoScored.com rating of 6.46 in defeat to Sevilla last time out.
Ronaldo's average rating of 7.68 for the season pales in comparison to Neymar.
Moreover, the Real Madrid man has been unable to inspire his side to any glory this year, while Barcelona completed the treble last season, with Neymar playing a crucial role in their Champions League triumph in particular.
With goals in both legs of the quarter-final and semi-final before a decisive late third in the final against Juventus, Neymar's fine form certainly stretches beyond this season alone.
What may go against the forward was a disastrous Copa America campaign in the summer.
Brazil's captain and poster boy saw his tournament brought to a premature end with a petulant red card against Colombia. Neymar made just two appearances in Chile and, despite scoring and registering a sensational assist in Brazil's first group game, the Selecao exited the tournament in the quarter-finals with their skipper suspended.
That said, while Argentina reached the final of the same tournament in the summer it was another disappointing showing by his astronomical standards from Lionel Messi, whose only goal in Chile came from the spot. Messi, however, does still stake a very strong claim to reclaim the Ballon d'Or.
Since November 22 - the period from which this year's Ballon d'Or is judged - Messi has scored 45 goals in the league and Champions League for Barcelona, registering a further 16 assists.
Both tallies, along with a remarkable 242 successful dribbles from 43 appearances, are in excess of Neymar's efforts, though the Brazilian's all-round contribution and efficiency has been sensational regardless.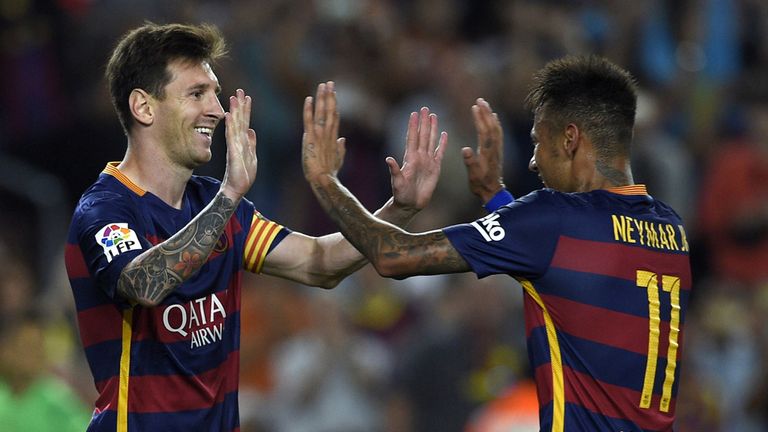 Neymar has still completed over 100 more dribbles than Ronaldo at club level over the same timeframe, while his 114 key passes is better than both Messi and the Madrid man.
Meanwhile, Neymar's 33-goal tally in the league and Champions League this calendar year has come from less than half the number of shots (149) that Ronaldo has mustered in the past 12 months (312). As a result a conversion rate of 22.1 per cent is significantly in advance of the Ballon d'Or favourites, while also making 64 tackles to Messi's 32 and Ronaldo's lowly 15.
With a direct hand in 19 goals (13 goals, six assists) across 14 appearances in the league and Champions League this season, Neymar is beginning to emulate the standards of Messi and Ronaldo that few thought would ever be possible.
Download the latest edition of the free WhoScored.com e-magazine for a round-up of October's action across Europe
Watch Real Madrid v Barcelona live on Sky Sports 2 HD from 5pm next Saturday