Lionel Messi and Sergio Ramos will not be targeted in El Clasico, says Luis Suarez
Last Updated: 19/11/15 11:33am
Luis Suarez does not expect Lionel Messi or Sergio Ramos to be targeted if they play any part in El Clasico on Saturday.
Ramos is carrying a shoulder injury that he aggravated performing an overhead-kick in Real Madrid's 3-2 defeat to Sevilla.
Barcelona star Messi, meanwhile, has been out since September 26 with a knee injury and it is not clear if he will feature in the La Liga match at the Bernabeu.
But despite the intense rivalry, Suarez does not believe the two players could be targeted in Saturday's game - live on Sky Sports.
Suarez said: "I am not going to go looking for [Ramos'] shoulder, in the same way nobody is going to look for Messi's knee. We are fellow football players and we do not want to hurt anyone."
Messi's participation is the main talking point ahead of the top-of-the-table clash, but Suarez is unsure whether the Argentine will be involved.
"We do not know if he will play or start on the bench but he is a player who makes a difference," he said. "He proved that at the Calderon (against Atletico Madrid) when he came on for the final 30 minutes and won us the game.
"The decision is for the coach and the medical team. He is training with us, with good feelings, but it is an injury that could have risks for the future."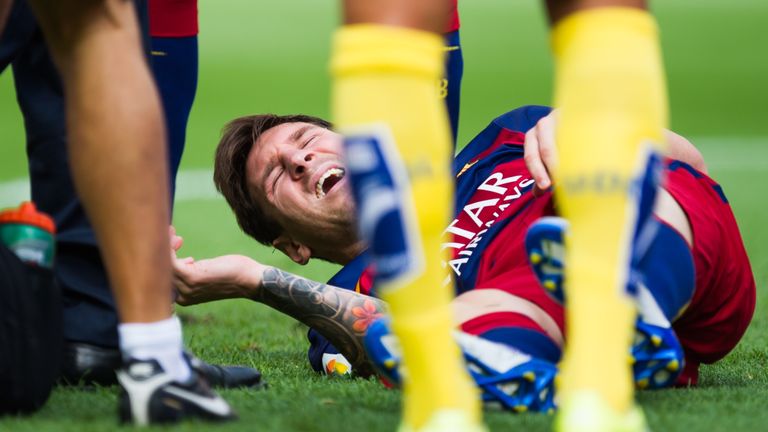 Barcelona go into the fixture with a three-point lead over Real Madrid at the top of La Liga and having won three of the last four league meetings against their arch rivals.
Last year, though, they were beaten 3-1 at the Bernabeu in a game that saw Suarez make his Barca debut.
"To play in the Bernabeu is special, because of the significance of the game," he said. "It was good to make my debut there, even though the result was bad.
"These are games that great players decide but they do not decide the league. There is a long way to go and Atletico Madrid will also be there."