Arsenal defender Hector Bellerin a great player, says Barcelona vice-president
By Patrick Surlis
Last Updated: 20/09/16 4:30pm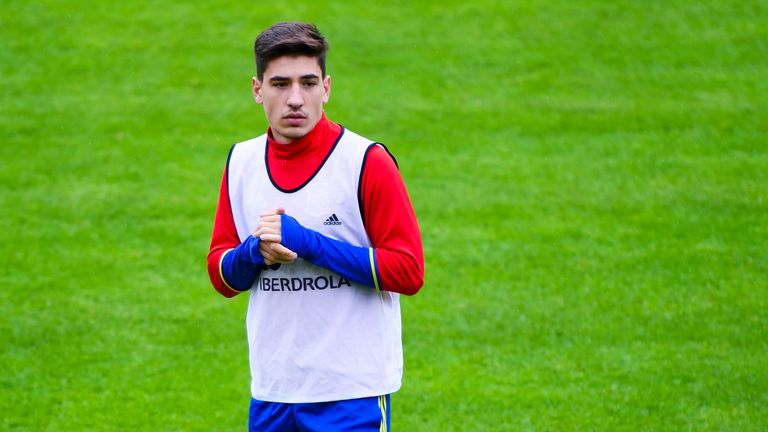 Barcelona vice-president Jordi Mestre has praised Arsenal right-back Hector Bellerin, describing him as a "great player".
Bellerin, who left Barca for north London as a 16-year-old, has been linked with a return to the Nou Camp by the Spanish press.
Speaking to Spanish newspaper Sport, Mestre said Bellerin left Barca in 2011 because the club could not guarantee he would eventually replace then first-choice Dani Alves.
"We've already seen him as a Cule! He's a great player, there's no doubt about that," Mestre said.
"Wenger convinced him to move [in 2011] and promised him something which we could not. We could not promise him that within two years he would be playing in Dani Alves' place."
If Bellerin re-joined Barcelona, he would become the latest player to return from the Premier League having left as a youngster, joining the likes of Gerard Pique and Cesc Fabregas.
Pique signed for Manchester United before moving back to the Spanish giants four years later, while Fabregas returned to Barca from Arsenal before heading on to current club Chelsea.
Mestre believes the practice is good for the players, who get first-team football, and for Barca.
"In many cases it's good they leave to develop as players and then return," he added.
"Look at the examples of Fabregas, Pique, [Jordi] Alba and Denis Suarez. I hope the same thing will happen with [Sergi] Samper, too.
"It's positive that they get minutes at other clubs. It is a dynamic that has always provided good results for players that carry the Barca DNA in their blood."
Watch Man Utd v Leicester, the Ryder Cup and the EFL Cup as part of our three months' half-price offer.