Barcelona coach Luis Enrique conceded the 5-0 scoreline flattered his side as they comfortably came through their first La Liga match without the injured Lionel Messi against Sporting Gijon.
Messi is set to be out for three weeks after he limped off with an adductor injury in Wednesday's draw at home to Atletico Madrid but Luis Suarez and Neymar were both on target, with the Brazilian netting twice.
However, Sporting were only 2-0 down and matching Barcelona when Alberto Lora was sent off in the 74th minute after which the home side seemed to lose their way and three goals in six minutes put a gloss on the victory which Luis Enrique admitted was probably more than his team's overall performance merited.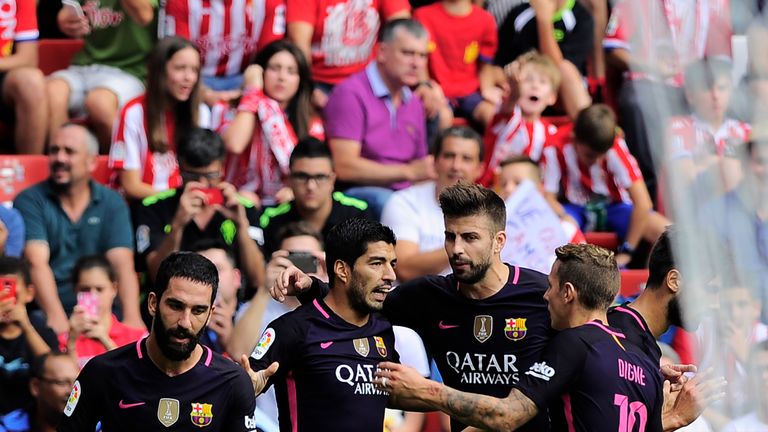 "The result is misleading, 5-0 looks simple and easy, but nothing could be further from the reality," he said.
"The game was not a true 5-0, it was much tighter than that. At 2-0 Sporting made us suffer and a goal from them then would have complicated the game. The sending-off unbalanced the match."
Suarez scored Barca's first in the 29th minute as he raced on to a long ball over the top of the Sporting defence, taking the ball around Ivan Cuellar and slotting home before Rafina doubled the lead three minutes later.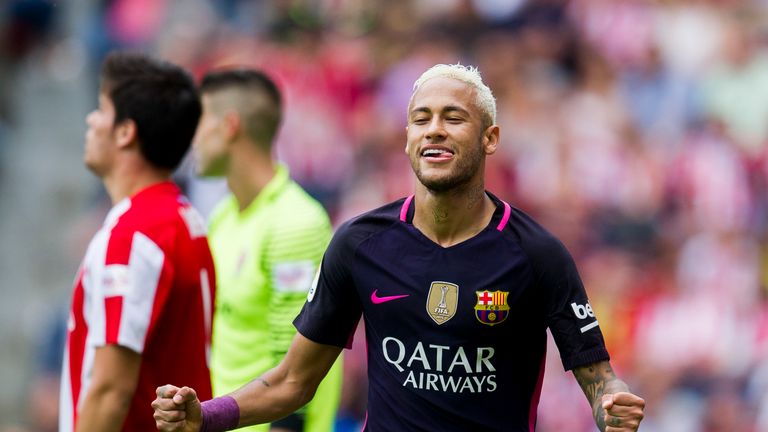 They did not score again until the 82nd minute and Sergio Roberto was again the instigator, his ball finding substitute Paco Alcacer whose shot was tipped against the crossbar by Cuellar and Neymar was on hand to poke home the rebound.
Roberto also crossed for Arda Turan to head in the fourth and Neymar completed the scoring in the 88th minute as he slotted home from Denis Suarez's through-ball.
Luis Enrique singled out Roberto for praise after the game, saying: "I do not see anyone better for us on the right side than Sergi Roberto. He plays very well for us between the lines and he brings many resources to the team."