Barcelona have confirmed a long-term contract extension with American kit manufacturers Nike that will see the Catalan giants make at least 155m euros (£140m) a season from 2018.
The initial deal, which smashes Manchester United's previous record £750m (835m euros) 10-year deal with Adidas, will run until 2023 when Barca's members will have the chance to vote in favour of a further five-year extension.
"It is a figure which puts us No 1 in the world for sponsorship in the sports industry," Barca vice-president Manuel Arroyo told the club's annual general meeting on Saturday.
"The fixed rate of the contract increases 48 per cent and the royalties also increase.
"From this season (2018-19), the total turnover of the deal will be around 155m euros."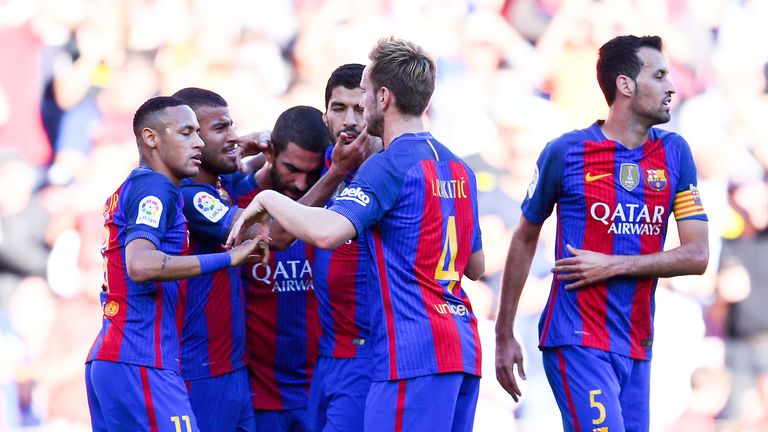 Barca confirmed in May they had reached a deal to continue their partnership with Nike, which began in 1998, without releasing the value of the deal.
The agreement will be a huge boost to Barcelona's aim to be the first football club to break the one billion euro revenue barrier by 2021.
The Spanish champions overcame eternal rivals Real Madrid with a record turnover of 679m euros (£612m) last season.
Members on Saturday also passed a budget of 695m euros (£626m) for this season, a massive 392m euros (£353m) of which will go on sporting salaries.
However, that figure could even rise as president Josep Maria Bartomeu said the club are working on renewing the contracts of star forwards Luis Suarez and Lionel Messi after Neymar recently extended his deal to 2021.
"These strikers are spectacular. Believe that our principal objective is that they all stay here," Bartomeu said of Barca's 'MSN' frontline.
"Neymar has renewed and now we are trying so that Suarez stays here for many years to come and then we will speak with Messi of course. He is the catalyst, the one that makes everything else function."