Is Ernesto Valverde spoiling Ousmane Dembele's value at Barcelona, asks Terry Gibson
By Stephen Mills
Last Updated: 05/03/18 7:14pm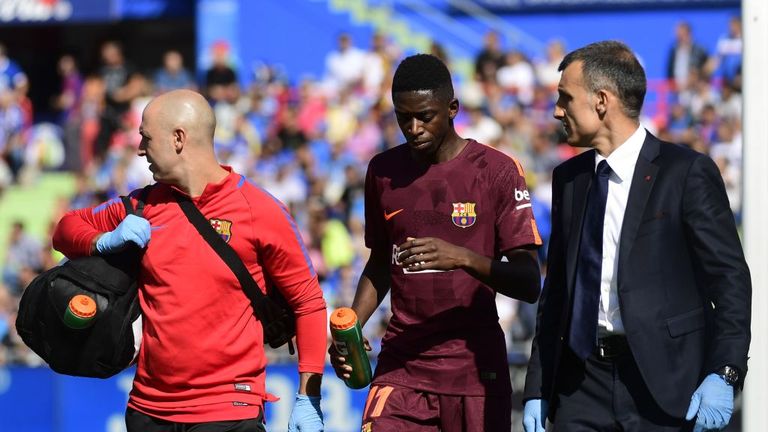 Terry Gibson says Ousmane Dembele's value might have halved in one season as the big-money signing struggles to force his way into Ernesto Valverde's plans at Barcelona.
The 20-year-old became the second most expensive transfer in history last summer when Barca paid Borussia Dortmund €105million (£96.8m) for his services, but he was an unused substitute in the crunch La Liga win over Atletico Madrid on Sunday.
The snub from manager Valverde was even more surprising after a first-half injury to Andres Iniesta and the youngster has only made seven appearances in La Liga this season.
Sky Sports' Spanish football expert Gibson believes Valverde does not rate the forward, but says he should try to find a way to protect the value of the player.
"You can't have many complaints in general about Valverde," he told Sky Sports' La Liga Weekly Podcast.
"They are winning most of their games, they are unbeaten in La Liga this season and are huge favourites to win the league. You don't want to be too critical of a manager who is achieving that in his first season.
"I get that Philippe Coutinho, who is another big-money signing, will start ahead of Dembele, plus Ivan Rakitic, Sergio Busquets and Iniesta are straightforward choices for the way they have played this season.
"But it surprised a lot of people when Andre Gomes was the player that came on for Iniesta. Initially we all thought it would probably be Paulinho, who eventually did come on for Coutinho.
"It was a surprise Dembele didn't get on against Chelsea when Coutinho is not on the bench for Champions League football.
"He is 20 years of age and has limited experience, but comes with an unbelievable price tag. Something has to give.
"I think you have a responsibility as a manager for so many different aspects of a club - and surely one of those responsibilities is to protect an asset and not diminish it?
"If this doesn't work out this season for Dembele - and I've no idea what's going to happen in the summer - and they were to sell if he's not happy, then they're not going to get anywhere near the price they paid.
"Say they took £50m. That's a £50m loss in one year. I know it's the world of football, but it's still a company that cannot afford to panic buy after Neymar was sold. He's had injury issues, hasn't got the trust of the manager and £50m goes down the drain?
"Yes, Valverde and any football manager has to pick the best team to win the games and keep themselves in a job, but there are other aspects that do need care and attention from a manager."