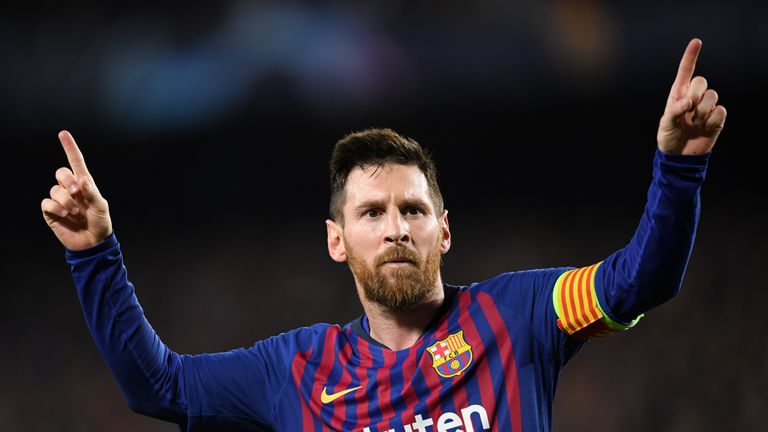 Lionel Messi took the game away from Liverpool with two late goals to help Barcelona win 3-0 in the first leg of their Champions League semi-final at Camp Nou – and in the process scored his 600th goal for the club.
It was the second of the evening, a wonderfully curled free-kick beyond Alisson and into the top corner of the net, that saw Messi reach the landmark in his 683rd Barcelona appearance - 14 years to the day after scoring his first goal for the club.
That was against Albacete in La Liga with the assist provided by Ronaldinho. A lot has happened since then. Here are the latest numbers behind his truly extraordinary career…
Unsurprisingly, Messi is Barcelona's all-time top scorer. In fact, he has scored 368 goals more than any other player. He surpassed the total of Cesar Rodriguez when scoring a hat-trick against Granada back in 2012.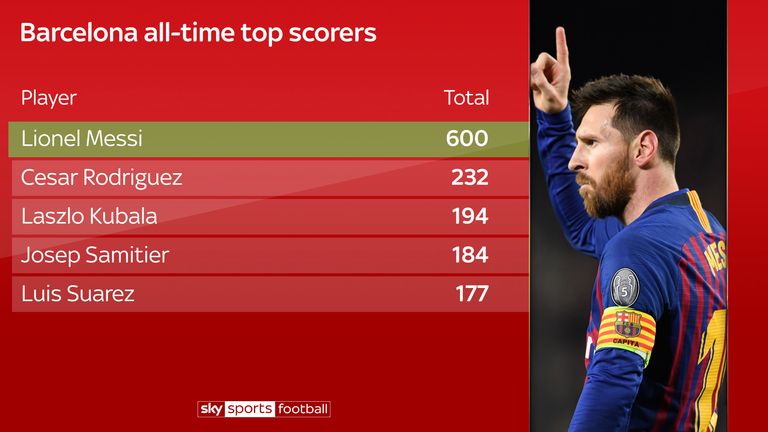 During his Barcelona career, Messi has scored against 76 of the 85 teams he has faced, with Sevilla his favourite opponent - he has found the net 36 times against them.
Two of his five favourite opponents in terms of goals scored are arch-rivals Real Madrid (26 goals) and Barcelona's neighbours Espanyol (25), becoming the all-time top-scorer in El Clasico and the Barcelona derby matches.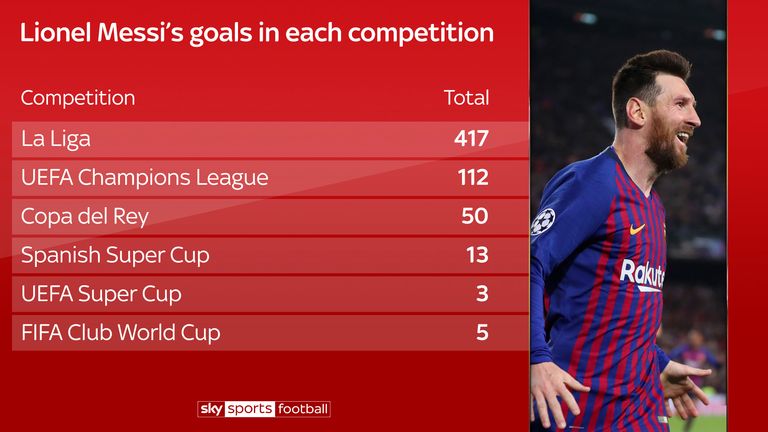 Messi has also scored in six different competitions for Barcelona, becoming the all-time top-scorer in La Liga and the Spanish Super Cup. He is also the second highest scorer in Champions League history with 112 goals, only surpassed by Cristiano Ronaldo with 126.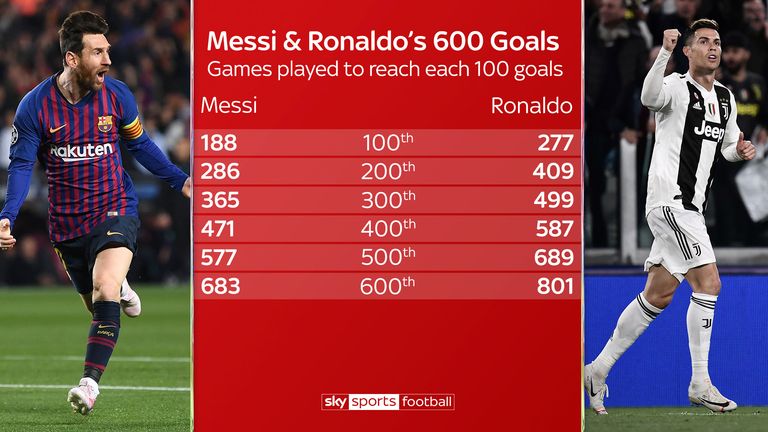 As for the types of goals scored by Messi, 491 of them have been with his left foot, while only 85 have been scored with his right. There have been 501 of them from inside the box, while he needs one more from distance to bring up a ton of goals from outside the area.
Forty-two of those 99 goals from outside the box have been scored from direct free-kicks like the one that put Barcelona three goals up against Liverpool on Wednesday evening.
Goal types
| Goal type | Total goals | % of goals |
| --- | --- | --- |
| Left foot | 491 | 81.8% |
| Right foot | 85 | 14.2% |
| Headers | 22 | 3.7% |
| Other | 2 | 0.3% |
| | | |
| Inside box | 501 | 83.5% |
| Outside box | 99 | 16.4% |
| | | |
| Penalty kick | 70 | 11.7% |
| Free kick | 42 | 7.0% |
Free-kick record
In the top five European leagues in all competitions, Messi has scored eight direct free-kick goals this season – twice as many as any other player.
Three of the five players to have provided Messi with the most assists actually played alongside him in Barca's reserve team. His current team-mate Luis Suarez is just one goal away from overtaking Dani Alves as the player to have provided the most assists for him.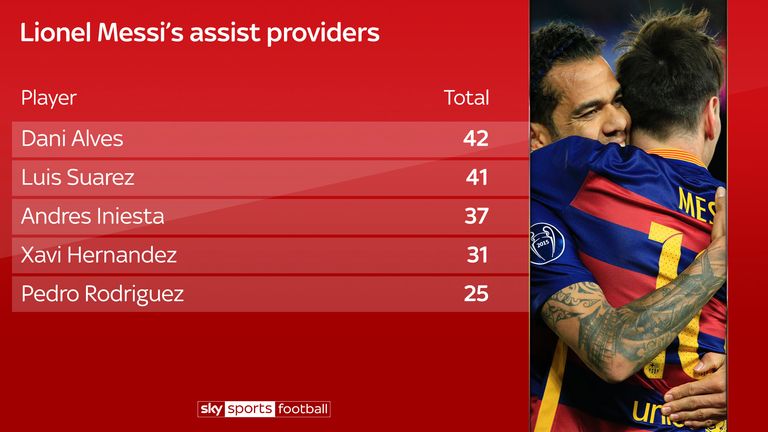 After scoring that first goal against Albacete, Lionel Messi took 1721 days to score his 100th goal for Barcelona. He needed 654 days to reach his 200th goal, 473 days to reach the 300th, 791 days for his 400th and 735 days to score his 500th goal.
That landmark goal came against Real Madrid in his favourite away ground, the Santiago Bernabeu. This one came at home in another massive match. Roll on number 700…
English victims
Barcelona's Lionel Messi has scored 26 Champions League goals against English clubs – 14 more than any other player.
Jurgen Klopp's verdict
"In those moments, he is unstoppable - we couldn't defend the free-kick," Liverpool boss Jurgen Klopp told reporters.
"He's a world-class player. His second goal wasn't the greatest goal in the career of Lionel Messi but it shows his skills. He is there in that moment.
"I was happy with how we defended against all of the Barca team, including Messi. I am a bit admirer of him but my boys didn't show too much respect. They tried with completely legal things, we played football."
Pundit's verdict
"When Messi runs at you, it is an absolute nightmare," former Liverpool winger Jermaine Pennant told Sky Sports' The Debate. "I would hate to be defending and see that little man run at me. I'm looking for help. The minute they gave him a bit of space, he turned in that midfield and a goal came. He can run at you and pick passes like the best people can.
"He was quiet but that is what fantastic, world-class players do. They kept him quiet for 80 minutes and in the blink of an eye, he scored a magic goal like he did. Liverpool did a really good job on him and take your hat off to him, it was a fantastic free kick. To get two goals after being so quiet, it shows how good of a player he is."