Primera Division: Barcelona charged with tax fraud over Neymar signing
Barcelona have been charged with tax fraud by a Spanish court over the signing of Brazilian striker Neymar.
Last Updated: 20/02/14 3:59pm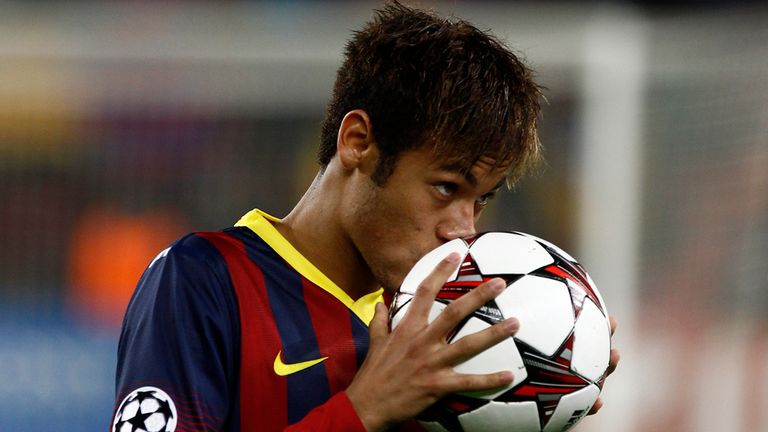 On Thursday, Judge Pablo Ruz charged the club with "an infringement against the tax authority" over the signing of the Brazilian international, who joined from Santos in June 2013.
Barca denied any wrongdoing over the transfer in a statement released on Wednesday, a day after Spain's public prosecutor had asked Judge Ruz to lay fraud charges against the club.
"The club's dealings with respect to this operation, and in light of all information available, was at all times in line with the relevant legal legislation," read the statement, which also revealed that the club would be sending legal representatives to court "within the next few days in order to defend its interests and rights."
Ruz is also investigating former Barca president Sandro Rosell, who stepped down from his role after it was revealed that 40m euros from the deal to take Neymar to the Nou Camp had been paid to a firm operated by the player's father, who has been called to testify at the court.
In January, Barca member Jordi Cases alleged that the amount the club paid for Neymar was greater than the 57.1m euros stated at the time and that Rosell had misappropriated funds.
The club subsequently revealed that the amount paid for Neymar was 86.2m euros following the revoking of a confidentiality agreement with the player's father.
Barca director Raul Sanllehi stated the transfer on its own had cost 57.1m euros including 17.1m to Santos and 40m as a "compensation fee" paid to the company owned by Neymar's parents.
However, he also detailed other payments around the transfer such as a signing bonus of 10m euros and various other fees paid to the family that took the total cost to 86.2m.
Neymar Sr has come under criticism from Santos' former and current presidents, Luis Alvaro de Oliveira Ribeiro and Odilio Rodrigues, with the latter branding the deal he struck with Barca as "unacceptable".
This led the player to defend his father and also criticise Ribeiro and Rodrigues.
Writing on his official Instagram page, the 22-year-old said: "I am sick and tired of this... I've had enough of all this talk.
"I am a fan of my dad for having put me where I am, and if he makes millions from that, what's the big deal? He worked for it, it didn't just fall in his lap.
"I am totally disappointed with the ex-president LAOR () and the current ODILIO (Rodrigues).
"Principally with LAOR, who I always treated with the utmost care and admiration.
"Enough is enough. Sorry, Santos fans, but my love for the club won't change because of 'one or two people'."