La Liga: Veteran defender Carles Puyol bids emotional farewell to Barcelona
Carles Puyol will bid farewell to Barcelona on Thursday, saying he feels privileged to have enjoyed so much success.
Last Updated: 16/05/14 11:07am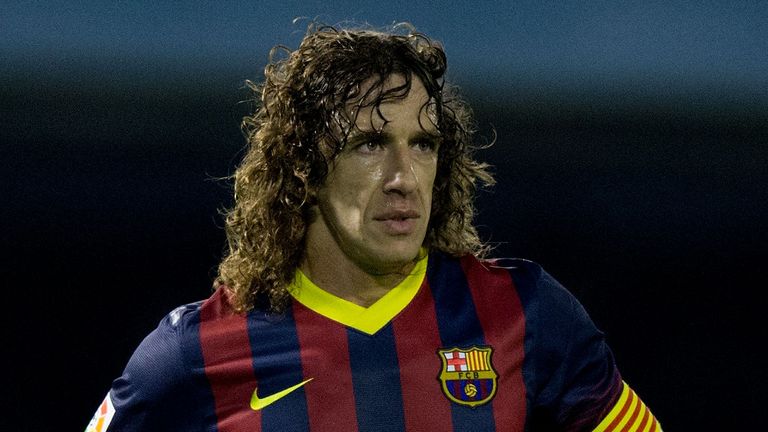 The 36-year-old will leave at the end of the campaign following a spell of persistent knee problems, but has been instrumental in Barca's rise in both Spain and Europe in recent years.
Puyol has been a first-team regular for 15 seasons, winning 21 titles including six Primera Division and three Champions League trophies, while he has also been capped by his country 100 times.
Puyol is unlikely to make the bench in the title showdown against Atletico Madrid this weekend, but the club captain was given a rousing send-off in front of the media on Thursday and spoke of his pride at everything he has achieved during his time with the Spanish champions.
"This is a very difficult moment for me and I'm very emotional but I will try to enjoy it," he said.
"I am a man of few words but I will try and explain how I'm feeling.
"As I said a few months ago, my knee is still troubling me and my time at Barca will end from June 30.
"We've tried to find a solution but that's not been possible. But I want to thank everyone at the club. I can now fight my injury without the pressure of playing.
"I've done what I've always wanted to do and been very happy. I've lived the dream of thousands of children and I'm privileged.
"I came here as a child and I leave with a family. I want to thank all those at the club who have made the club work every day that I have been here."
Puyol, who also paid tribute to the Spanish Football Federation and the fans, has yet to decide where his future lies although admitted he is unlikely to go into management or prolong his playing career with another club.
He said: "I don't think I'll be a coach, it's not what I want to do most. Maybe I'll change my mind but for now I want to try other things.
"My main project is to restore my knee. To do this, I must let it rest. I have many plans to make in the coming weeks and I will have to talk to my partner.
"It hurts not being able to help out on the pitch, which is where I wanted to be. But if I can't do it here, I can hardly do it elsewhere.
"I would like to get the knee back to fitness so I can continue in a sporting capacity. I would hope to remain connected to the club, but never as head coach."