Luka Modric rarely grabs the headlines but Real Madrid will need him at his best when they face Barcelona live on Sky Sports on Sunday. Nick Wright examines how the understated midfielder remains a key figure in a team full of Galacticos.
Zinedine Zidane tends to hold his cards close to his chest when he speaks to the media, delivering the carefully measured, deadpan answers of a man who doesn't want to give too much away. But when asked what Luka Modric brings to his team during a recent sit-down with Sky Sports at Real Madrid's training ground, he couldn't hide his enthusiasm.
"It's his tranquillity," beamed Zidane. "It's his tranquillity with the ball. I have the best players and we could talk about any of them, but if you ask me about Luka, I have to talk about his calmness with the ball at his feet. La tranquilidad. That's what he gives to the team when he's playing well. He makes the rest play."
Zidane is not the first Real Madrid coach to appreciate those special qualities. Jose Mourinho was so enamoured by Modric he tried to take him with him to Chelsea. Carlo Ancelotti still rates him just as highly. "I can only tell you Luka Modric is definitely one of best midfield players in the world," the Italian said in November.


Since overcoming a difficult start at the club in 2012, when Marca readers voted him as the worst signing of the season after his £30m arrival from Tottenham, Modric has quietly become key for Real Madrid, confounding his critics and racking up over 200 appearances in the heart of their midfield. In October, a month after his 31st birthday, he was handed a new four-year contract.
Madrid's recent achievements owe a lot to him. Along with Sergio Ramos and Gareth Bale, Modric is one of only three players to have played every minute of their last three major cup finals. He provided the assist for the crucial equaliser in their 2014 Champions League triumph over Atletico. He was similarly influential when they repeated the feat last year.
But still his work tends to fly under the radar. Modric is a quiet character who likes to keep a low profile. He does not score many goals or even provide regular assists. But there's more to Modric than that. He starts moves rather than finishing them. He makes the rest play, as Zidane puts it.
Modric may be an introvert off the field, but on it he never hides. Against Bayern Munich on Tuesday night, he delivered another big performance when it mattered. He was not directly involved in any of Madrid's four goals, but he had more touches than either Toni Kroos or Casemiro and regained possession more times than any other player on the pitch.
Modric's discipline and tenacity are invaluable qualities for Real Madrid, a team in which even holding midfielder Casemiro likes to bomb forward at every opportunity, but he also provides the link between defence and attack. With his head constantly swivelling one way and the other, he always seems to be one step ahead of the rest.
The moment that best summed him up on Tuesday came late in the first half, when he collected the ball on the edge of his own box following a Bayern attack. With his low centre of gravity and that deceptive acceleration, he breezed past a crowd of red shirts before clipping a perfect pass over the top with the outside of his boot. Cristiano Ronaldo couldn't apply the finish it deserved.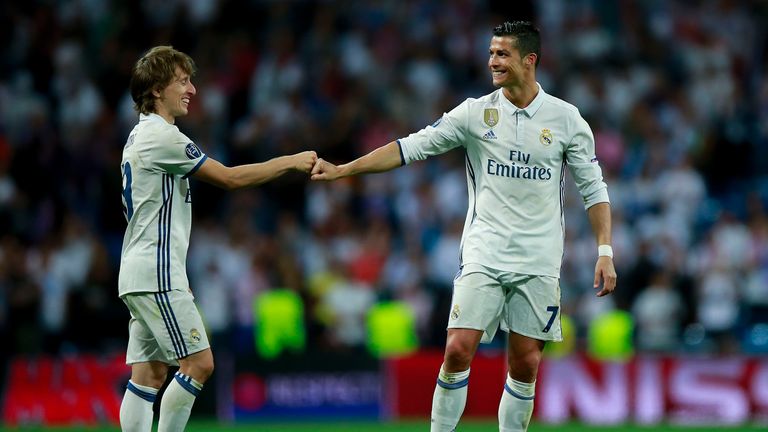 Real Madrid have come to expect these performances from their No 19. "He just always seems to be consistent and he sees passes no one else sees," said Bale earlier this season. "Being with him at Tottenham and at Real Madrid, I've been able to witness it many times."
It came as a surprise, then, that Zidane was recently forced to defend his form. Modric had been substituted in five of his previous seven appearances at the start of April, but his manager's response to the questioning said a lot about how highly he regards the little Croat.
"People saying Modric is playing badly is what worries me," he joked. "Maybe in the last game he gave the ball away a few times, but players cannot always play 90 minutes well, across 50 or 60 games, that is impossible. I am not worried about Luka, I am happy with what he does on the pitch. Everyone can do better of course, but to always play well is impossible."
Modric certainly appreciates that kind of treatment. "Since he came here he has given me huge confidence," he said in a recent interview with Sky Sports. "He talks a lot with me. When you feel that a coach believes in you, it gives you the confidence to perform better. He has improved me a lot as a player."
And so, with Zidane right behind him, Modric remains absolutely fundamental to his team. Tuesday's performance was a reminder that he can still be trusted to deliver on the big stage, and Real Madrid can expect more of the same when they return to the Bernabeu for Sunday's Clasico. His team-mates will be the ones who take the limelight. But it's Modric who will make them play.