Real Madrid beat Barcelona to his signature in the summer and he has already shown flashes of his potential for Zinedine Zidane's side. So is Dani Ceballos the next big Spanish star? Nick Wright profiles a 21-year-old midfielder with a controversial past and a bright future.
It's not easy for a young player to carve out his place at Real Madrid but with two goals and a man-of-the-match performance on his first start away to Alaves last weekend, Dani Ceballos gave Zinedine Zidane plenty to think about. "He showed he is ready to play for us," said Zidane after the 2-1 win. "He will get more chances."
Those chances have not come yet - Ceballos returned to the bench against Borussia Dortmund and stayed there against Espanyol - but his heroics at the Mendizorroza Stadium showcased an exciting future. At Madrid, the £15m midfielder has been mooted as a long-term replacement for Luka Modric. At international level, he is seen as a future starter.
It is not difficult to see why. Like Modric, Ceballos is a technically gifted playmaker with the ability to control games from midfield and dribble his way out of tight spaces. He shot to international prominence with a string of eye-catching displays for Spain at the European U21 Championship in June, but at Real Betis - the club he joined at the age of 15 - the buzz started long before that.
"He was always a dazzling footballer," says Oscar Murillo, a Spanish football journalist who covers Betis for Estadio Deportivo. Murillo was there when a 17-year-old Ceballos made his debut on the day Betis were relegated in April 2014, and he was there as the teenager inspired their return to the top flight after just one season in Segunda.
"Sadly his debut came in the game against Real Sociedad in which Betis' relegation was mathematically confirmed," says Murillo. "But after that he was promoted to the first team permanently despite barely playing in the youth teams - just like club legend Joaquín. Dani became an important figure in their promotion and a fundamental player for manager Pepe Mel."


His breakthrough did not go unnoticed. Real Madrid were one of a host of big clubs linked with Ceballos after he helped Spain's U19s to European Championship glory in Greece alongside future team-mates Marco Asensio and Jesus Vallejo that summer. The youngster eventually stayed at Betis, but a delay in extending his contract angered some supporters.
The episode seemed to affect his performances, and when a string of insulting comments from his early teens came to light on social media, there were also serious questions over his character. "As with many young footballers without too much academic education, Dani had problems focusing on football," says Murillo. "He didn't know how to use Twitter intelligently."
The old tweets included derogatory comments about Catalonia and unpleasant barbs at fellow players Gerard Pique, Cesc Fabregas and Iker Casillas. There was a lack of professionalism on the pitch at times too.
In May 2016, Ceballos earned a public rebuke from Betis manager Juan Merino for taunting Getafe defender Juan Cala following the Madrid side's relegation. "He has to learn to respect his opponent," he said. "He has to improve various things to be a better professional but also a better person."
There were more problems under Merino's successor, Gus Poyet. The Uruguayan was widely criticised for leaving the talented midfielder out of his team during his ill-fated reign at Betis between June and November of last year, but Murillo remembers two sides of the argument.
"They were both at fault," he says. "Poyet liked him a lot, he liked his way of understanding football. He said in pre-season that he wanted him to play higher up the pitch and score more goals, but off-the-record he also said that Ceballos had let him down, that he wasn't working in training and that his attitude wasn't right."
It was only when Víctor Sanchez del Amo took over from Poyet that the situation began to improve. "I told him: 'Everybody is expecting higher performances from you, everybody speaks about you as a talented player, but you are not showing it,'" Víctor said in a recent interview with Sky Sports.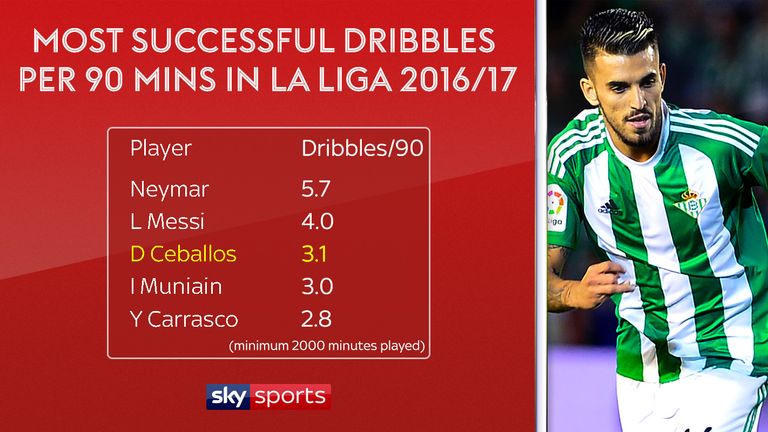 Ceballos was thrown straight back into the team and immediately responded. "It doesn't mean that the coach is a magician or anything like that," added Víctor. "It is a matter of psychology, a matter of relationships. We tried to help him with his fitness, with tactics, to add more to his repertoire. Two weeks later, I said to the board of directors: 'My friends, we need to review the contract of this player because he is going to fly.'"
Víctor was right.
Ceballos was outstanding for the rest of the season, shining when Betis drew with Barcelona in January and again when they held Atletico in May. With his energy and guile in midfield, Betis' win rate jumped from 20 to 40 per cent. "This team is Dani Ceballos and 10 others," said striker Ruben Castro. "He was the only player with the quality and personality to make things happen," adds Murillo.
Watch Spain v Albania
You can watch Spain's World Cup qualifier against Albania live on the Sky Sports Football red button from 7.40pm on Thursday.
A big move became an inevitability when he picked up the player of the tournament award at the European U21 Championship in June, but still there were reservations. "Real Madrid beat Barcelona, who came in too late to convince him, but there were doubts about his personality," says Sky Sports' Spanish football expert Guillem Balague.
"Would he be able to adapt to life outside Sevilla? I was told that could be his downfall, a bit like Jose Antonio Reyes, but he is an intelligent kid. He knew he was not going to be a starter at Madrid but he was happy to come out of his comfort zone and challenge himself. He could have stayed at Betis for a season on loan but preferred to train with Madrid."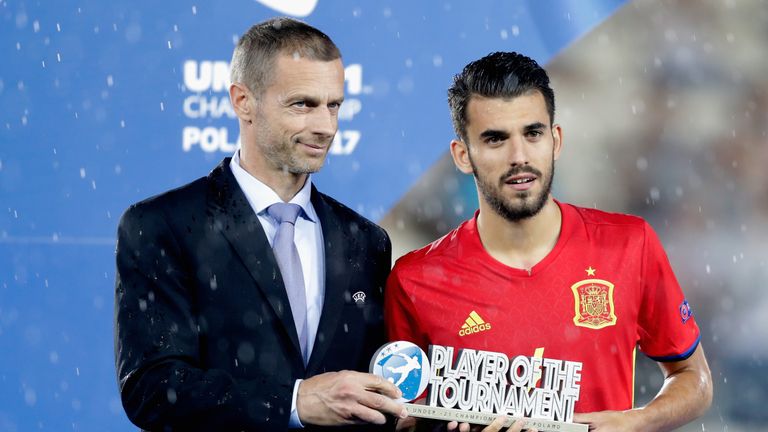 According to Víctor, the benefits of training alongside Modric, Toni Kroos, Isco and Casemiro outweigh those of playing more regularly at Betis. "Now, Real Madrid has the best midfield in football history," he said. "I think, for Dani, the experience of training with those high-level players is very good. What he can learn from those guys is amazing."
"You can already see the benefits," adds Balague. "Physically he is starting to reach the level of others and his contribution against Alaves suggests he is not scared of what he has in front of him. He showed personality with the ball and worked hard without it. He has surprised many already."
Ceballos is still waiting for his first senior Spain call-up and he is likely to start on the bench when Real Madrid resume their La Liga campaign against Getafe next weekend, but it might not be long until that changes. Ceballos is learning and maturing. Zidane said it himself: Ceballos is ready.