Zinedine Zidane has called Real Madrid's third successive Champions League win "something crazy" but is not thinking about number four yet.
The La Liga side were victorious again in Europe, beating Liverpool 3-1 in Kiev on Saturday evening, thanks to goals from Karim Benzema and a Gareth Bale double.
In the process, Zidane became the first coach to win the Champions Leagues in three consecutive seasons, having only taken charge of the team in his first senior management role in January 2016.
"Tonight is certainly a historic moment," he told BeIn Sports. "To win three times in a row... It's something crazy to experience that. Even if we believe it, we think about it when we work hard.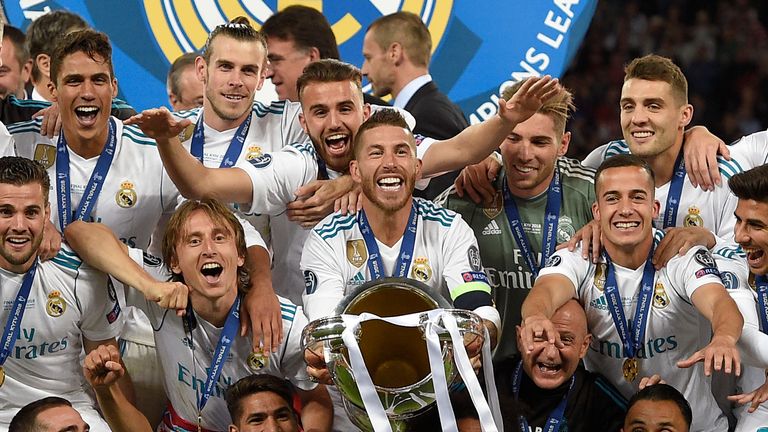 "With a team like this, we can go far but to win three of them, it's something crazy. You have to make the most of it, and think about what the players have done together."
Real Madrid have continued to dominate in Europe with a fourth Champions League victory in a row now a possibility, although Zidane is focused on celebrating his most recent win.
Zidane said: "We are going to think about what we achieved, enjoy the moment first. This is the most important thing now.
"We had a complicated season but to finish it with this result, this game, this great joy, makes us really happy.
"I've had a little bit of time to think about what this means. This is the status of this club. This is a legendary club, a club that has won 13 Champions Leagues so I'm happy to be part of this history."
Zidane also hailed Bale's first goal, but stopped short of ranking the overhead kick higher than his own stunning volley in the 2002 final against Bayer Leverkusen, adding: "It's not the same thing. This is just the latest one that we have witnessed. Gareth's goal was magnificent. Congratulations to him."