How is Thibaut Courtois faring at Real Madrid?
The Belgian joined the European champions for £35m in August
Last Updated: 29/11/18 10:36pm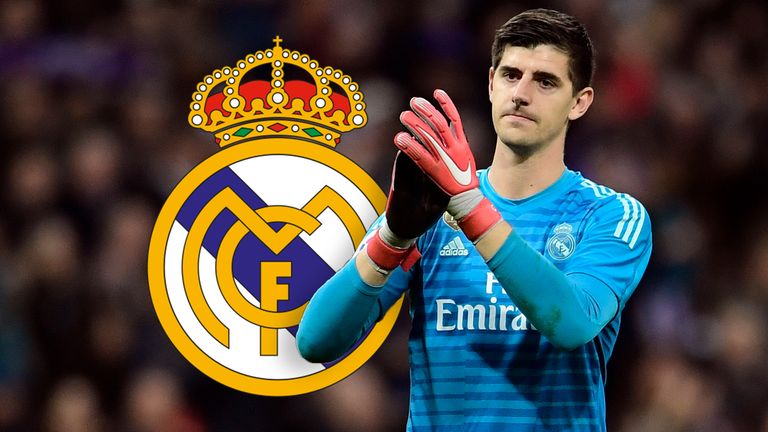 Thibaut Courtois only moved to Real Madrid from Chelsea in the summer, but already the goalkeeper is facing criticism at the Santiago Bernabeu - with the help of Spanish football expert Terry Gibson, we look at how the shot-stopper has been performing so far at his new club.
Having been voted the best goalkeeper at the 2018 World Cup, Courtois then went AWOL from training at Chelsea in an attempt to force through his dream move, before eventually joining the European champions in a six-year deal worth £35m in August.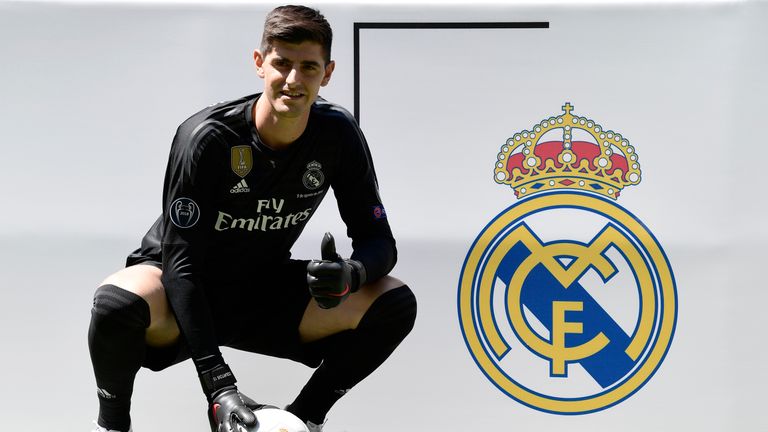 I feel for him as when he joined Madrid, he would not have thought he would be having to save as many shots as he is having to
Terry Gibson
Then Real manager Julen Lopetegui initially opted to rotate Courtois and previous No 1, Keylor Navas, when he first took over in Madrid, with the new man featuring in La Liga, while the Costa Rican played in both Champions League and Copa del Rey fixtures.
After Lopetegui was sacked and replaced by Santi Solari in Madrid, though, the new head coach made Courtois his undisputed first choice.
However, with Courtois's save percentage down from his final season at Chelsea and on the back of Real's shock 3-0 loss at Eibar on Saturday, the 26-year-old's display in the Basque country came in for stinging criticism from some of the club's fans on Social Media.
Here, Gibson tells us if Real's supporters are right to question Courtois's performances and whether they were correct in signing the Belgium international in the first place...
Despite winning the Golden Glove award at Russia 2018, do you think he lost some of his edge at Chelsea last season?
I thought it was a smashing signing. He is clearly one of the top five goalkeepers in the world and in my opinion, they need to improve on Keylor Navas and I think it was the correct decision by Real to sign him.
The whole situation was getting to him slightly, it was quite an ongoing situation him wanting to move back to Madrid and I guess the relationship with Chelsea's fans would change when they realised he would not sign a new contract.
Whereas if you are a Real Madrid fan and this wonderful goalkeeper turns up and you had a 'keeper who had helped you win three Champions Leagues, then you look at the new man with suspicion.
And when the team are not playing well, then he is an easy one to blame - he is the new player, the rest of them are still there, so it must be his fault.
I did not see too much difference between the Courtois at the beginning and end of Chelsea and when we saw him play in the World Cup as well, there was no reason to suggest his form had dipped.
Is it just a case of him playing in a defence lacking confidence, so he is getting exposed more?
Let's face it, it has been a difficult season and in my opinion, he is not to blame for anything that has gone on. I feel for him as when he joined Madrid, he would not have thought he would be having to save as many shots as he is having to make.
He probably thought that when Real went to Eibar, I had better wrap up warm because I will not have much to do! And there he is conceding three and if it was not for him, it would have been six or seven.
So he is obvious to look at in terms of, 'we have been great in the past,' but that is not strictly true as they finished 17 points behind Barcelona last season and are struggling again this season.
And when people look at things closely again, I see him getting criticised for his display at the weekend, but he made four outstanding saves and they still lost 3-0.
At first, he shared the role with Navas - was this the right decision by Lopetegui?
That summed up Lopetegui, he never really made a big decision in the few months he was manager and he evaded having to make one there with the two goalkeepers.
Navas has been a fine 'keeper for Madrid, but Courtois is better in all aspects. Navas has made mistakes in big Champions League games, which is why I always thought they could improve on him.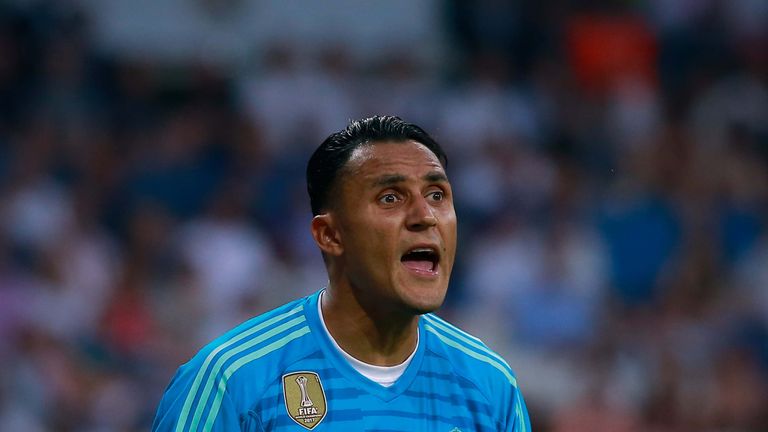 Lopetegui tried to swerve the issue for as long as he could and what you get then is a team and defenders who get used to playing with one 'keeper in one competition and you get a lot of changing between the two.
He was labelled by some as the worst signing in Real's history after the Eibar loss - is that a bit harsh?
I see he has been criticised for the first goal, where he made a stunning point-blank save from six yards and then was not able to hold on to it and spilled it! But there were a number of errors before that from other players that led to a player having a free shot on goal from six yards out in the centre of the goal. And I do not think many 'keepers would not have spilt it.
For goals two and three, there were other players making dreadful mistakes and he has also made three or four top-class saves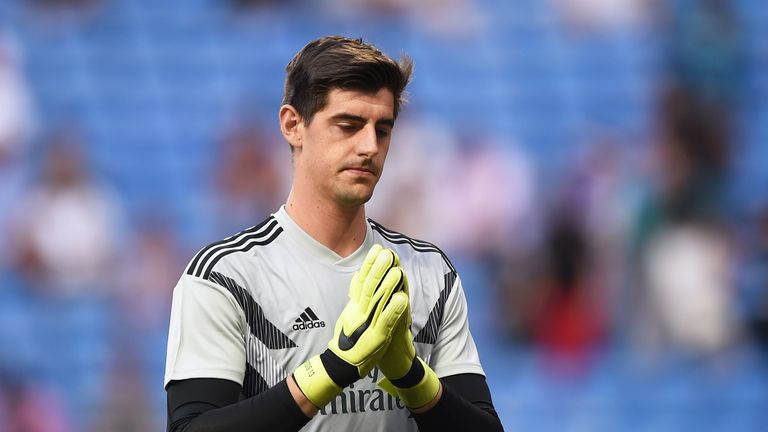 So I was surprised at the criticism. Madrid have conceded 16 goals away in La Liga so far this season - which is not normally far off their season's total home and away - and only last-placed Huesca have conceded more and even they let in eight in one game at Barcelona. So you could say Real have the worst defence on the road in La Liga.
So if you are letting in that many goals, you have to look at all aspects of the team and one is, we have a new goalkeeper, has he made a difference? No, if I am being honest. But when you analyse each goal, he is not at fault for them.
He is not the reason why Real are conceding so many goals, there are so many other reasons. And in my opinion, they made the right decision buying Courtois and they now need to address lots of other issues they have been ignoring for quite some time.
Now he is Real's No 1 in all competitions, will that help in terms of the defence getting used to him and vice versa?
Solari made that choice, although I am yet to be convinced that is his choice as Navas has had a slight injury. So that helped the new manager as he did not have a choice to make.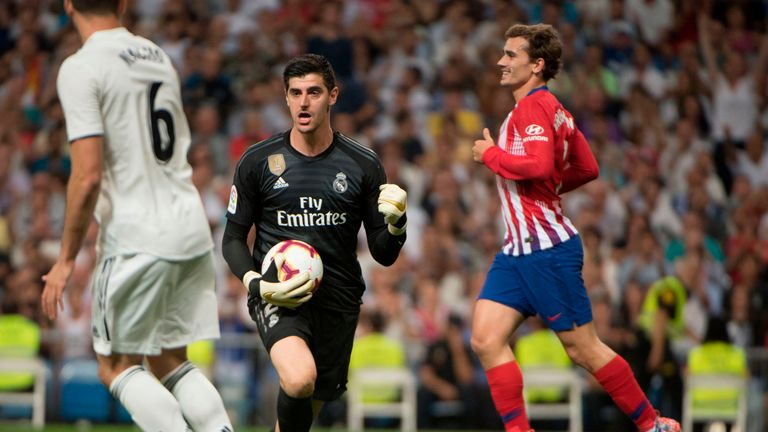 But it does appear as though Solari is quite prepared to make big decisions and Courtois playing on a regular basis is going to help him and which defenders are playing in front of him.
And we definitely started to see that with his outstanding display at Roma in the Champions League on Tuesday.
Real were previously linked with Kepa - do you think they are now regretting not signing him instead of Courtois?
I always felt Real should have a better 'keeper than Navas and the reason they went for Kepa Arrizabalaga (then at Athletic Bilbao) last January was he was a really good young Spanish 'keeper. And it was a position they must have been looking at thinking, 'Navas is not one of the top five, but Kepa might be' and I can see why they were looking at him. It is not easy to improve a team that keeps winning the Champions League, but you have to otherwise seasons like this happen at Madrid.
All Competitions - 2018/19
| | | |
| --- | --- | --- |
| Arrizabalaga, Kepa | | Courtois, Thibaut |
| 17 | Games Played | 13 |
| 1530 | Minutes Played | 1170 |
| 47 | Shots on Target Faced | 54 |
| 35 | Saves | 37 |
| 74.47 | Save Percentage | 66.67 |
| 9 | Clean sheets | 5 |
| 12 | Goals Conceded | 18 |
| 0 | Errors leading to goals | 0 |
They have previously looked at David de Gea - and messed up with him - then Kepa, so they have been looking at getting a new world-class No 1 for quite a while. And when Kepa became available, it was actually Zinedine Zidane's choice not to move for him.
But Courtois is one of the top five in the world and I still think he represents great value the amount they got him for because of his contract situation at Chelsea. And at that price - £35m - Madrid had to do the deal for him.