Serie A: Roma's Federico Balzaretti doesn't know if he will be able to play again
Last Updated: 02/09/14 4:12pm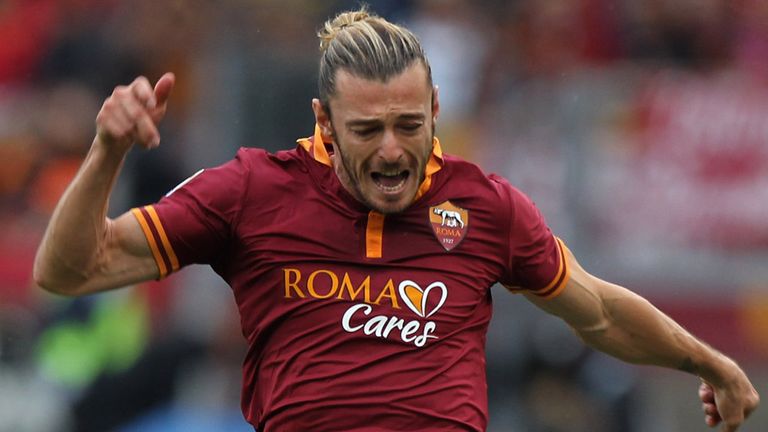 Roma left-back Federico Balzaretti has revealed he does not know if he will be able to play football again with his pelvic pain having worsened.
Balzaretti first noticed the problem 10 months ago and it limited him to just 11 league appearances for Roma last season.
Despite undergoing specific treatments and two surgeries to try to resolve the issue, the 32-year-old has confirmed his condition has deteriorated.
"At this time I only have hope," an emotional Balzaretti said in a press conference on Tuesday at Roma's headquarters in Trigoria.
"I don't know if and when I will return to play but I will give my all.
"This problem does not allow me to run or even carry out the minimum exercise as it leads to heavy swelling.
"Last week's MRI was a hammer blow as not only have I not improved but the condition has worsened.
"I am here to say, as I have told the club, the president and my team-mates, that I don't know if and when I will be able to return to play.
"I need to undergo physiotherapy and I need more months to try to recover."
Balzaretti is not ready to throw in the towel just yet despite his growing frustration.
"Ten months ago I had a pain in my pelvis during training and I didn't think too much of it as I had never had this before," he said. "However, after the game against Sassuolo (November 2013), I didn't have the strength to walk.
"I went to America but the surgery was not successful. Then I went to Munich to undergo another operation to kill the nerves that were causing me pain, but it proved to be a torment that resulted in nothing.
"The doctors have given me a machine in which to sleep with at night. It has an electromagnetic field, that hopefully, it will be improve the situation regarding the pain.
"Unfortunately, I will be out of action for I don't know how many months.
"There is the possibility that this pain will remain forever, with all its consequences.
"I want to heal as I still feel like a player.
"This is the promise I have made to everyone.
"If I'm honest, it's difficult, it's extremely frustrating not to be able to do anything."
Balzaretti, who joined Roma in 2012 from Palermo, was a member of the Italy team that finished as runners-up at Euro 2012.