As Jurgen Klopp prepares to face Borussia Dortmund in the Europa League second leg, we look at how he transformed the German club's fortunes.
Former Bayer Leverkusen and 1860 Munich defender Torben Hoffmann faced Klopp as a player at Mainz and followed his success as Borussia Dortmund boss in his role as a reporter for Sky in Germany.
He talks us through five ways in which Klopp was able to take Dortmund from despair to turn them into the Bundesliga champions and one of the most exciting teams in Europe…
Cleaning up the mess
Dortmund had endured their worst Bundesliga season in 20 years when Klopp arrived from Mainz in 2008. It was not a huge shock, but rather the culmination of years of financial difficulties.
In 2003, Dortmund had to take out a loan to pay the players and by 2005 found themselves on the brink of bankruptcy. That eventuality was avoided but the club was still in need of a lift when Klopp arrived, having gone through three managers in the 2006/07 season.
"When he started, it was a bad situation from the financial side of things," says Hoffmann. "They had big problems. But after that, Klopp gave the signal and took the club on a new journey with his charisma and his personality."
The pressing game
Hoffmann adds: "I knew him as a player. He also played in the offence but he was a very strong defender when I played against him. He was not a player with a great technique. He was a fighter - fast and a good header of the ball.
"So as a trainer he wants to see power football with teams going towards the goal and pressing the ball hard."
This pressing game became known as gegenpressing as Dortmund looked to win the ball back quickly and counter on their opponents even quicker.
"He got them playing a new system with his pressing," says Hoffmann. "Dortmund started going straight down the pitch, playing vertically. The mind-set of the players became always to go directly towards the goal and look to score."
The feel-good factor
It's an approach that puts considerable strain on players and was partially considered responsible for the swathe of injuries that would ultimately scupper Dortmund in Klopp's final season at the club. But the initial results were swift as he got BVB back into the top six.
By 2011 they were champions of Germany, retaining the title the following year. "They embraced it," says Hoffmann of Klopp's players. "He changed the whole club with his mentality. He was the right trainer for the right club in the right situation at the right time.
"He gave the players so much self-confidence with his way of working. He's like a father, a friend and a brother all in one. Of course, he can get very angry. On one hand, he is a friend but on the other he can be a very strict trainer. Either way, everyone wants to follow him."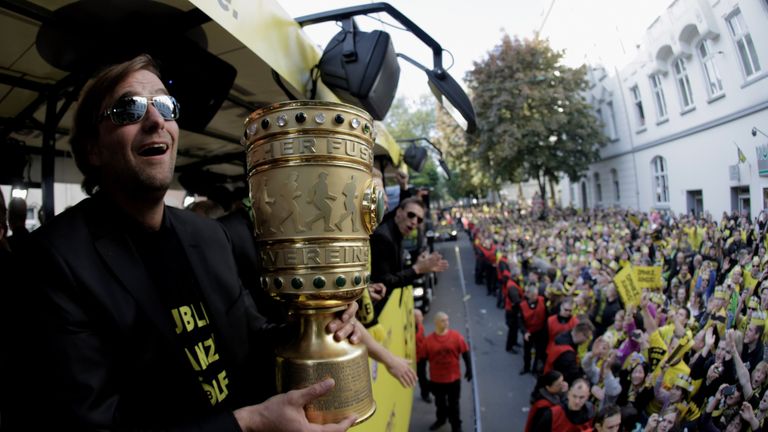 The transfer market
It helped his cause that by the time Dortmund reached the Champions League final at Wembley in 2013, they boasted some of the best players in Europe. A combination of savvy recruitment, quality youth development and expert coaching created superstars.
"He made some players very famous," says Hoffmann. "Guys such as Robert Lewandowski, who he got from Poland, he was able to mould into a far better player. It was unbelievable and, obviously, he is now a huge star at Bayern Munich.
"Even players such as Marcel Schmelzer, he was able turn into a Germany international. Similarly, with another young full-back in Erik Durm. There were just so many players who he made better and better and better."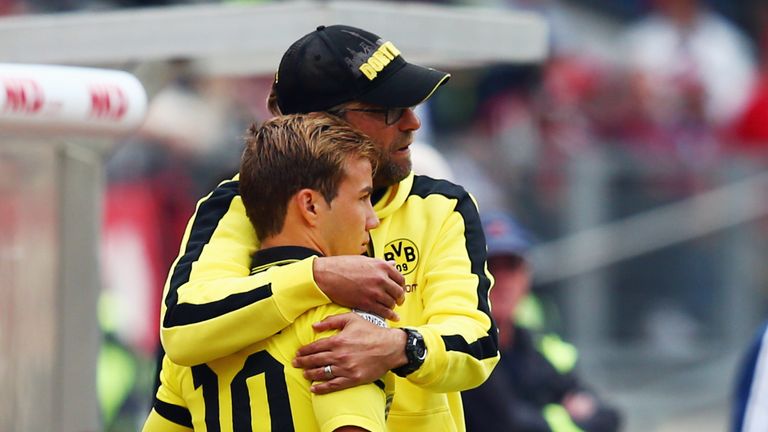 Behind the scenes
How much of the credit for those acquisitions and their eventual achievements belongs to Klopp is not entirely clear because it was a team effort at Dortmund. The trainer had a strong relationship with the club's sporting director Michel Zorc, a BVB icon in his own right.
Furthermore, Klopp enjoyed a good working relationship with chief executive Hans-Joachim Watzke. "His relationship with Zorc and Watzke was so important to Dortmund's success," adds Hoffmann. "He had a very close relationship with these guys.
"They all pulled in the same direction together, all going straight and not looking left or right. It was a joint effort and it was perfect." It's for that reason and so many others that he returns to the Westfalenstadion sure of a warm welcome from the famous Sudtribune.
So what happens next?
"In Dortmund they are a little bit crazy that he is coming back there," concludes Hoffmann. "In particular, some of the Dortmund team because they had a great time with Jurgen Klopp. So it's a very emotional game for the old trainer and plenty of the players."