In the autumn of 2012, Jurgen Klopp attended the annual UEFA Elite Club Coaches Forum in Nyon, Switzerland. The get-together is a junket at which ideas are shared. But Klopp didn't like what he was hearing from the great and the good of European football.
"The thing I found back then is that the team that run the most lose in the end," he told UEFA.  "And that was us. We ran the most but we lost in the end. When I got back I thought: 'It doesn't matter, we will try it again.' Whatever you invest more in his not always rewarded immediately, but it is many times, if you also have quality; and that is what we have, so we will try to continue our path."
Live UEFA Champions League


In the increasingly homogenised world of football, Klopp's Dortmund side felt like something new. Here was a charismatic coach attempting something that – to the naked eye – was visibly different to what had come before. The term 'Gegenpressing' even entered the game's lexicon in reference to their manic attempts to win the ball back high up the field.
Without the ball, Dortmund's pressing game was ostensibly similar to Barcelona in their pomp. With it, this team was a more direct proposition with quick transitions from front to back. For Klopp, the central tenet was obvious – opponents are at their most vulnerable when they've lost the ball and must be attacked. Against Dortmund, teams lost the ball often.
Difficulty
The difficulty for Dortmund and Klopp is that this style of play requires the team to be continually instigating the press together. It's an approach that necessitates both remarkable levels of fitness and impressive levels of understanding. As a result, injuries are the enemy – preventing players from operating at top levels and denying the cohesion that makes the system work.
The list of key names to have suffered this season is a distinguished one. Tireless winger Jakub Blaszczykowski and vital centre-back Neven Subotic are both out with cruciate knee injuries. Midfield dynamo Ilkay Gundogan has missed much of the current campaign with a back problem. Mats Hummels has struggled with an ankle complaint and Sven Bender's groin has been playing up.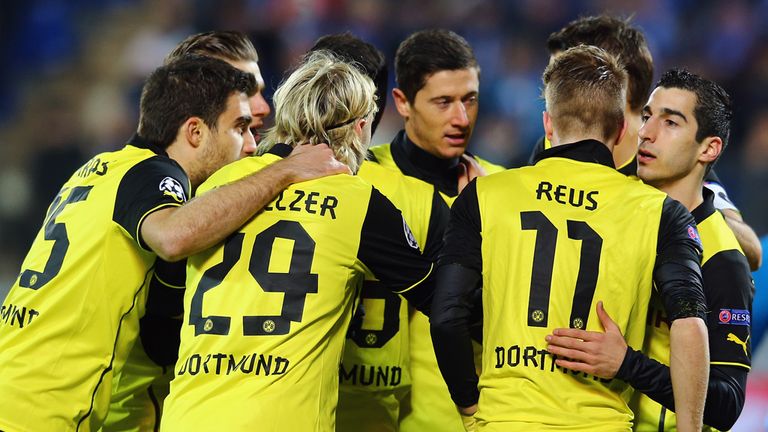 The steady stream of withdrawals has had an impact. A season that started well with a 4-2 Super Cup win over rivals Bayern Munich and saw BVB top the Bundesliga table through to week seven was soon derailed following three consecutive home defeats at the Westfalenstadion going into the winter break. Question marks were raised with Klopp admitting this wasn't the team he knew.
"My priority for 2014 is to have my team complete the second half of the season in better physical shape," he told FIFA. "We've been hardly recognisable due to all our injuries. We're strong when we have everyone fit, and even when we don't have everyone fit we still have the desire. We've proved that and that's why we're in a relatively good position. We want to make the most of it."
Stronger
Dortmund emerged from the winter break a little stronger. Either side of a shock 3-0 defeat an otherwise hapless Hamburg, Klopp's men went on a run of eight wins from their next nine matches. Defeat to Gladbach at the weekend was a disappointment but they remain the second-highest goalscorers in the Bundesliga and have clawed their way back to become Bayern's closest challengers – albeit 23 points adrift. Next season's Champions League spot looks secure.
Perhaps most importantly for those who keen to float the notion that this exciting Dortmund cycle is coming to an end, while new players such as Pierre-Emerick Aubameyang and Henrik Mkhitaryan have come in, the philosophy remains the same. Dortmund have outrun 20 of their 25 Bundesliga opponents and, crucially, outsprinted the opposition in all but two of their matches.
Boasting a 4-2 lead over Zenit St Petersburg from the first leg in Russia, a place in the quarter-finals of the Champions League beckons and Dortmund are still playing according to the same beliefs that Klopp has fostered over these past years. This season hasn't got quite to plan but the identity has not been lost.
As players return to fitness and the European season reaches the stage where heroes are made and careers defined, Borussia Dortmund remain a team capable of hurting anyone. And for Jurgen Klopp, there is the tantalising prospect of attending the next forum with compelling evidence that the prevailing wisdom was wrong all along: Old Big Ears itself, the Champions League trophy.