Robert Lewandowski pinching himself after five-goal haul helps Bayern thrash Wolfsburg
Last Updated: 23/09/15 9:25am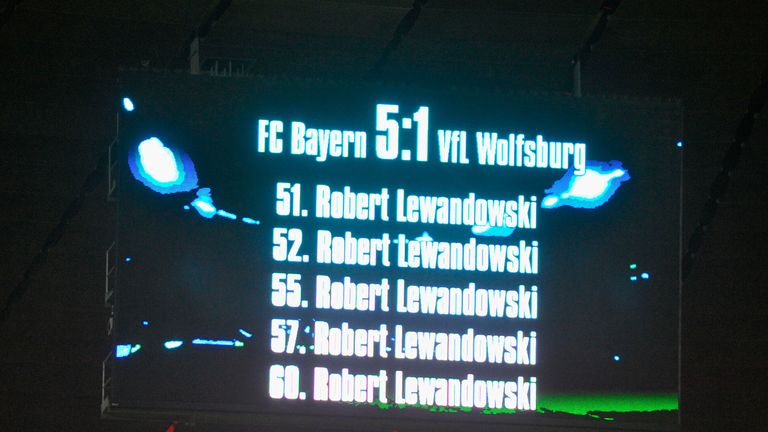 Robert Lewandowski was struggling to comprehend his jaw-dropping feat of scoring five times in nine second-half minutes to help Bayern Munich beat Wolfsburg 5-1.
With Bayern trailing to Daniel Caligiuri's 26th-minute strike, Lewandowski came off the bench at the start of the second half and transformed the Bavarians' fortunes in remarkable fashion.
The 27-year-old began his scoring spree in the 51st minute and had completed the fastest hat-trick in Bundesliga history four minutes later as Wolfsburg, runners-up to Bayern in the top flight last season, were repeatedly caught cold.
Lewandowski volleyed in his fourth from close range in the 57th minute, before completing his haul on the hour-mark with a staggering acrobatic effort.
"It's amazing," said Lewandowski. "Five goals - that's incredible.
"Each time I hit the ball, it went in. I'm very, very happy. This is a great evening for me."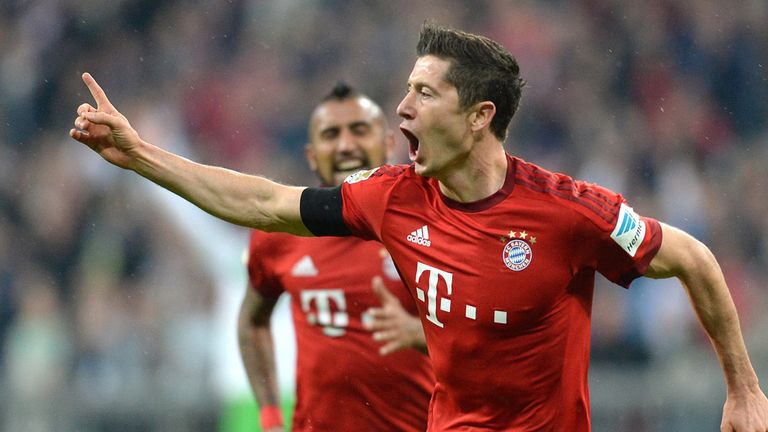 Indeed, Lewandowski needed only nine touches of the ball to score his five goals, which helped Bayern maintain their perfect start to the league season with six wins from six.
"I can't explain it," said Bayern coach Pep Guardiola at the post-match press conference. "I'm delighted for Robert."
He added: "I've never experienced anything like that in my life! Five goals in nine minutes! Wow! I may never see anything like that again, either."
Lewandowski could have had a sixth, and equalled a feat achieved only by Dieter Muller in 1977, but for an extraordinary goal-line clearance from Ricardo Rodriguez.
Instead, he had to be satisfied with only five goals, scored 12 minutes quicker than Dieter Hoeness managed in a Bayern shirt in 1984.
"He's one of the best forwards in the world," Bayern team-mate Jerome Boateng told the club's official website. "I'm just pleased he's on my team."
He was not the only one. Without Lewandowski, Bayern may have been coming to terms with their first defeat of the season on Tuesday night.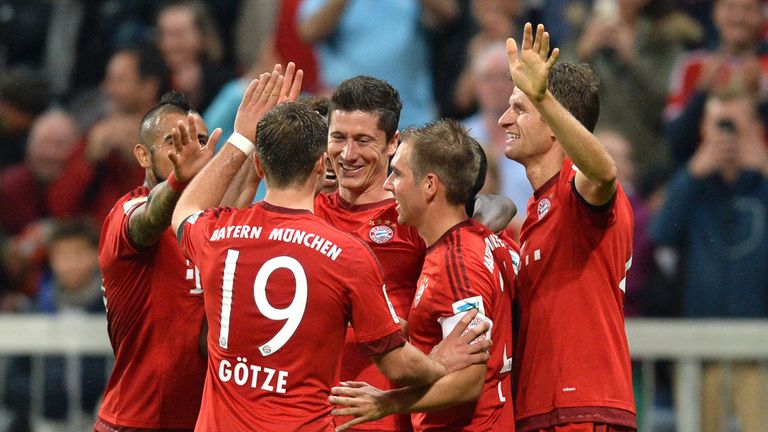 "We were behind at the break and I wanted to give it everything because we needed two goals," said Lewandowski.
"The coach didn't have to say anything, I knew what I had to do.
"When I'd scored my third and fourth goal, I looked up at the scoreboard and was surprised myself that there was still so much time left to play."
Fortunately for Wolfsburg, Bayern showed them a bit of mercy in the final half an hour, not adding to Lewandowski's haul.
It was nevertheless difficult for Wolfsburg coach Dieter Hecking to digest, particularly as his side looked on course for a third straight win over Bayern, having dished out a 4-1 win in January and beaten them in the Supercup in August.
"What can I say? A world-class striker has had five shots on goal and he could have scored seven," Hecking said.
"That really should not be happening. We had a good first half and worked out how to keep Bayern away from our goal.
"Then there were these nine minutes in the second half. You can't concede a second 50 seconds after conceding the equaliser.
"We've got to accept that we've been dealt a slap in the face."