Champions League: Bayern Munich's Lahm and Schweinsteiger delighted with win
Bayern Munich captain Philipp Lahm could not hide his joy after he won the Champions League at the third attempt.
By Tim Oscroft
Last Updated: 26/05/13 11:36am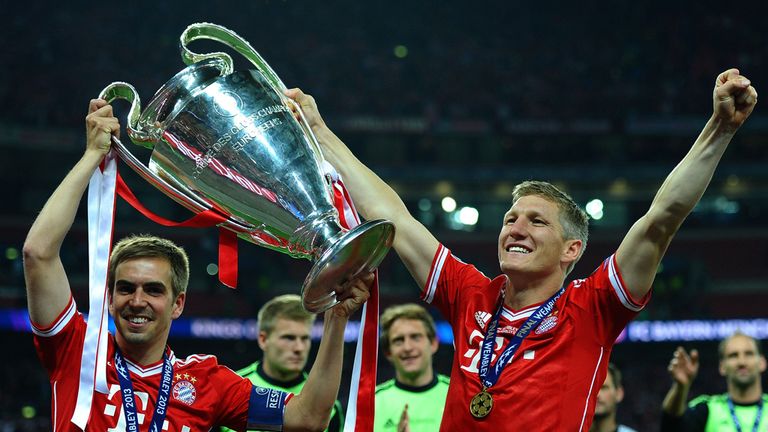 The Germany international had collected a loser's medal in 2010 and 2012, but finally had his hands on the trophy following Bayern's dramatic 2-1 win over Borussia Dortmund.
Mario Mandzukic opened the scoring on the hour, only to see Ilkay Gundogan equalise from the penalty spot a few minutes later, but Arjen Robben pounced late on to secure Bayern's fifth European title.
"It's incredible - a huge joy and huge relief, Lahm declared. "The pressure was enormous after losing in the Champions League final twice.
"We knew if we lost a third Champions League final we didn't know if we'd get another chance, even though the club is in good shape and we're all in the prime of our careers.
"The pressure was big all day but it was really enormous when the match started, something I've never experienced before.
"We said that if we want to be the golden generation, then we have to win some international titles. That's what people remember. Finally we succeeded in getting that."
Lahm was delighted that Bayern's triumph also gave team-mate Bastian Schweinsteiger a winner's medal, and backed Bayern to go on to further glory.
"If you know the history of me and Sebastian, we've experienced a lot so it's nice that we were able to celebrate this title together finally.
"The team is in the right age group and we've got rosy times in front of us. We want to win the triple and as far as I'm concerned this can keep going next year too."
Schweinsteiger felt that Bayern's progress to the final, which included wins over Arsenal, Juventus and Barcelona, had paved the way for their victory.
"We deserved it. We beat great clubs. When you beat Barcelona, you're the true champions," he said.
"I'm happy for the whole club. In the Bundesliga and Champions League we had an incredible performance. It's nice that the trophy is coming to Munich and a lot of people in Munich are going to be really celebrating tonight.
"We lost in Munich last year against a London club and now we come to London and win it back. It's a dream come true. We deserved it that the trophy will be coming home with us."