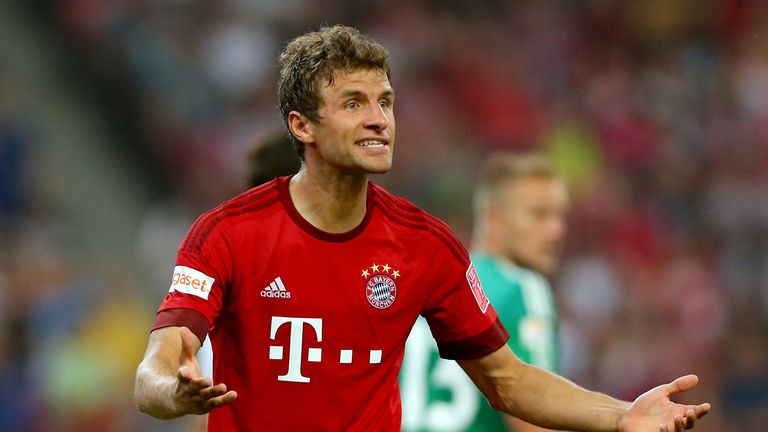 Bayern Munich captain Philipp Lahm admits he cannot guarantee that Thomas Muller will not follow Bastian Schweinsteiger to Manchester United.
Reports in Germany have claimed that United are preparing to table a big-money move for the forward.
United boss Louis van Gaal revealed on Monday evening that he is interested in signing a striker - one that had not previously been linked by the media with a move to Old Trafford. 
Muller would fit the bill, and Germany defender Lahm said he could offer Bayern fans no guarantees that Muller would not join Germany midfielder Schweinsteiger at United.
"It's not my decision," Lahm told reporters in Shanghai, where Bayern are facing Inter Milan in a pre-season friendly. "Things can happen very quickly in football.
"I certainly can't provide any guarantee for Thomas Muller (staying)."
I certainly can't provide any guarantee for Thomas Muller (staying).
Philipp Lahm
Lahm did, however, insist there is no chance he would follow his long-time team-mates out of Bayern, which has been his home for the past 13 years.
"That's not going to happen with me," he said. "I'm pleased that I've been able to spend practically all my career at home. It's great to be in the same club for so long."
And Lahm is not concerned about Bayern, who have dominated German football for the past three years, losing their domestic dominance.
"We're still a top club," he said. "We've reached at least the semi-finals of the Champions League in recent years and we have a top team who would be playing at the top in any league. We certainly don't need to have any fear."