Peter Hyballa taking Jurgen Klopp's pressing game to the Eredivisie
By Adam Bate
Last Updated: 25/01/17 7:01am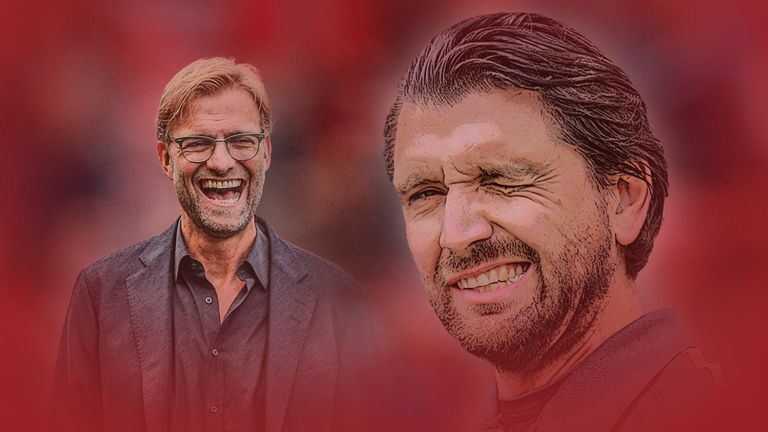 Peter Hyballa was a youth-team coach at Borussia Dortmund during Jurgen Klopp's time and the man who literally wrote the book on pressing. Now he is in the Eredivisie and still spreading the gospel of heavy metal football. Adam Bate spoke to him to find out more…
"Everyone in Europe is negative. It is all about fear," Peter Hyballa tells Sky Sports, taking the conversation in another unexpected direction while discussing his time coaching in Namibia. "In Africa they have big social problems but everybody is so positive about their lives.
"At NEC Nijmegen we have a lot of financial problems but I try every day to be positive. That is also the idea of Jurgen Klopp. He is always happy and it's different. If you are not arrogant and the players, fans and journalists know this, I think that helps you pick up more points."
It is not the only time Hyballa brings up Klopp and perhaps that is to be expected. The two men were together in Dortmund where Hyballa took charge of the youth team, helping to bring through Mario Gotze among others as BVB became a force to rival Bayern Munich.
But it is more than that. The pair share a philosophy and a charisma that comes with doing things differently. Klopp got his perspective by working in a hospital. Hyballa went to Africa. Klopp went to university to study sports science. Hyballa has co-written several books.
Once the youngest coach in Germany during his time at Alemannia Aachen, those books espouse the virtues of pressing. In 2015, Hyballa was even invited to the Hennes Weisweiler Academy, where German coaches earn their badges, to give a training session on the subject.
"My principle is that of a German," says Hyballa, now 41, though he has a Dutch mother and speaks the language fluently. "We Germans train more, we train harder and we train stronger." And now he's taken his own brand of heavy metal football to the Eredivisie and Dutch yo-yo club NEC Nijmegen.
That's not easy in Nijmegen. "For four matches we did not have a goalkeeper," he says. The stats show NEC rank bottom of the league for possession. But there they are in the top half of the table, winning back-to-back games since their winter break in Marbella.
"If the league was over now I'd be drinking champagne," laughs Hyballa. Understandable given the restrictions and the fact that NEC are on course for their best league finish in almost a decade. It's a testament to the work of a coach who has found another way to win.
"I have the philosophy of the transition game from when I was working with Jurgen Klopp," he says. "It's about winning the ball back within four or five seconds. I cannot play the style like Jurgen because he has a very good team at Liverpool so there is that difference.
"We are not the best team in the Netherlands so we must go a little bit for midfield pressing and occasionally go backwards. If I had a better team we would press first line because if you put pressure on the ball it is not so easy for the opponent to get close to your goal.
"That idea of total pressing - what is sometimes now called gegenpressing - was a little bit born in Dortmund, I think. It was great. With Jurgen, it is what you do against the ball that is the secret. That comes with fitness and with team spirit."
Hyballa is trying to recreate that spirit at NEC where his youth background - he was also in charge of Bayer Leverkusen's youngsters - is actually an advantage. "I have a lot of players aged between 18 and 22 so it is the same training style, the same periodical style," he says.
While Hyballa says of Jose Mourinho's "organisational football" that "you can also have success with that" and acknowledges that Pep Guardiola's ideas are "also a good way of football", he is an advocate of a more dynamic approach - as discussed in his next book.
"The new book is about dribbling because in Germany now we have a lot of discussion about the fact that we have a lot of passing players because we have taken the ideas from Barcelona," says Hyballa, "but we have lost a little bit the dribblers.
"One against one is so important and I think that makes the difference. With organised defences, if you have a good dribbler like Marco Reus or Pierre-Emerick Aubameyang, Mario Gotze or Lionel Messi, you can win the game in one-against-one situations.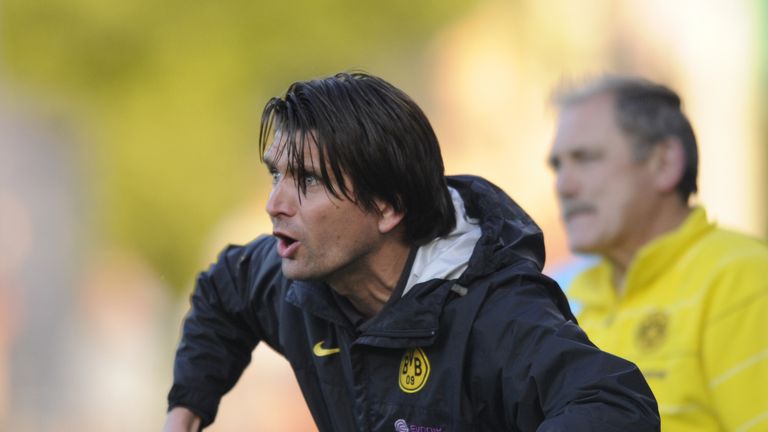 "There are a lot of youth coaches who say passing, passing and passing are the keys to success not dribbling, dribbling and dribbling. It's true that playing that way when one against one is very risky because you can lose the ball.
"But if you are a player who is not afraid to do it, you need coaches who are not afraid to do it too. Coaches can be afraid of losing the game and losing their job but I think the secret of a good coach is self-confidence." Hyballa is certainly not lacking in that regard.
Indeed, it is tempting to think that he could one day coach in England. He watched David Wagner's Huddersfield side over Christmas and noted the "good football" that his fellow ex-Dortmund man has the Terriers playing.
NEC also have a young forward called Taiwo Awoniyi on loan from Liverpool - "a great guy" - and so Hyballa is in regular contact with Julian Ward, the club's man in charge of managing their loan players while they are away.
So could he make the move? In answering, his thoughts return to Africa where "the sessions had to be in my mind not on the piece of paper" as he could never be sure whether 25 people would turn up or 50. "That shaped my vision in terms of my whole life," he concludes.
"They do not think five years ahead but one day ahead. So I live in the moment. If a Premier League club comes then OK. But if they are not coming that's also OK. You have to live your life. Say yes to your life." There will be no fear when NEC take on Feyenoord this Sunday.