John Terry and Diego Costa play parts to perfection as Chelsea beat Tottenham 2-0 in the Capital One Cup final
Last Updated: 01/03/15 11:14pm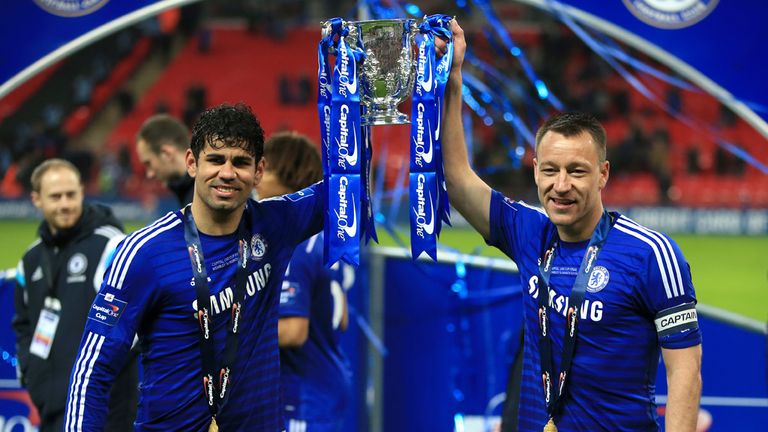 A John Terry strike and Kyle Walker own goal gave Chelsea a 2-0 Capital One Cup final triumph over Tottenham as Jose Mourinho's knack of knowing how to win finals showed itself once again. Adam Bate was at Wembley to see a classic Chelsea performance…
Ruthless Mourinho
Shaun Wright-Phillips told an anecdote on Goals on Sunday before the Capital One Cup final that offered an insight into what we were about to witness from Mourinho's side. The former Chelsea winger revealed that Mourinho had told him prior to the 2007 FA Cup final against Manchester United that he would have a defensive role at Wembley because if they kept a clean sheet then they would win the game. It took 116 minutes for Didier Drogba to score the winner that day but it highlighted Mourinho's approach in the biggest matches.
On Sunday, it felt as if Mourinho had something similar in mind. Perhaps wary of the 5-3 defeat to Tottenham on New Year's Day – in which Chelsea conceded four goals well before the hour mark – Mourinho couldn't have signalled his intent more clearly had he attached it to the balloon that hovered over the Wembley pitch before kick-off. Burly centre-back Kurt Zouma started in midfield for the first time this season.
It was a move designed to take the sting out of a Spurs side that had been in action in Italy on Thursday evening and for large parts of a stop-start first half it was as though Chelsea were content to sit deep and wait for Mauricio Pochettino's enthusiastic young team to punch itself out. There were chances, of course, such as when Christian Eriksen fired a free-kick off the crossbar, but not enough of them to sway Mourinho off course.
The Chelsea boss knows how to win these finals. Sunday's 2-0 win over Tottenham was his tenth in 12 major finals. Given that you'd expect such opponents to be stronger than those usually faced, it's astonishing that Mourinho boasts a better win percentage (83 per cent) in these matches than in regular games. But it's built on giving the opposition nothing easily. His teams have now kept a clean sheet in half of those finals.
Trophy for Terry
"Wembley is for legends." The promotional banner outside the ground showing images of Harry Kane alongside Costa hinted at an anticipation that the young Tottenham forward could produce a performance to match the one he came up with against Chelsea at White Hart Lane two months ago. But while he showed plenty of endeavour, it was a Chelsea legend who emphatically got the better of him at Wembley.
John Terry controlled things for the Blues at the back with a man-of-the-match display that did much to make Mourinho's plan a successful one. Happier defending deep against the Spurs attack, he dealt with everything thrown at him in the early stages and was still there clearing the ball from the box in stoppage time. In between, he also scored the opening goal of the game in the final moments of the first half.
While it was cruel on Kane that the shot should deflect off him and into the net, it was also fitting given that this was undeniably Terry's day. Even when Kane was put through in the left channel with minutes remaining, Terry was there to make a brilliant lunging tackle to deny Spurs a route back into the game. Shortly afterwards, he was lifting Chelsea's first domestic trophy since the 2012 FA Cup and supporters will be hoping there is more silverware to be had before the season is out.
That man Costa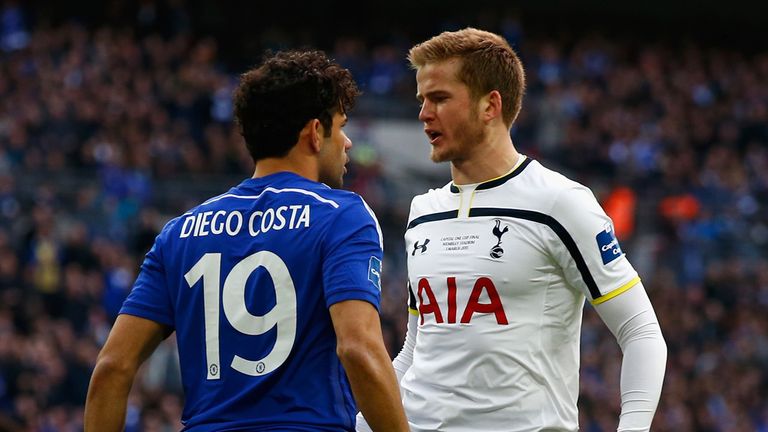 One man surely destined for many more such finals in a Chelsea shirt is Diego Costa. Although the contest was a subdued one for large parts of the first half, Costa was always there to provide a subplot. He relished the opportunity to engage Eric Dier in a stand-off after one early tackle, then delivered a palm to the face of Nabil Bentaleb that infuriated the young midfielder. Bentaleb only succeeded in giving away a free-kick himself before Walker committed a foul in a dangerous position when seeking further retribution moments later.
It's easy to say from the sidelines but one wonders why defenders allow themselves to get into such battles with the Chelsea striker – a man who is evidently at his most comfortable when he's playing on the edge. Indeed, despite a reputation as a firecracker and an ever-growing tally of yellow cards, Costa has not actually been sent off in over two years. That suggests he is more aware of how far he can push it than some might suspect.
He's also a fine forward and led the line effectively despite limited service in the early stages. And while there was an element of fortune to Chelsea's second goal with Costa's shot deflecting off Walker and beyond Hugo Lloris, it seems unlikely that he will have to wait too long to score in a major final for Chelsea.