VAR: What happened in Manchester City's win over Schalke and what was the reaction?
Last Updated: 21/02/19 2:48pm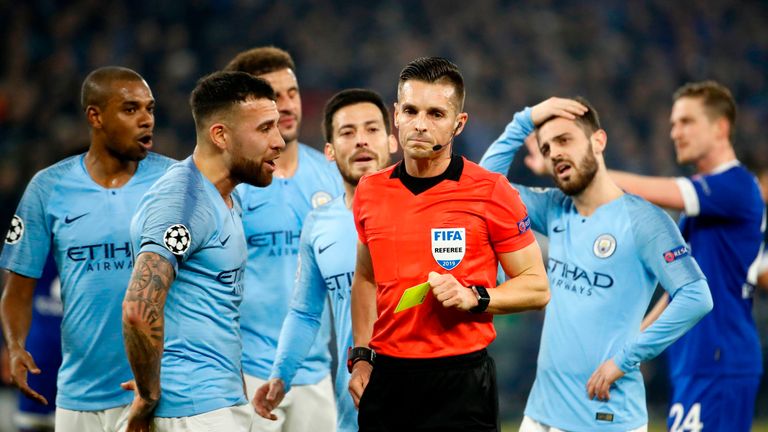 The Video Assistant Referee was in the spotlight on Wednesday, with a three-minute delay during Manchester City's Champions League win over Schalke described as "incompetency of the highest order".
City boss Pep Guardiola said he still "trusts" VAR despite the controversy, which was seemingly caused by a broken pitchside monitor.
But what exactly happened in Germany and what does it mean for VAR? We explain…
Why was VAR called into action?
VAR was first used after City took the lead through Sergio Aguero to check if David Silva had committed a foul in the build-up to the goal. Nothing was given.
However, the main talking point came in the 38th minute when a long-range shot hit Nicolas Otamendi in the box.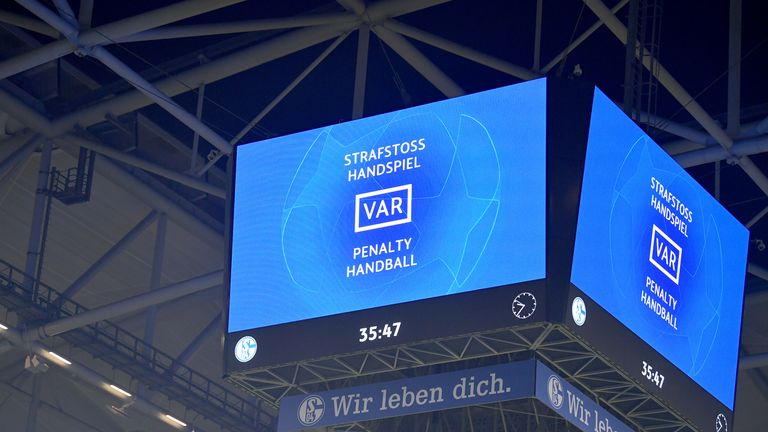 Schalke's Daniel Caligiuri claimed the ball hit Otamendi's arm and play was held up as VAR checked for evidence of a "clear and obvious mistake".
Referee Carlos del Cerro Grande did not review the incident himself at the side of the pitch apparently because of a technical issue.
There were also no replays on the big screens or any other indication of what was happening to those in the stadium.
Just been told by someone from UEFA that the pitchside screen was broken during the 1st half, so match referee was unable to review penalty given against #ManCity & Otamendi. Instead he was told by VAR to award the pen to #Schalke UEFA statement coming later #MCFC pic.twitter.com/ZWMwYUxTqz

— Ben Ransom (@BenRansomSky) February 20, 2019
There were boos from fans during a three-minute delay, but they turned to cheers when the referee eventually pointed to the spot to award Schalke a penalty.
Schalke were also awarded a second penalty, but there was no lengthy stoppage this time, with Fernandinho adjudged to have fouled Salif Sane.
What are the rules?
The International Football Association Board, who govern and develop the laws of football, say the referee's original decision will not be changed by VAR unless there was a "clear and obvious error".
It is added that "the referee is the only person who can make the final decision; the VAR has the same status as the other match officials and can only assist the referee".
UEFA have said they will release a statement about the incident.
What was the reaction?
Debate raged afterwards, with former Southampton forward and Sky Sports pundit Matt Le Tissier writing on Twitter: "Not a lot of point having VAR if refs need to take three mins to know if its a handball or not! Incompetency of the highest order."
Ex-Stoke defender Danny Higginbotham said on Sky Sports News that "VAR is giving us more questions than answers".
"I don't think it's ready. When they [UEFA] have seen the problems in football and how they want to help referees, they have gone straight to VAR. I think there were a few more levels before bringing in VAR, like simplifying the rules.
Not a lot of point having VAR if refs need to take 3 mins to know if its a handball or not! Incompetency of the highest order 🙄

— Matt Le Tissier (@mattletiss7) February 20, 2019
"People say it works really well in other sports, but the rules in a lot of other sports are very black and white, there are no grey areas. In football you may think it's handball, I might not. I think simplify the rules first and then you might find there's less need for VAR.
"A lot of the decisions are subjective, so instead of helping the referee it might be hindering him."
Guardiola tried to defuse any tensions by saying he still trusts in VAR.
"It's a penalty," he said. "I'm a big fan of VAR. The second one is a penalty too.
"It was offside too - so, if we complain about VAR maybe it was offside, but it was a penalty and the red card can be a red card. VAR needs time. Next time it will be better.
"I trust VAR, I am a big fan of that so it is a penalty. I have arguments to complain sometimes but I think it was a penalty, the first one and the second one and the red card."
Speaking on The Debate, former City forward Paul Dickov said: "Personally I didn't think it was a penalty, how he came to the decision I don't know because it seemed to take about three hours!
"It shouldn't take that long and you can see the frustration from both sets of players. Surely if the screen is broken then there is somebody in his ear who can tell him in a lot quicker than three minutes. The longer it went on the more you thought he was going to give a penalty.
"That should be done quicker. Look at rugby league, the decision is made and nobody argues."
VAR was also used in Atletico Madrid's win over Juventus on Wednesday to rule out a goal by Alvaro Morata.
Former players and journalists on social media were not impressed with how it worked…
VAR needs speeding up. Wait far too long for this VAR decision. No communication of process on big screens until final verdict. Boos all round at delay until cheers from Schalke fans when VAR signals handball and penalty. Bentaleb pen 1-1 #SchalkeCity

— Henry Winter (@henrywinter) February 20, 2019
I'm a big advocate of VAR but I don't like the way it's being applied. It's being overused. Should only be there to correct clear and obvious mistakes. At the moment it's being used for way too many marginal decisions. Most of which seem to be going against Alvaro Morata.

— Andy West (@andywest01) February 20, 2019
The biggest danger with overusing VAR as we currently are is that everyone will get fed up with it and there will be a big enough backlash to drop it altogether. Which would be a big wasted opportunity to use something that can make the sport better if it's properly applied.

— Andy West (@andywest01) February 20, 2019