"The best moment was the 'Shinji Kagawa' chant during the warm-up. It hasn't been that loud for a long time." Jurgen Klopp isn't one to mask his excitement. Shinji Kagawa is back in more ways than one.
After starting the move for the opening goal by Adrian Ramos in Saturday's 3-1 win over Freiburg, Kagawa really had the Westfalenstadion rocking soon after when he marked his return with a goal. This time Ramos turned provider, Henrik Mkhitaryan delightfully dummying his cross before Kagawa gave the goalkeeper the eyes to slot neatly home at the near post.
Live UEFA Champions League


It was a trademark Dortmund break and the relief – complete with a dusting of the hands gesture in celebration – was palpable. All that tension was gone as Kagawa's body visibly relaxed amid the congratulations. His first club goal since scoring the opener in Sir Alex Ferguson's final game in charge of Manchester United had come within one half of football in BVB yellow.
The difference between life in Manchester and Dortmund must quite literally feel like night and day. Kagawa had bowed out for United under the Milton Keynes lights as Louis van Gaal's team were thrashed 4-0 by League One opposition. His Dortmund comeback came in front of 80,000 adoring fans with the Yellow Wall bellowing out his name.
What the club's official website referred to as Kagawa Fieber surely needs no translation. Sporting director Michael Zorc even admitted that Dortmund decided not to officially present the player because the signing needed no further hype. Reported shirt sales hit 10,000 within six days and the BVB jersey is now claimed to be the most popular in Japan.
On the field, the timing could hardly be more opportune for Klopp. With Jakub Blaszczykowski and Marco Reus both unavailable through injury, the coach could do with Kagawa coming up with a convincing impression of the player who scored 21 goals in 49 Bundesliga appearances in the club's back-to-back title wins between 2010 and 2012.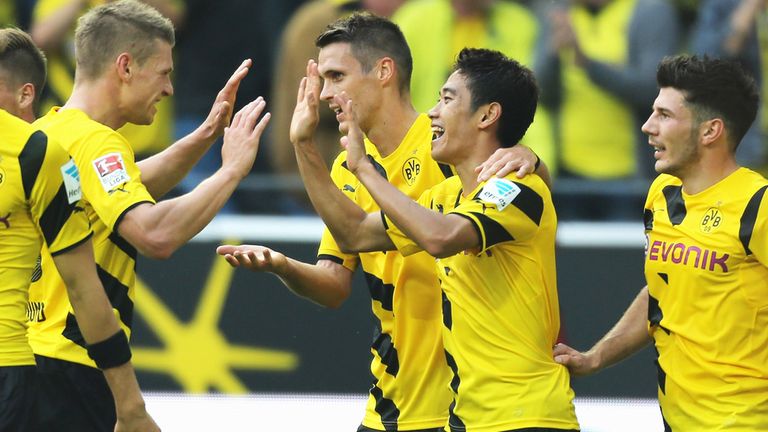 Typically, Klopp has been both optimistic and understanding. "He has made a good impression on the training pitch in the past few days and has shown that he still has plenty to offer - although we realise that we cannot expect Shinji to be back to his former best from two years ago right away. I'm sure the fans will create an atmosphere for him that can lift his spirit."
The adrenaline certainly got him through his 'second debut' on Saturday and Klopp must be confident that with Kagawa still just 25 the best years could still be ahead of the player. And why shouldn't he be? After selling Nuri Sahin to Real Madrid for €25million before bringing him back for pittance, he's got hold of Kagawa for half the price United paid just two summers ago.
Such is Klopp's peculiar alchemy and Dortmund's unique playing style among the world's best, it's more than tempting to believe the charismatic German when he offers a blunt assessment of the situation. "He is a very, very good player who will make us even better," he told Bild. "He can still kick the ball, and he is still the same boy."
This rekindling of the Klopp-Kagawa love affair – "We cried for 20 minutes in each other's arms when he left," the coach told The Guardian last year – might well be a source of bemusement and frustration for United fans who rarely saw the best of him. Indeed, Kagawa became something of a cause celebre at Old Trafford – the Free Shinji campaign urging for him to be unleashed.
Klopp himself is in no doubt that those difficulties were due to United using the player incorrectly. "Kagawa is one of the best players in the world and he now plays 20 minutes at Manchester United - on the left wing! My heart breaks. Really, I have tears in my eyes. Central midfield is Shinji's best role. He's an offensive midfielder with one of the best noses for goal I ever saw."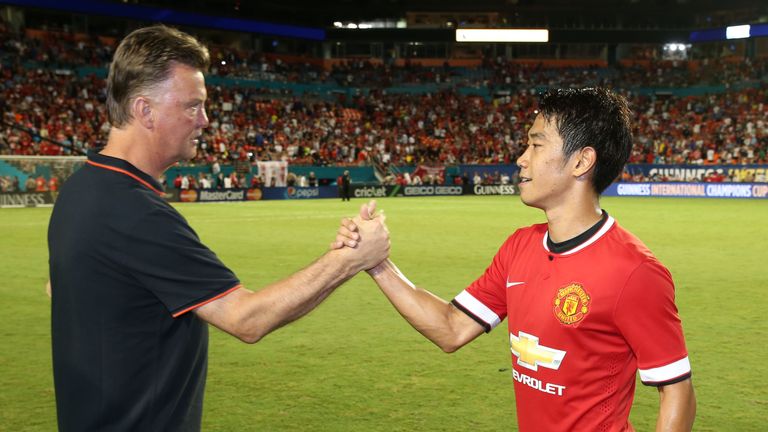 Others saw it rather differently with Ferguson pointing to Kagawa's struggles with the strength that is required to thrive in the English game. Through a combination of injury and mentality, that was something Kagawa never truly conquered. While technically superb, at 5'8", there is also the need to fight for the right to play.
"The difference between German and English football is that in Germany you can't foul," said Ferguson. "You are not allowed to touch anyone in Germany, so he has come from that environment to the Premier League, which is totally different. There is a physicality to our game which is different from Germany."
Even his biggest supporters might be willing to acknowledge that Kagawa could have shown more flexibility. Ultimately, three different managers proved reluctant to incorporate him in the role he liked best and were unconvinced by his effectiveness elsewhere. Ferguson perhaps anticipated using him off a sole striker but sacrificed the plan when it emerged he could get Robin van Persie.
Conundrum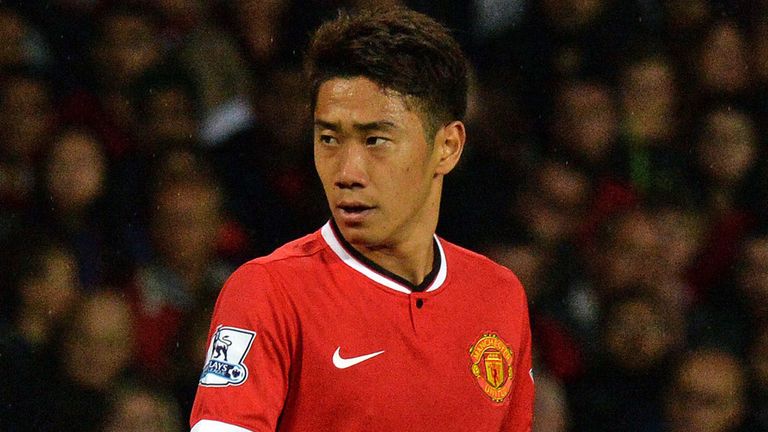 The Kagawa conundrum was passed on to David Moyes last season and while the Scot proved equally unwilling to build his attack around the Japanese international, there was some method behind his use of him coming off the left flank as he showed signs of forging a good relationship with the overlapping Patrice Evra.
The arrival of Juan Mata offered a new hope as the two also combined well and Kagawa managed three assists in his final six Premier League appearances – as many as he'd produced in the previous 32. But Van Gaal's appointment saw the Dutchman openly bemoan the number of advanced playmakers in an imbalanced squad short of quality in deeper positions.
He attempted an alternative resolution. "I know him from Borussia Dortmund and he played in the No. 10 position," he told reporters during pre-season. "I wanted to try him in the No. 6 or No. 8 position in our system in the first two matches, and then I also gave him a chance at No. 10 because he wanted to play in that position. He did it much better than in the two matches before."
A few short weeks later and the verdict was in. "I tried to play Kagawa in a deeper midfield role in the United States. But he could not fulfil my wishes." The end of the Premier League adventure.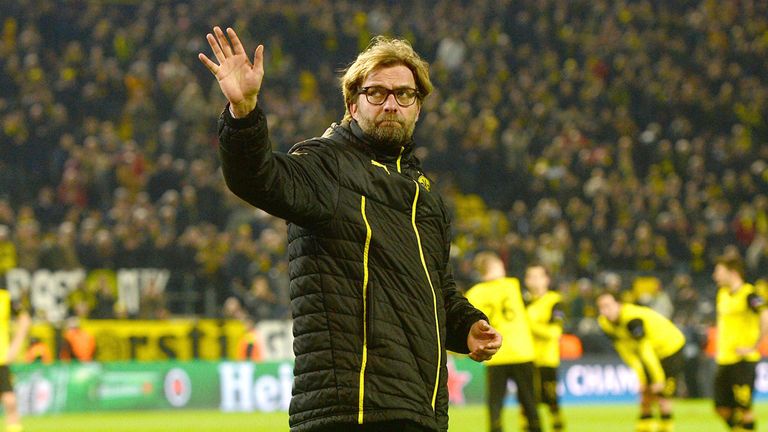 Back at Dortmund and Klopp is unlikely to ask Kagawa to do things with which he is uncomfortable. Instead it is Mkhitaryan who can expect to be asked to work around him rather than the other way around and their link up at the first time of asking against Freiburg was certainly encouraging. When Reus returns it could even prove irresistible.
It says much for Klopp's capabilities that Kagawa's return to form is already ready being regarded as a fait accompli in the Ruhr and Tuesday's Champions League fixture at home to Arsenal would be a good time to rubberstamp it. You wouldn't bet against it. The last time he played against Arsenal in a Dortmund shirt, he scored a last-minute goal. And there's a smile on his face again.
"Now I am happy to be back at Dortmund with a great team, unique fans and fantastic surroundings," he told reporters after the weekend win. "Being with Dortmund is like being with family." Shinji Kagawa is back home. And his best form might not be far away.
Watch Shinji Kagawa's Borussia Dortmund in action against Arsenal on Tuesday evening (Sky Sports 5 HD, 7.45pm kick off)