If the country's island mentality dictates that Zlatan Ibrahimovic had to score four goals in an international friendly for Sweden before having his genius recognised in England, then Francesco Totti really is in trouble. The Roma icon's record on English soil is bewilderingly bad.
In eight matches against Premier League opponents dating back to a goalless draw with Leeds United in March 2000, Roma have only scored two goals. One of them came in a 1-1 draw at Arsenal in 2003 – after Totti had been sent off midway through the first half. The other was a consolation goal by Daniele de Rossi in that 7-1 hammering at Old Trafford in April 2007.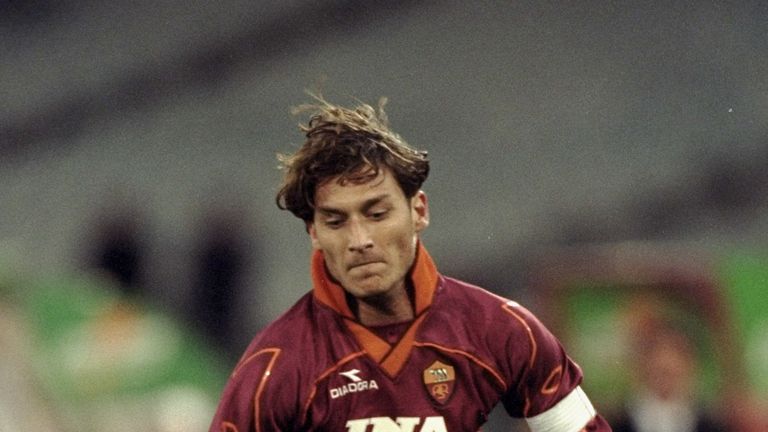 Aside from the disappointments, it's a reminder of just how long Totti has endured. That clash with Leeds came just a few months after George Graham left for Spurs. It's two full decades since he scored his first Serie A goal against Foggia, and when he made his debut, Manchester City's Frank Lampard was only 14 years old. Back then, Tuesday's opponents hadn't even seen Shaun Goater in a City shirt let alone Sergio Aguero. It's been quite the journey.
Remarkably, it shows no signs of stopping either. Totti turned 38 on Saturday but his contract runs through until June 2016 and he has spoken of his ambition to play on until the age of 40. Why not? He's enjoying himself in a Roma team that's not only back in the Champions League but sits top of Serie A after an imperious start to the season that's seen them win all six matches.
UEFA Champions League Highlights


It might not have been that way for the man they call Il Principe. When confirmed Totti fan Zdenek Zeman departed in February 2013 and was replaced that summer by former Lille coach Rudi Garcia, there were no guarantees. But the chemistry with the new man was instant. Playing Totti in the centre of attack in a 4-3-3 with pace around him, it has been reminiscent of the famous 4-6-0 formation that saw the skipper thrive under Luciano Spalletti.
Of course, there is a twist. While Totti was the top scorer that year in 2006/07 and the winner of the European Golden Shoe for his 26 Serie A goals, the veteran is now more provider than goalscorer. Just 39 goals short of Silvio Piola's Italian record, the emphasis has shifted nevertheless. Nobody had more Serie A assists last year despite him starting only 20 matches.
It's evidence of a selflessness recognised by his old coach. "For years, Totti has carried the load for Roma on his shoulders," said Zeman earlier this month. "Generous, selfless, he has thought more and more about the team than himself. If he was selfish, he would have already surpassed Silvio Piola's goalscoring record."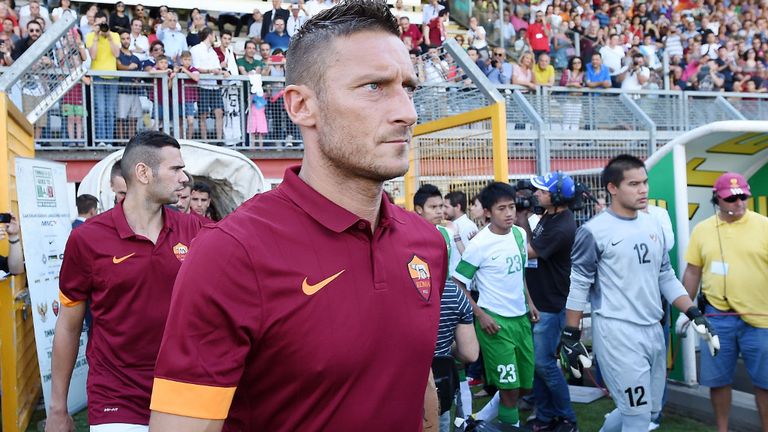 His current role seems to be suiting him. The return to Champions League action after an absence of three-and-a-half years was a glorious triumph with Totti pulling the strings in a convincing 5-1 win over CSKA Moscow at the Stadio Olimpico. Playing as a withdrawn striker with the pace of Gervinho and, initially, Juan Iturbe cutting in off wings, the Russian side had no answer.
Both wide forwards were on scoresheet within 10 minutes of kick off. But it was Gervinho's second goal – Roma's fourth – shortly after the half-hour mark that showcased how effective Totti remains. Dropping deep to receive a pass to feet, he showed instant awareness of where his runners were – hooking the ball over the top first time for his team-mate. It was trademark Totti.
"He can do everything, in every part of the field, with play no-one expects and that can settle games," said Zeman. But the veteran coach isn't entirely accurate in his assessment. His team-mates do expect it. Gervinho was already on his toes knowing that the ball would soon be coming his way. It's only the opposition who are left bamboozled.
The restrictions of an ageing body mean that this performance in Europe was one of only four outings so far this season. The familiar magic was on show in setting up the opener against Parma last week but Totti was an unused substitute against Empoli and Cagliari, while he was withdrawn midway through the second half of the weekend win over Verona. Garcia is managing his work load with the Champions League in mind. Importantly, Roma are winning with and without him.
Biggest test
Tuesday's trip to the Etihad Stadium will be the biggest test yet. The bookmakers rate City and fellow Group E opponents Bayern Munich among the five favourites to win the tournament. While Garcia acknowledges Roma go to Manchester as underdogs, others are more bullish. Midfield star Miralem Pjanic has argued Roma are better suited to European football, and the Giallorossi fans recently unveiled a banner stressing the old maxim that it's a tough game for their opponents too.
Totti in England
Leeds 0-0 Roma - Nov 98
Newcastle 0-0 Roma - Dec 99
Leeds 1-0 Roma - Mar 00
Liverpool 2-0 Roma - Mar 02
Arsenal 1-1 Roma - Mar 03
Man Utd 7-1 Roma - Apr 07
Man Utd 1-0 Roma - Oct 07
Chelsea 1-0 Roma - Oct 08
Arsenal 1-0 Roma - Feb 09
That's a view Totti shares, even turning to the evidence of last season to suggest an unlikely adventure that could take them all the way to Berlin in June. "I like this group," he said. "It can happen no matter what. We want to try to follow the example of Atletico Madrid."
Diego Simeone's powerful side represents a curious example given Totti's recent complaints about the physicality of modern football. But perhaps the truth is that he is just glad to be back in the Champions League at all. "I feel fortunate in being able to play again this competition at nearly 38 years of age," he said prior to his weekend birthday. "I'm happy with what I have done and what I'm doing. I'm convinced I can still give a lot to Rome. Years pass, but I honestly do not feel them."
His manager likes it that way. "Let's not remind Totti how old he actually is," Garcia told a press conference last week. The eternal player in the eternal city. Maybe Tuesday evening in Manchester is an opportunity to change another thing that seems to have been around forever. England hasn't seen the best of Totti but there's still time for him to get that first win in a Roma shirt on English soil. Surely only City fans would begrudge the old master turning it on.