Andrea Pirlo v Carlo Ancelotti: Juve star faces his old AC Milan mentor
Last Updated: 05/05/15 3:11pm
Real Madrid's visit to Juventus pits Andrea Pirlo against his mentor Carlo Ancelotti...
"There is always praise for his technique but his character and personality are undervalued. He is one of the few players that you need to say little or nothing to, he understands everything by himself." - Carlo Ancelotti on Andrea Pirlo 
Ancelotti's assessment of Pirlo's intelligence is not without substance. In their first pre-season together at AC Milan, Ancelotti was widely credited with transforming the midfielder's career by switching him to a deep-lying role that Pirlo had hitherto only dabbled in during a brief loan spell at Brescia under Carlo Mazzone. But in typically self-effacing style, Ancelotti admitted in his autobiography that it was Pirlo's own initiative that sparked the change of position.

"Pirlo really helped me out. He approached me one day and suggested that he could play in a deep position, just in front of the back four. I was extremely sceptical. He was an attacking midfielder, his tendency was to run with the ball. And yet, it worked. He became one of the best in the world in that role. I stuck Clarence Seedorf out wide, with Rui Costa and Rivaldo behind the lone striker and - presto! - there was my 4-3-2-1 or Christmas Tree."
After being given the opportunity to start in the role against Juventus in the annual pre-season Trofeo Berlusconi, the positional change soon reaped dividends. With Demetrio Albertini having left the club that summer in 2002 and the continued injury struggles of Fernando Redondo leaving a vacancy, Pirlo was Milan's playmaker as they won the Champions League at the end of Ancelotti's first full season in charge.

For Pirlo it was a relief to have found the man who'd trust in his abilities. "Finally I've found a coach who believes in me," he said early in that first season. "Ancelotti has given me the chance to play frequently and the results are visible." By 2007, he'd added another Champions League, the UEFA Super Cup and FIFA Club World Cup, establishing himself as football's architect supreme. "There are no midfielders around with his range of qualities and knowledge of the game," said Ancelotti.
In a team full of No 10s, Pirlo's passing range from deep gave Milan something different. The Rossoneri were vulnerable at times but their creativity set them apart and in the process a bond was formed between player and coach. Pirlo thrived on the trust he'd been given to control the tempo of games. Ancelotti has been characterised as a minimalist coach more focused on personnel than tactics but this makes him a favourite of those players able to find their own solutions on the pitch.
"He's a great coach who likes to play good football and his teams play with real style," Pirlo once told Marca. "He has a good footballing philosophy. I have nothing but good things to say about him, Carlo is a friend, a great person. He's an outstanding coach, who treats his players well and is well-liked inside the dressing room." Perhaps the only surprise is that the two have not linked up again since Ancelotti's departure from Milan in 2009.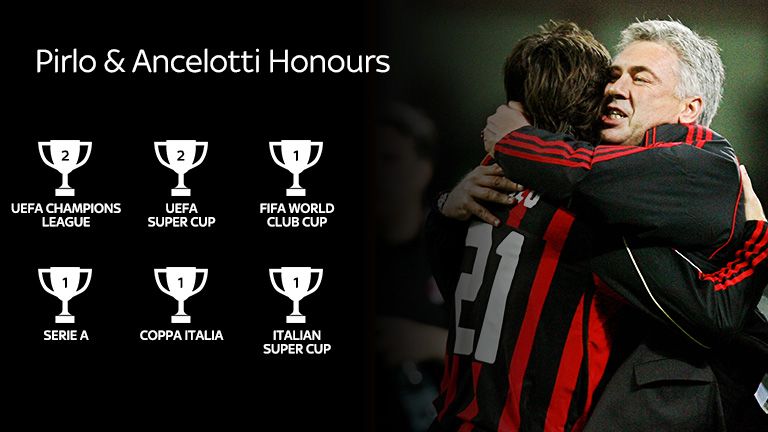 Ancelotti was close to taking Pirlo to Chelsea with him that year only for Milan to block the transfer. "Carlo was like a father and a teacher for me, a kind, friendly man who knew how to make things fun," said Pirlo of those talks in 2009. "I'd spent the best years of my career with him. If you're a player who wants to get on and give everything, you won't find anyone better than him. Carlo was my motivation for agreeing to head to London."
The mutual admiration remains - "Did you see what Pirlo did? Only a genius has this intuition," said Ancelotti of the Panenka-style penalty against England at Euro 2012 – but after a low-key group game last season this will be the first time the two have faced each other in the knockout stages. At 35, it's perhaps Pirlo's best opportunity to claim a third Champions League winners' medal by denying his mentor the chance of a sixth. Whatever happens, the respect for each other will surely endure.