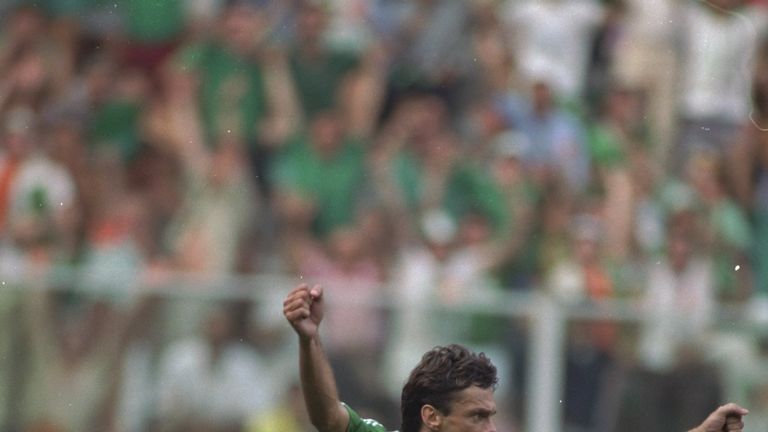 David O'Leary's famous penalty was the high point of the Republic of Ireland's World Cup adventure at Italia '90. Thursday marks 25 years since that glorious day. Here O'Leary talks to Adam Bate about his circuitous journey to Italy and shares his relief that his spot-kick hit the back of the net...
"I knew walking up to get the ball I was going to put it to the goalkeeper's left and that's what I made sure I did," says David O'Leary. "There were about 20,000 brilliant Irish supporters behind the goal. They were so still and the eruption of green afterwards when the ball hit the net was absolutely amazing. It's a fantastic memory."
He's not alone. O'Leary's winning strike in the penalty shoot-out against Romania in the 1990 World Cup has since been voted as the greatest moment in the history of Irish football. "The nation holds its breath," as commentator George Hamilton famously put it. For O'Leary, at the age of 32, it gave him a day in the World Cup sun that had looked to have passed him by.
The Arsenal defender had made his debut for Ireland in 1976 but a fall-out with Jack Charlton saw him miss out on Euro '88 and so Italia '90 would be his first taste of a major international tournament. Despite the country being able to count on the sublime talents of Liam Brady for the best part of two decades, World Cup qualification had always eluded them.
"We were in some very tough groups," explains O'Leary. "There was a group once where we finished with 10 points but lost out on goal difference. France went through and there were plenty of other teams who got through to that 1982 World Cup in Spain on eight points and nine points. We were very unlucky and I thought after that the chances of me making it would be very slim indeed.
The squad for Italia '90 was a strong one. If you go through the team, most of the players were playing for top clubs in what is now the Premier League.
David O'Leary
"But it finally happened and Italy was an absolutely fantastic experience." Asked if there was anything that set the 1990 vintage apart from their predecessors and O'Leary is unwilling to disparage his earlier team-mates. "I just think we got that little bit of luck. But the squad for Italia '90 was a strong one. If you go through the team, most of the players were playing for top clubs in what is now the Premier League."
Although the squad was sprinkled with stars from Liverpool, Everton, Tottenham and Celtic, expectations were not high for Ireland's first ever World Cup finals and that contributed to the unique atmosphere that surrounded the squad. "It was fantastic," he recalls. "Whenever you were with Ireland, because there weren't many players to pick from there was always a club atmosphere when we got together. The players remained more or less the same."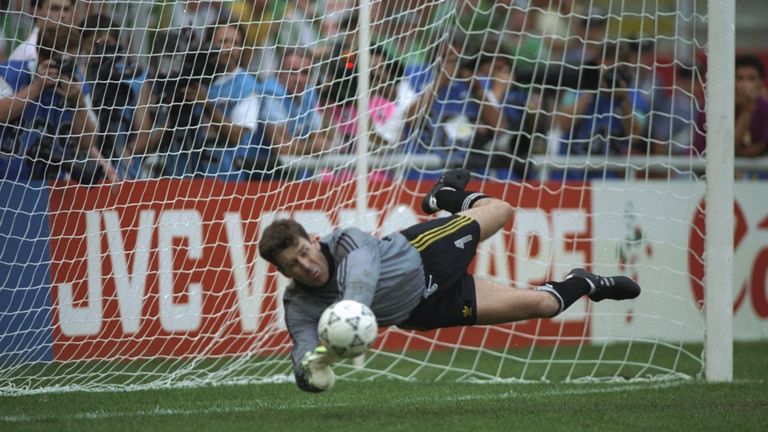 With Mick McCarthy and Kevin Moran as the starting centre-backs and Paul McGrath being used as a midfielder, O'Leary had to settle for a role as an unused substitute throughout the group stage as Charlton's team ground out draws against England, Egypt and Holland. "It was difficult in ways because I wasn't used to it with Arsenal," he admits. "I'd love to have been out there but it was the nearest thing to being on the pitch."
His chance finally came in the last 16 tie against Romania in Genoa. A replacement for Steve Staunton in extra time, O'Leary drew on his vast experience to treat a tensely poised knockout game against Gheorghe Hagi & Co like any other. "To be fair, it didn't feel any different to a major European night for Arsenal. The main thing I did feel was very proud to be playing my first World Cup game. And the way the day ended up made it all the more fantastic."
Penalties
With the scores goalless after 120 minutes, the game went to penalties. "I think when the game finished, there were a group of five players who all said they fancied taking it," O'Leary explains. "Among the five of us we then all chose a number. Five was the last number left so that's how I got it. I could easily have been one, two, three or four but five was the one left after everyone had chosen."
Of course, it turned out to be the glory penalty. Kevin Sheedy, Ray Houghton, Andy Townsend and Tony Cascarino all successfully converted their kicks only to see their Romanian counterparts match their efforts and beat Packie Bonner. Then came Daniel Timofte's attempt. Saved. O'Leary did the rest and though it turned out to be last kick of a ball in a World Cup as he sat out the 1-0 quarter-final defeat to Italy on the bench, he's yet to hear the last of it.
"It does amaze me the number of people who still remember it," says O'Leary. "Wherever I go, I can be sitting on a plane or on the other side of the world and there'll be somebody from Ireland who will come up to me. From all walks of life too. People still come up and say, 'great penalty'. Thank God I didn't miss it. I don't know what would have happened then."