FA chief executive Martin Glenn says England should be among the favourites to lift the Euro 2020 trophy at Wembley.
England crashed out of Euro 2016 at the round-of-16 stage, beaten 2-1 by Iceland in a stunning upset, but Glenn says they need to set their sights much higher next time round.
"We'll turn up to every tournament as contenders," said the FA boss. "That has to be our expectation.
"You can never say you're going to win it, because everybody else wants to win it too.
"But that is our ambition, to turn up to every tournament as a reasonable favourite, and take it from there."
Glenn was speaking at City Hall in London, where the logo for Euro 2020 was unveiled by the new UEFA president Aleksander Ceferin at the tournament's official launch.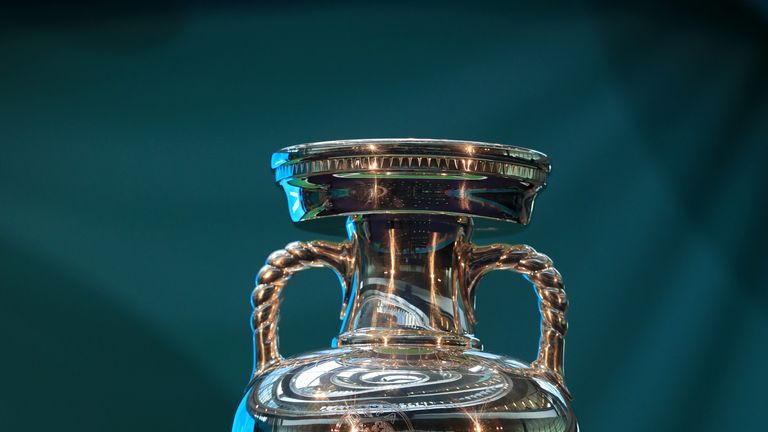 Ceferin, a Slovenian lawyer, was attending his first official event since his election, while England manager Sam Allardyce and Mayor of London Sadiq Khan were also present.
Euro 2020 will mark the 60th anniversary of the competition and to commemorate the occasion it will be held in 13 cities across Europe, with Wembley scheduled to host the semi-finals and final.
The multicoloured logo for each of the tournament's 13 host cities is represented by a bridge - with Tower Bridge chosen for London - to symbolise a connection between the countries
As well as England, Euro 2020 matches will be staged in in Azerbaijan, Belgium, Denmark, Germany, Hungary, Ireland, Italy, the Netherlands, Romania, Russia, Scotland and Spain.
Ceferin said: "UEFA wanted the 2020 tournament to be a true celebration of the game we all love and cherish.
"What better way could there be than to take the tournament, for one time only, to all four corners of our beautiful continent?"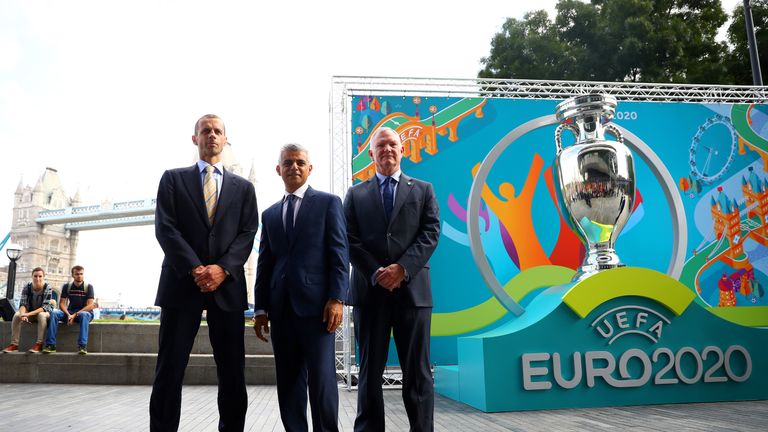 And Khan said: "We're looking forward to welcoming supporters from across Europe.
"As a truly international city, London has a fanbase for almost every nation on earth. One of the great things about football in our city is that it brings people from different backgrounds together.
"The prospect of playing in front of a home crowd at Wembley Stadium is bound to inspire the England players to go as far as possible in the competition.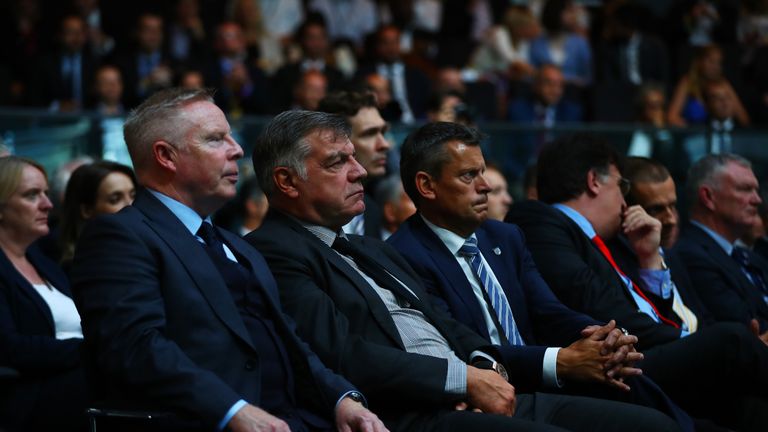 "We just have to keep our fingers crossed that Iceland's players aren't equally inspired next time!"
FA chairman Greg Clarke was also at the launch and he revealed the organisation is making plans for a potential bid for the 2028 European Championships, but no firm decision has yet been made.
He told Sky Sports News HQ: "I think it would be a big ask to get Euro 2024 when we have had the final here in 2020, but certainly later on in the decade [it is possible].
"We are reaching out to our friends in UEFA and across Europe in the other 53 nations; building relationships, building friends and building an ability to bid if we ever deem it is appropriate."
Watch Man Utd v Leicester, the Ryder Cup and the EFL Cup as part of our three months' half-price offer.