Eric Dier has revealed he is harbouring an ambition to one-day become England captain.
The 23-year-old Tottenham star picked up his 16th cap in the defeat against Germany, impressing in a defensive-midfield role alongside Jake Livermore.
Dier played under Gareth Southgate with England U21s and says he hopes to learn more from the England head coach and his new regime.
Southgate has suggested he could revolve the captaincy on a game-by-game basis and Dier admitted: "It's an ambition of mine.
"I'd love to one day be able to do that. It would be a real honour for me and it's something I'd like to work towards, but it's something the manger will decide and he will pick who's best.
"You never know really, things can change in football very quickly. I feel I have qualities a captain may have. I can do that job, but it's up to the manager.
"Gareth has been around the setup for a while - the U21s - so I don't think he's eager to make everything different, just little things here and there, helping us as players. He was a player not too long ago so he knows how we think and what's going through our minds. Hopefully he can pass on his experience.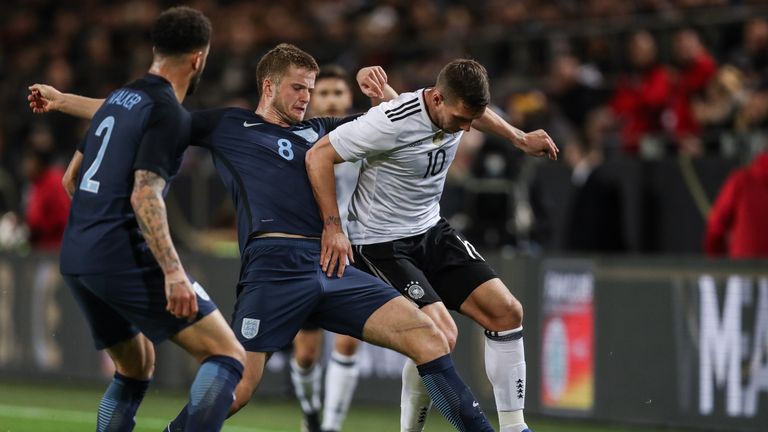 "He wants a camp where we enjoy and express ourselves, and play exciting, attacking football. But we should go on a game-by-game basis; It would be foolish to think any further than that. We have to keep working hard as a squad to improve and get to where we want to."
England host Lithuania in their next World Cup Qualifier at Wembley on Sunday and Dier insists the team have to learn how to break defensive teams down in their own backyard.
"It's going to be a tough game. In all internationals these days there is no easy game. Their team will setup to try and stop us, especially at Wembley. They'll probably play a low block so we have to be confident and play with intensity."
Sky customers can now upgrade to Sky Sports and get 12 months for just £18 per month. Upgrade now!