The topic of young English talent is a hot one again amid a busy summer for the country age-group teams. So are they on the right track?
Some think not, but two men well placed to compare England's work to that on the continent are convinced. Adam Bate spoke to Edu Rubio and Joaquin Gomez, two Spanish coaches working in the Football League, to get their take on things...
Tournament football lends itself to far-reaching conclusions. Ninety minutes can crystallise views. One shootout can see a philosophy justified or rendered obsolete. So when England toiled against Germany in their European Under-21 Championships semi-final just hours prior to a Spanish masterclass against Italy, a nation's baby and bathwater were both at risk.
Unable to retain the ball. Technical inferior. Too quick to look long, too slow to decide. That oldest of favourites - tactically naïve - got an airing too. Even a summer that has seen success in Toulon and the Under-20 World Cup cannot completely quash such theories. But while the criticism is familiar it is no longer given much credence at the game's sharp end.
Just ask the Spanish coaches who are working with young English talent. It is not only Pep Guardiola guiding their progress, this Spanish influence extends much further down the pyramid too. Both Joaquin Gomez, Luton's first-team coach, and Edu Rubio, MK Dons' Under-23 boss, like what they have seen in recent years and urge England to stick with it.
"I have been saying for a long time that it is just about patience," Gomez tells Sky Sports. "If you focus on results only one team can win any tournament. So when Spain lost in the final of the European Under-21 Championships, is that failure? I don't think so because there is a hell of a lot of talent in that squad, individuals who are going to become very good players.
"You cannot fall into the trap of failing to win a tournament and then changing the way that you do things. If you change every year or two then it will never be good. People focus on coaches, the structure and the whole way of doing things, but since I have been in England I have visited many academies and seen good work being done. You must trust the process."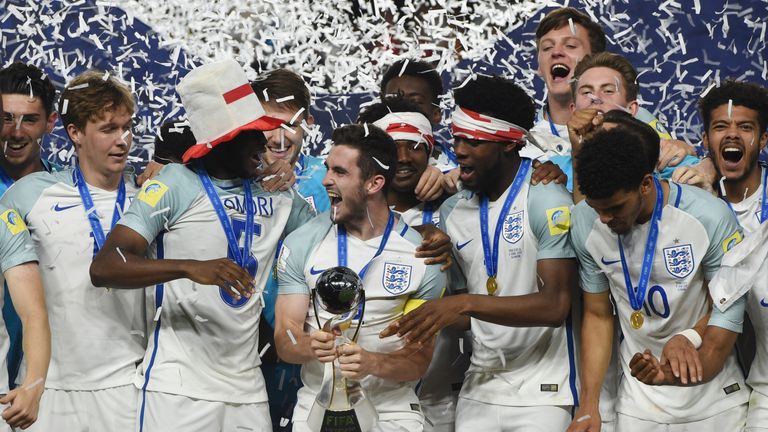 Gomez, who got his UEFA Pro Licence in Spain aged just 24, is full of praise for the "very good coaches" and "wonderful structure" he has encountered in England. It is a view shared by Rubio, another Spaniard so highly rated in his homeland that he spent last month there tutoring the likes of Javier Saviola and Fernando Redondo as part of their UEFA A Licence.
"The Football Association's coach education department is doing a really good job," Rubio tells Sky Sports. "Funnily enough, Gines Melendez, who is the sporting director of the Spanish FA, has also checked the coach education in England and he was saying to me recently, 'Edu, they have changed a lot and it is really, really good.'
"It is so different from how it was 10 years ago. When I first came I thought it was quite traditional. But since then the FA has done a great job. They have changed the UEFA B, they have changed the UEFA A and they have even changed the Pro Licence. They have taken ideas from Spain, Germany and France. They have a really good coaching programme now."
Gomez, meanwhile, has been coaching in England for six years, holding various roles at Brighton and Derby before taking up a senior position at Luton. He also recognises the changes that have occurred. "You need to appreciate that there is a difference between the players being produced now and the ones being produced even 10 years ago," he explains.
"If you watch the Under-21 Euros, teams are adapting between two and three formations in one game. That's tactical knowledge. It needs to be very deep in players to be able to do that successfully. This is coming on with English players, as we have seen with the Under-17s winning, the Under-20s winning and the Under-21s having a good tournament."
Rubio has been in England for 11 years, working with Chelsea's youngsters prior to his time at MK Dons. He regards England as "like a giant awakening" and says these players are as clever as anything on the continent. "The new coaching philosophy is cascading down into clubs and into players," he says. But there are multiple parts to the process.
"There are three things needed to get to the top in any industry," adds Rubio. "Firstly, there is your gift. But just as important is your environment and your opportunity. If you have the gift but that gift does not get looked after and nurtured then maybe that gift will never fulfil its potential. Then you need the opportunity to express that gift that has been nurtured.
"That is what has changed in the last 10 years. The gift was always there. English players have always been gifted. But maybe the environment in terms of the coaching programme and the amount of coaching sessions, the amount of expertise, the amount of professionals within the academies was not enough.
"Certainly over the past four or five years there are more professionals working in the departments, there is more knowledge in terms of strength and conditioning coaches, fitness coaches, video analysis and performance analysis. That has really created an environment where the gifts can be nurtured and players can fulfil their potential."
Such is the passion for the game in England that nobody should be too surprised that there are youngsters with the raw gifts required to play the game well. Furthermore, Rubio offers a compelling argument that the environment is now in place too. But it is that third part of the puzzle - the opportunity - that surely remains the issue that needs addressing.
Neither Luton nor MK Dons have much of a case to answer here. Rubio described youth development as "fundamental to what we do" while Gomez points to the example of James Justin, thrown in for his full debut against Aston Villa soon after turning 17. "If we had not trusted him it would have been more difficult to start his career," he says.
But there are issues in the leagues above. "Opportunity is everything," admits Gomez. "If they have the talent to be playing but are not playing, that is when the problem comes. A lot of that Spain team play in the top division. The England lads are not Premier League regulars yet. It requires managers who trust young players and give them the chance to play."
Rubio agrees. "It is probably one of the biggest differences between here and Spain," he says. "The opportunity will come when managers have the courage to play these players. Mauricio Pochettino has done it but others must follow. The young English players are now starting to do well at tournaments and perhaps that will encourage coaches to be braver.
"They might think now that maybe they want to use these players in their first team rather than sign players from abroad. For example, maybe Dom Solanke or Tammy Abraham can be as good as any player they could sign? I genuinely believe there is quality in this country and that the English player can be as good as anyone. All they need is the opportunity."
Both men speak with passion and purpose on the subject and were they English themselves it could easily be mistaken for patriotism. That these are Spaniards instead, ones convinced that English youngsters are worthy of a chance, makes it all the more stirring. "The talent is there," concludes Gomez. "You just have to trust them and you will see what they can do."