Marcus Rashford has football brain to match Wayne Rooney's, Gareth Southgate says
Last Updated: 05/09/17 11:05pm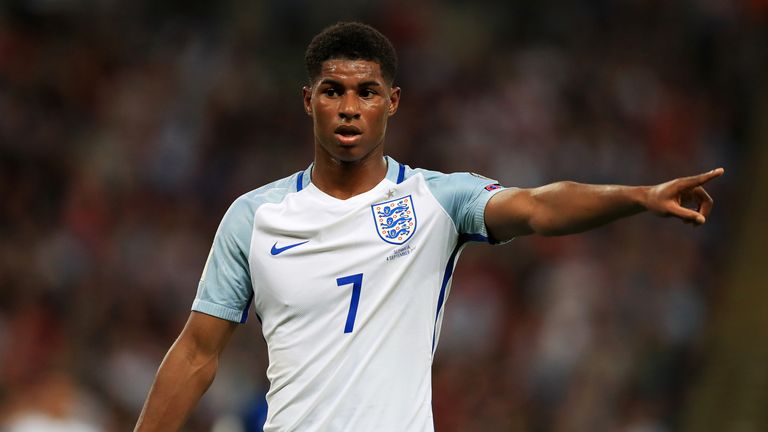 Marcus Rashford has a football brain to match Wayne Rooney's at the same age, according to Gareth Southgate.
Rashford scored the winner against Slovakia at Wembley on Monday to leave Southgate's England on the verge of automatic qualification for next summer's World Cup finals.
Manchester United's 19-year-old was tipped for global stardom in the hours after the game, while an assured start to his international career has drawn comparisons with Rooney and Michael Owen.
Those two teenage prodigies ended their England careers first and fifth on the all-time scoring list, and Southgate said: "I am sure from his point of view he would rather be compared to them than not.
"He is obviously a different type of player. He is as mature as they were in terms of their understanding of the game and the way he picks concepts up.
"But, yeah, it is up to him now. He has a great platform to build from, he has a really good influence at his club in terms of Jose Mourinho to keep him grounded, and we'll do the same here."
Rashford was initially treated with kid gloves by England after scoring twice on each of his first two United appearances last year.
Southgate said: "When Ryan Giggs was working as United's assistant manager, Marcus had just broken into the team and we were deciding which age group to put him with.
"We felt maybe putting him in the U21s straight away would put too much spotlight on him, so I think the club were grateful for that, but then Roy picked him for the seniors about two months later!
"So that plan was out the window but you can also see why because, blimey, the impact he had at the time and then immediately with England was fantastic."
Rashford is now established as part of a young group of attacking England players including Harry Kane, Dele Alli and Raheem Sterling.
He said: "We're all quite young players, so hopefully we can be together for years and years. We could be speaking about much greater things in the future. For the players and obviously for the fans as well, that's what we all want.
"We're young. As long we all stay together we are working on relationships off the pitch to make us better on the pitch. There are a lot of things going on in the background that hopefully can bring the best out of all of us."