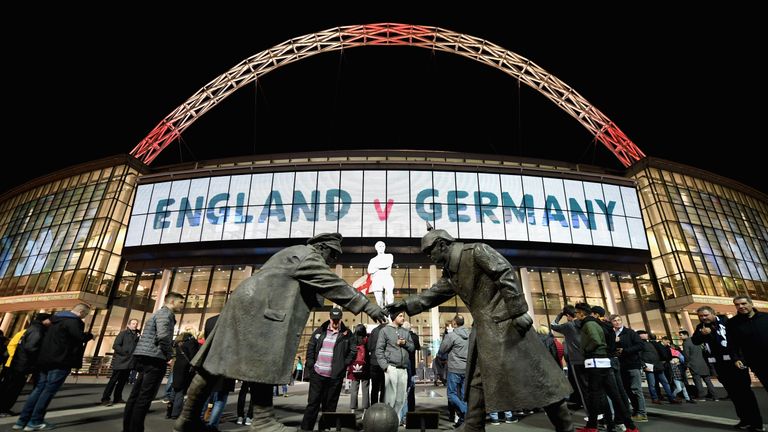 England and Germany wear black armbands bearing poppies for the friendly international at Wembley on Friday night.
The FA and DFB confirmed before the match that both teams would wear the poppies in remembrance of the armed forces, past and present.
It was one of a number of ways that Armistice Day was commemorated at Wembley. Fans arriving at the stadium found a replica of 'The Truce' statue near to the Bobby Moore statue. It depicts the historic World War I ceasefire where peace and games of football broke out between English and German troops on Christmas Day in 1914.
In other symbolic gestures, representatives from the RAF, Army and Navy laid wreaths in the centre circle prior to kick-off and a banner parade also took place.
A period of silence, broken only by a rendition of the Last Post, was also held before kick-off and after the national anthems.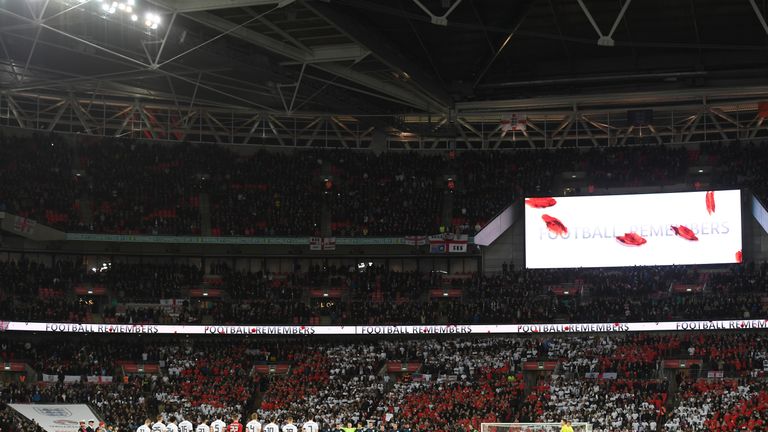 The Wembley Stadium arch was lit in red and screens throughout the stadium displayed the message 'Football Remembers'.
In September, the International Football Association Board (IFAB) provided the FA, the Football Association of Wales, Scottish FA and Irish FA with clarification on Law 4, which now allows all four teams to display poppies during their respective fixtures in the lead up to Remembrance Sunday.