Nick Pope welcomes England goalkeepers' friendly rivalry
By Matthew Treadwell
Last Updated: 08/06/18 1:37pm
Nick Pope welcomed the friendly rivalry among the goalkeepers in England's World Cup squad after he made his debut in the 2-0 friendly win over Costa Rica on Thursday night.
The Burnley stopper came off the bench at Elland Road to earn his first international cap.
Everton's Jordan Pickford and Stoke goalkeeper Jake Butland are expected to battle it out for a starting place in England's opening World Cup Group G match against Tunisia on June 18 but Pope was happy he had the opportunity to impress Gareth Southgate.
"When you come off the bench as a goalkeeper, for the boys in front [on the pitch] it is important you show confidence, so I was pleased," Pope told Sky Sports News.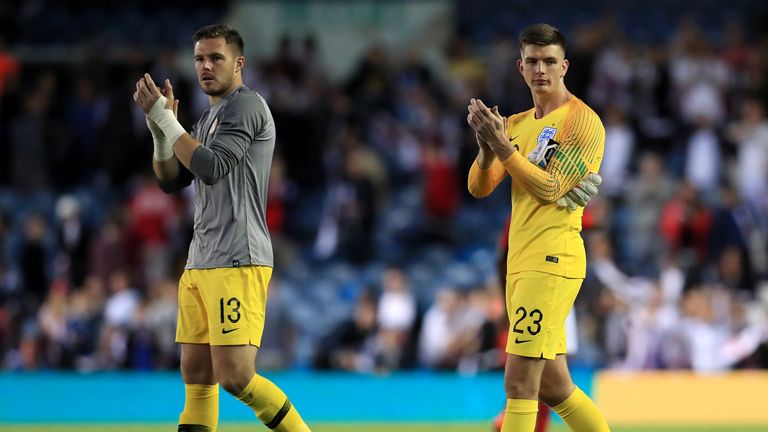 "I had a heads-up that I would play some part so it was nice to prepare myself mentally and get ready to go.
"That [goalkeeper rivalry] helps push us all to be better and that's the way it should be. That's what's best for the England national team and us as individuals.
"It's great to have that rivalry between us and the competition that there is."
England's victory in Leeds followed Saturday's 2-1 win over Nigeria but perhaps more importantly, Southgate's squad appear to have avoided picking up any injuries as they prepare to fly to Russia.
"We've had a positive three weeks in camp in our preparations and I don't think we could have had it any better," he added.
"Injuries are nasty and can crop at any time so to get through the two games and have nothing is a great sign."