Kieran Trippier says England are more than just Harry Kane
By James Dale
Last Updated: 14/06/18 3:13pm
Harry Kane is the best man to lead England at the World Cup but he is not their only goal threat, according to team-mate Kieran Trippier.
Kane has been appointed England captain and goes into the Group G opener against Tunisia on the back of scoring 30 Premier League goals for Spurs last season.
Marcus Rashford's knee injury could place more of the goalscoring burden on Spurs' Kane, though Trippier said the Manchester United forward is recovering well in individual training and should be ready to face Tunisia in their Group H opener on Monday.
Trippier said England have studied their opponents' strengths and weaknesses and said the warm conditions in Volgograd will not affect Gareth Southgate's side.
He believes goals will not be an issue, either.
"Everybody knows what Harry Kane is all about, he's a goalscorer, a great professional," said Trippier. "But if you look all around our team we've got winners. We've got goals all over the pitch, it's not just Harry.
"We've got a strong forward line, a lot of pace, youth. I know all the boys are looking forward to getting on with it now."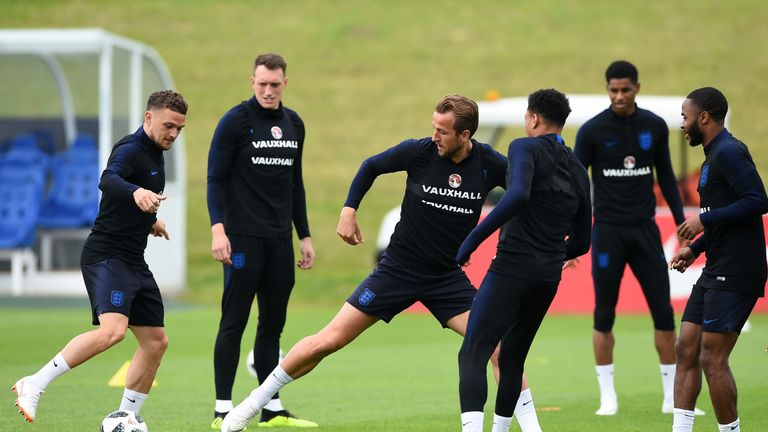 He added: "He's a great leader, you can see that on and off the field, a top professional. Even just one-on-ones, he's a great person if you ever need help. There's no better person to lead us out to the World Cup."
Complaints of player boredom have often plagued England's World Cup bases in prior tournaments, with suggestions performances in South Africa in 2010 were affected by the squad having nothing to do in their spare time.
England's current base in Repino is an isolated camp in north west Russia with little on offer in the local surroundings, but Trippier insists the players "can't be bored" with the amount of entertainment this year's squad have been provided.
A basketball court, table-tennis and video game 'Fortnite' are all keeping the players pre-occupied, says Trippier, while the players have also had English TV channels made available for them - with a number of players keenly following ITV show 'Love Island'.
The Tottenham and England full-back is joined by 15 members of his family and friends out in Russia, and Trippier says it will be a "proud moment" for him and his close ones.
His father was present when he made his senior England debut in France in June 2017 and Trippier is looking to do his parents proud again as he appears at a World Cup for the first time.
The defender added: "He came out to watch me get my first cap. The emotions will be high and I just can't wait to get started. I'll do the best I can for my family and for the fans."