Danny Rose says things happen in football which he 'would not wish on anybody'
By Joe Townsend, Sky News radio reporter
Last Updated: 27/06/18 6:14am
Danny Rose has spoken about his life as a professional footballer, saying he would not recommend it to children.
The Tottenham left-back endured a difficult 2017-18 season and recently said he had been diagnosed with depression, caused by injury and family tragedy.
Rose is in the England squad for the World Cup in Russia and came off the bench during the 6-1 win over Panama on Sunday, as Gareth Southgate's team secured a last-16 place.
However, speaking ahead of England's final Group G game against Belgium on Thursday, Rose revealed there are some aspects of a footballer's lifestyle which can be unappealing.
"It is the best job in the world, don't get me wrong," said Rose.
"But people seem to think there are no other issues within football, you just get your money at the end of the month and play every weekend.
"There is so much more to football than what people may see on Saturday and I don't believe in hiding that from people.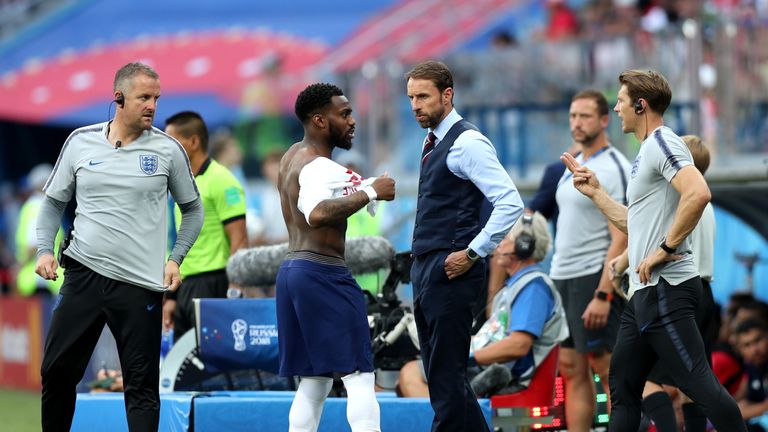 "Even though I feel very privileged to play football, with the things I have experienced within the game, it is not something I would be shouting from the rooftops, to recommend to people's children to be footballers.
"Because there are a lot of things that happen on a day-to-day basis at club football that I wouldn't wish on anybody."
Rose would not reveal the specifics but, when asked if he meant the pressure of being a footballer, the 27-year-old added: "There's pressure, there's politics, there's loads of things.
"There's not just playing on a Saturday and you receiving your money at the end of the month.
"There's so, so much more to football than what people see.
"My agent told me when I was 15, 16, 'you can have all the ability in the world but if you're not mentally strong enough football will swallow you up'.
"For 10, 11 years, I didn't have a clue about what he was talking about. It wasn't until this past year where I've realised exactly what he's meant.
"He's 100 per cent right with what he told me all those years ago."