Dele Alli says England squad relishing World Cup journey
By Dev Trehan
Last Updated: 08/07/18 10:57pm
Dele Alli says this England team is revelling in the satisfaction of knowing they are bringing the country together in their bid to win the World Cup.
Alli put the gloss on England's 2-0 win over Sweden with a header, notching his first goal of the tournament as the Gareth Southgate's side reached the World Cup semi-finals for the first time in 28 years.
Want to say a special thank you to the whole country for the support we've received so far, it's means to much to me and the whole team! 🦁🏴 pic.twitter.com/YNPy64RpI0

— Dele (@dele_official) July 8, 2018
And the Tottenham midfielder insists the squad know exactly what England's World Cup performances mean to the nation.
He told Sky Sports News: "The tournament has been unbelievable even for Russia as well, they played great they were unfortunate to go out last night but I think they did their country proud.
"But for us, it's all about the experience. We've been playing well, we're learning and we're all enjoying it.
"We've seen the videos from back home and it seems like the country is really coming together so we're happy to have that influence."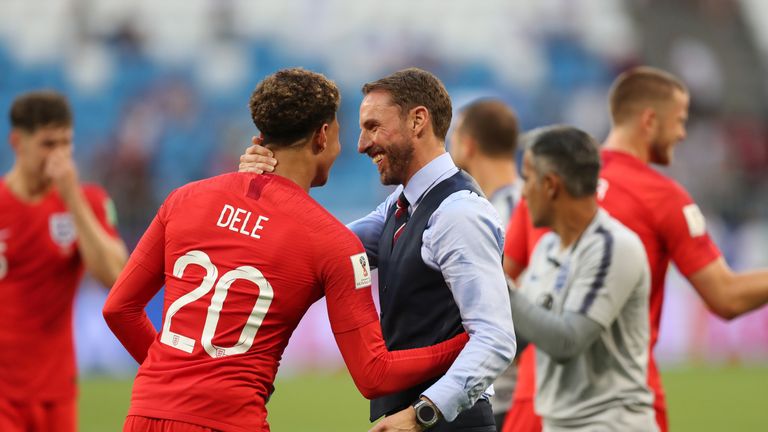 Southgate's team face Croatia in the second semi-final in Moscow on Wednesday night, and Alli knows England have a far-from-straightforward task as they bid to emulate the World Cup-winning heroes of 1966.
"It's going to be difficult," he said.
"The semi-final of a World Cup is not an easy game, but it's a game we feel we are ready for. We're confident but we know it's going to be very difficult.
"But the way the tournament is going so far, whoever we come up against, we feel confident we're going to win. And we have to be like that, I think, if we are going to get in the final, so we'll have to perform well and play well."
England forward Raheem Sterling added: "We are going to get ready to go again, recover, that is what we are doing now - relax. Move forward and look forward to the next game."