Croatia coach Zlatko Dalic identifies Raheem Sterling as serious threat
Last Updated: 09/07/18 7:55am
Croatia coach Zlatko Dalic has identified Raheem Sterling as one of England's most dangerous players ahead of Wednesday's World Cup semi-final.
Sterling, who has been widely criticised on social media by England fans, played a key role as Gareth Southgate's men overcame Sweden 2-0 in Samara to set up a semi-final against Croatia.
Speaking to reporters Dalic was quizzed about England's strengths and weaknesses.
The 51-year-old coach, who has only been in charge of the national side since October, said: "I wouldn't say there are any glaring weaknesses - they are in the semi-finals, that says it all.
"They showed from the games I've seen so far that they play direct football and they are very fast.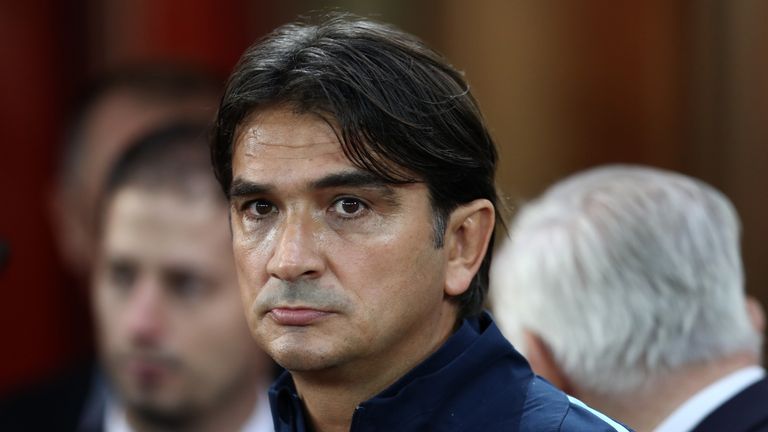 "They are really good at set-pieces and their tall players are dangerous at corners.
"I think Raheem Sterling is an important player because he is really fast and his combination with Harry Kane is really dangerous."
He also praised Sterling's pace and power, and said he and his coaching team would be analysing England more closing over the next two days before passing that information on to his players.
"They dealt with Sweden relatively easily so we know they are going to be a difficult opponent and we respect them," he said.
"But we believe in our strengths, too. We don't fear England or anybody else."
Croatia's shootout victory over Russia was their second straight win on penalties at the World Cup, having beaten Denmark in the same fashion in the last-16, and Dalic admitted that playing 120 minutes twice in the last six days was not ideal, particularly as some of his players are now carrying injuries.
He would not give any details of how serious those injuries are, saying only that reaching the last four was "a new motivation" for his squad, but did say he might have to make changes to his line-up as now was not the time to take any risks with players who are not 100 per cent.
On a more positive note, he looked forward to playing another attack-minded team in England after his side's relative struggles against the more defensive styles of Iceland, Denmark and Russia.
He also said Croatia took great heart from the form of "the World Cup's best central midfield pairing" Luka Modric and Ivan Rakitic, with the latter playing "the best football of his career".
Asked what it would mean to defeat England, Dalic said: "It's already a great achievement for us to be in the last four because some big teams are already swimming on their vacation - Argentina, Brazil, Germany and so on.
"If we were to send England on holiday, too, it would be great because England has one of the best leagues in the world, if not the best.
"Our league is not so strong but if we had England's money, who knows where we would be."