England need to become a 'force' for Nations League, says Sol Campbell
England v Spain at Wembley on Saturday, live on Sky Sports
Last Updated: 04/09/18 8:59am
Sol Campbell says England must now "mould into a force" going forward following their successful World Cup run.
England face Spain in the UEFA Nations League on Saturday, live on Sky Sports, their first game since they reached the semi-finals of the World Cup in Russia in the summer.
Sol Campbell, who captained England three times, believes the squad Gareth Southgate has picked for the games against Spain and Switzerland - with 18 retaining their places after the World Cup - need to use their experience to build momentum and confidence.
"I think now Gareth has showed he is not afraid to bring in new additions. I think that is healthy as well, and the squad now really has to mould into a force going forward," says Campbell, who earned 73 caps for England.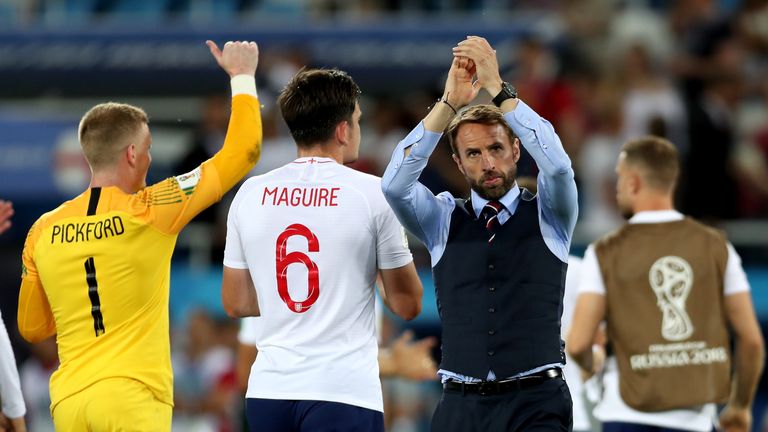 "He's really got to inspire them, they've had a lot of experience and that experience is valuable going forward in those big, big games.
"The more you're in these big games and get through it, the confidence will start rising and as a squad, you feel that together. It's all about momentum now, pushing forward, and pushing individually as players and as a team."
Reflecting on England's World Cup journey, Campbell says Southgate's knowledge of the younger players' mentality after coaching them at youth level was "invaluable".
"He knew their mentality, I think that helps as well, so you're not wasting time figuring out 'what's he like' which sometimes you have to deal with if you're in domestic football.
"You just have to get on with it and learn as you go along. But he had that knowledge before, which was invaluable really."
Watch the Nations League live on Sky and get two football channels for one great price. Get Sky Sports Premier League and Sky Sports Football in HD - now £18 a month.