Playing for England will not faze Jadon Sancho, according to Paul Lambert
18-year-old winger called into Gareth Southgate's latest England squad
Last Updated: 09/10/18 11:08pm
Playing for England will not faze Jadon Sancho, according to Paul Lambert, who says his experience at Borussia Dortmund will help him.
The 18-year-old left Manchester City in August 2017 to sign for the Bundesliga club and has flourished in Germany, earning himself a call-up to the senior England squad for the upcoming UEFA Nations League matches.
Former midfielder Lambert also spent time at Dortmund - winning the Champions League with the club in 1997 - and believes that playing in front of a passionate fan base will see him ease into life with England.
Nations League: Players to watch
'No release clause in Sancho contract'
"I watched him in the summer when he played and he changed the game. They've got really high hopes for him," he told The Debate.
"He's at a world-class club and playing in front of 83,000 every week, he's playing in the Champions League and against Bayern Munich plus other big clubs in Germany so I don't think England will faze him at all.
"He'll be used to the atmospheres because Dortmund have a massive following so that won't be a problem. The only thing he may have to adjust to is a bit of a different type of football but I know Dortmund are very happy with him.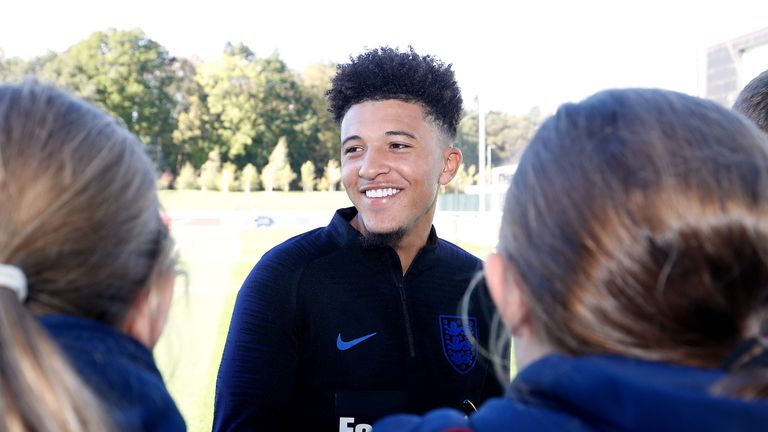 "The one thing I have noticed is because his performances are that high, the Dortmund crowd have taken to him. Once you get them on your side, there's no better support.
"What he has done has been absolutely brilliant, I think, and if he sees it through and keeps progressing the way he is, he'll be a top player."
Steve Sidwell believes Sancho could pave the way for other youngsters hoping to get their chance to shine elsewhere while Stuart Pearce questioned if playing abroad is the key to international success.
"What these youngsters are doing now, going out on loan and having the courage to say 'I'm not going to make it at this club, I'm going to go and make it at another one', it is setting a precedent for other youngsters to now follow in their footsteps," Sidwell said.
Pearce added: "If we look at the World Cup and European Championship winners of the last 20 years or so, most of the players play abroad. Now whether that is the key to the England squad, having more of our players abroad or having 50 per cent of the squad playing outside of the Premier League, would that help us?"