England fan Joe White's matchday experience is much the same as that of any other national-team supporter going to the game - anticipation building through the day, strong support in the stadium alongside friends, and then the journey home.
However, for Joe and other members of the Three Lions Pride group that follows Gareth Southgate's team home and away, they're also bringing LGBT visibility to each fixture - something that's still relatively new in football.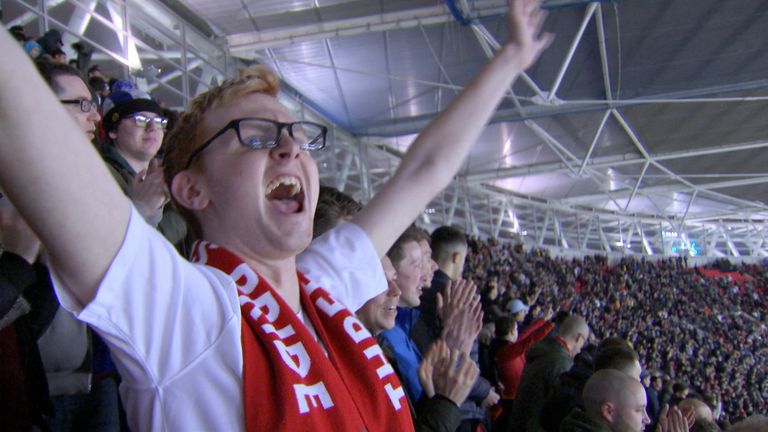 When we're at the football, we're fans first, and we're LGBT second.
Sky Sports News spent time with Joe on Thursday - the day of England's international friendly against the USA - to mark the start of the annual activation of Stonewall's Rainbow Laces campaign.
The initiative, supported by Sky Sports as a member of TeamPride, is now in its sixth year and aims to "make sport everyone's game" by encouraging both LGBT people and allies to raise awareness of inclusion in their environments, and feel confident to challenge any instances of homophobia, biphobia and transphobia.
More than two in five people who are lesbian, gay, bisexual and transgender (43%) think public sporting events are not a welcoming space for LGBT people, according to a Stonewall survey in 2017.
Joe hopes that Three Lions Pride's visible presence at England games can help ensure other LGBT people feel they can be a part of the football family too.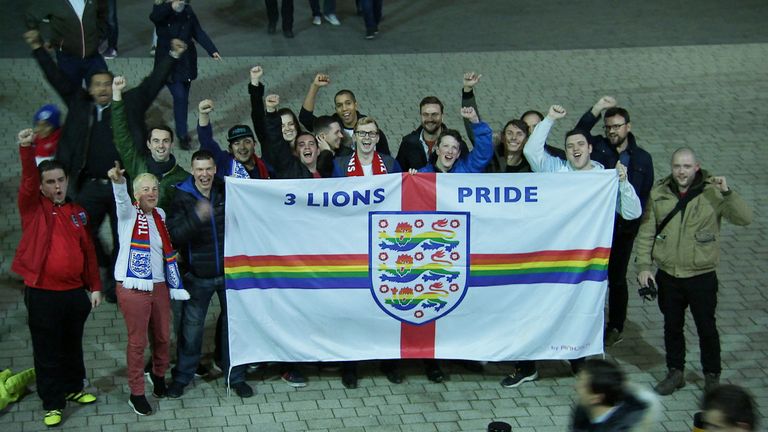 Most of those who attend international games with Three Lions Pride are also members of club LGBT fans groups, such as Arsenal's Gay Gooners, Norwich's Proud Canaries and Proud Lilywhites of Tottenham. There are now over 40 such groups in British football.
"We still hear chanting that is homophobic. People don't understand the harm their words have," Joe told SSN.


"We're fans more than anything else. When we're at the football, we're fans first, and we're LGBT second. All we want to do is enjoy watching our teams play, along with all the other fans.
"We don't want to be here having to have LGBT fans groups - but they're a necessity at the moment."
Joe says the Football Association's backing of Three Lions Pride has been crucial, and a sign of how the sport's governing bodies are now becoming more proactive on issues of LGBT inclusion - although as far as the international scene is concerned, he believes FIFA could contribute more in terms of global education.
So what message does he hope football fans who aren't LGBT - and who may not yet be considered allies - take from seeing a flag or scarf with a rainbow motif in a stadium? How can that help in tackling homophobia?
"It's about showing that you might be thinking of making a 'funny' comment about an opposition player or fans, but if you do, you're actually also making that comment about your own fans," he explains.
"And if you are having a go at your own fans inadvertently, you're part of the problem."
Watch Joe's England matchday experience in the video at the top of the page.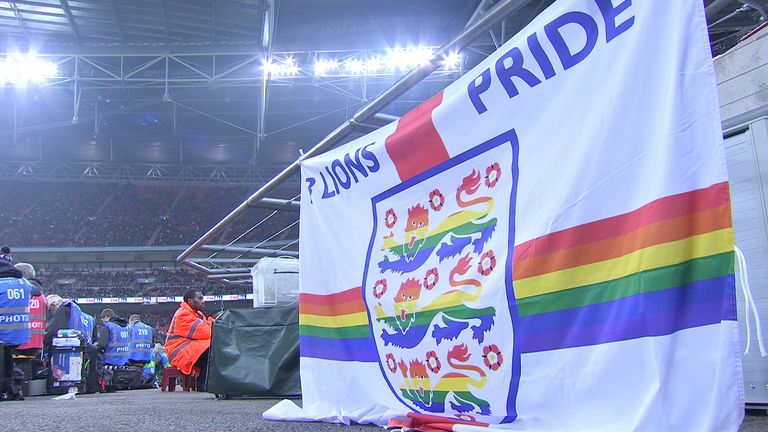 Sky Sports is a member of TeamPride and supports Stonewall's Rainbow Laces campaign, which will receive its annual activation across British sport from November 17 to December 7.
Contact us at Sky Sports if you'd like to share a story to help raise awareness around LGBT inclusion.